How Lauren Boebert's Feud With Marjorie Taylor Greene Went From Political To Personal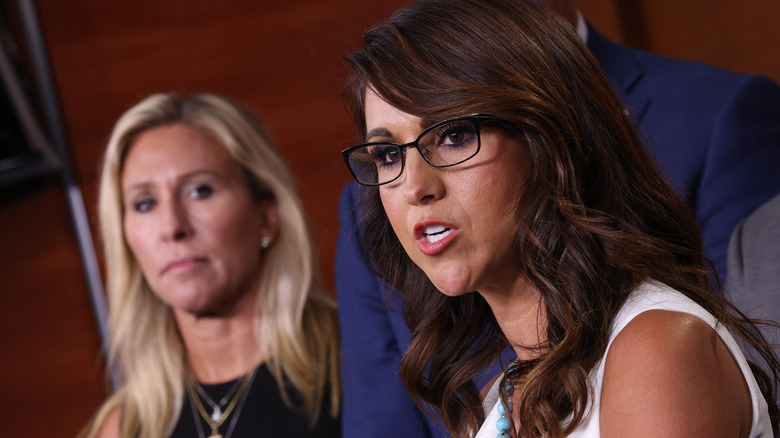 Win Mcnamee/Getty Images
Reps. Lauren Boebert and Marjorie Taylor Greene have both earned reputations for their tempestuous presence on and off Capitol Hill since being elected to the House in 2020, from Boebert's outbursts during President Joe Biden's State of the Union address to Greene's false claims about the Highland Park shooter. But now, the boat appears rockier than ever as the two conservative congresswomen turn their explosive attitudes against each other. 
Against the backdrop of an already intensely divided Congress, the two conservative politicians' discrepancies have escalated from closed-door disagreements to shouting profanity on the House floor. In a June 2023 House meeting, Greene accused Boebert of plagiarizing the Georgia representative's articles of impeachment, saying, "You've been nothing but a little b**** to me." The tense exchange was captured on C-SPAN cameras and first reported by The Daily Beast.
Less than a month later, Greene was ousted from the House Freedom Caucus, of which Boebert was also a member, adding to a long list of growing tensions between the two women.
Differing opinions proved too great for the former conservative allies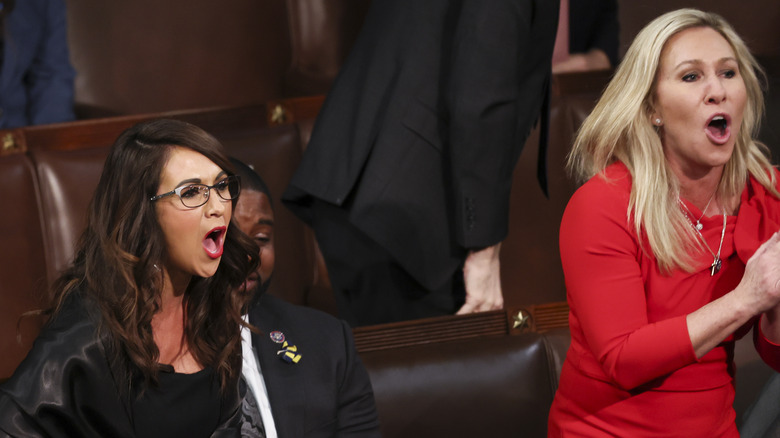 Pool/Getty Images
Reps. Lauren Boebert and Marjorie Taylor Greene weren't always tabloid-worthy adversaries. Both congresswomen are adamant supporters of former President Donald Trump, and the two infamously heckled in tandem during President Joe Biden's 2022 State of the Union address. However, the pair have since diverged politically, notably disagreeing on the war in Ukraine and the appointment of the speaker of the House.
The Daily Beast reported that several sources claimed Boebert and Greene had a verbal altercation in the speaker's lobby bathroom in January 2023 over California representative Kevin McCarthy's appointment to House speaker. A source told the outlet Greene was heard saying to Boebert, "You were OK taking millions of dollars from McCarthy, but you refuse to vote for him for speaker, Lauren?" Boebert reportedly told Greene, "Don't be ugly," before leaving the bathroom. 
The congresswomen's reported "screaming match" came five months before Greene would call Boebert a "little b****" on the House floor. Greene later defended her comments to Semafor, saying there was no possibility for reconciliation and that she called Boebert the expletive because "she has genuinely been a nasty little b**** to me." The Georgia representative added that Boebert tried to accuse Greene of spitting on her lip during their confrontation.
Reconciliation seems unlikely for either congresswoman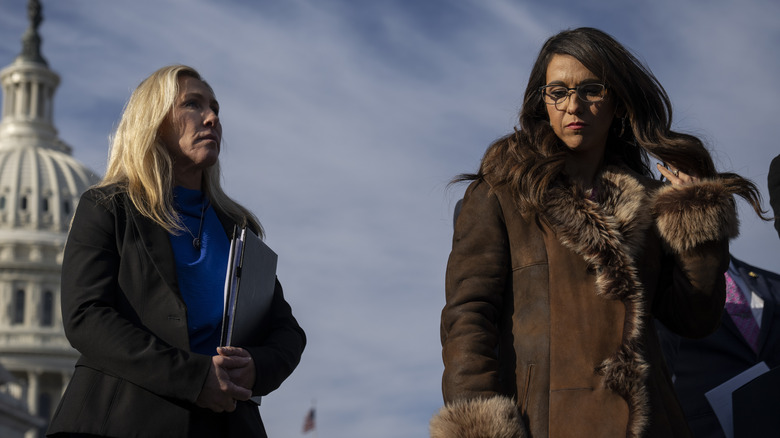 Drew Angerer/Getty Images
Rep. Marjorie Taylor Greene's subsequent removal from the House Freedom Caucus after her profane comments toward Colorado representative Lauren Boebert have caused many to speculate whether Boebert pushed for Green's removal. An unnamed GOP lawmaker told The Daily Beast the Colorado rep "was against having [Greene] removed." Boebert also spoke to TDB, saying she defended Greene's freedom of speech, adding, "The comments that Marjorie and I shared with one another had absolutely no influence on my vote." The congresswoman did not confirm or deny that she voted to remove Greene.
As rocky as the congresswomen's relationship has become, it seems neither representative wanted to spark a feud. Greene told reporters at the Capitol (via The Hill): "I have defended her when she's been attacked. She and I have virtually the same voting record. We [should] be natural allies ... But for some reason, she has a great skill and talent for making most people here not like her." Meanwhile, Boebert told The Daily Beast, "Majorie is not my enemy." 
The drama between the congresswomen is eye-catching but not novel. Beobert has been no stranger to controversies since taking office, and tensions will likely follow Greene if Donald Trump chooses the Georgia representative as his 2024 running mate. And if these representatives' history is any indication, plenty of explosive fight is left in both of them.