Which Sister Wives Star's Transformation Was The Most Dramatic? Fans Have Thoughts
Ethan Miller/Getty Images
TLC's "Sister Wives" first began airing in 2010, inviting TV audiences into the polygamous home of Kody Brown and his four wives; Meri, Christine, Janelle, and Robyn Brown. But these days, that house is practically unrecognizable. Since the show's debut, three of Kody Brown's marriages have fallen apart, and his former spiritual and legal wives have all undergone physical and mental transformations that have further separated them from the Brown patriarch. 
As for which "Sister Wives" star had the most stunning transformation? Well, fans are a bit divided over whether Meri, Christine, Janelle, or Robyn deserves that illustrious title. The List conducted an exclusive survey in which TLC fans picked which metamorphosis they found the most notable, and the consensus is nearly as split as the Brown household itself.
Some respondents couldn't be bothered to choose one of the four sister wives, instead asking when the "Sister Wives" empire would finally leave the pop culture arena once and for all. Others suggested none had changed, while some claimed that the real transformation was choosing to leave Kody in the first place.
Fans can agree that the biggest transformations were the break-ups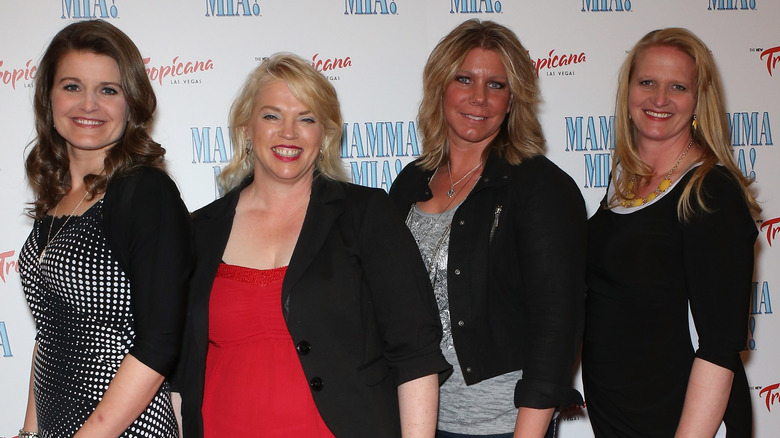 Gabe Ginsberg/Getty Images
One of the earliest plotlines on "Sister Wives" surrounded patriarch Kody Brown's pursuit of his fourth and, as of this writing, only remaining wife, Robyn Brown. For one survey respondent, Robyn was the first and last sister wife to undergo a noticeable transformation. They wrote, "First Robin [sic], then Christine, then Meri, then Janelle, and now back to Sobbin' Robin [sic] as she learns to function on a tiny a** budget again." 
Other fans picked Janelle Brown, who became dedicated to improving her physical health following her separation from Kody in 2022, as their top transformative pick. Based on her incredible weight loss results, successful wellness businesses, and positive social media presence, it's clear that leaving Kody was the right choice for Janelle. 
While individual wife picks varied, it's clear that more than one "Sister Wives" fan thought the real transformations came instead from the women's decision to break off their legal or spiritual marriages to Kody. "The first three [Meri, Christine, Janelle] are tied because they transformed when they dumped that jerk," one fan wrote. Another argued that the wife who undergoes the most dramatic transformation is "the one that leaves!"