The Resurfaced 2003 Interview With Diane Sawyer That Upset Britney Spears Fans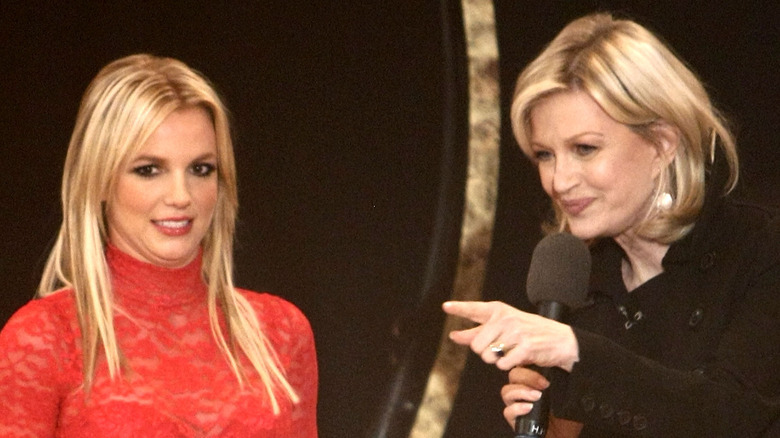 Michael Loccisano/Getty Images
The 2021 New York Times documentary "Framing Britney Spears" immortalized the Icarian rise and fall of the iconic pop star. The unauthorized documentary — which many fans believe Spears was actually behind — also drew a mountain of skeletons from the depths of pop culture's closet, casting an unflattering hue on fellow celebrities like journalist Diane Sawyer, who contributed to Britney Spears' tumultuous and tragic life in the limelight. 
While on a promotional run for her 2003 album "In the Zone," Spears sat down for an interview on ABC's "Primetime Thursday" with Sawyer that Spears would later condemn in a since-deleted Instagram post from 2021 in which she said the TV personality and journalist could "kiss [her] white a**" (via X, formerly known as Twitter). And Spears wasn't the only one enraged at the interview after it resurfaced thanks to the NYT documentary.
The internet was equally mad at Diane Sawyer for her prodding sit-down with the then-21-year-old singer, which ranged from queries about Spears' sexuality to defending a politician's wife who publicly said they would like to kill the pop star.
Diane Sawyer's interview seems shocking by today's standards of decorum
Diane Sawyer began the "Primetime Thursday" interview with Britney Spears by calling the 21-year-old's midriff "the most valuable square inch of real estate in the entertainment universe" before interrogating the pop singer over her failed relationship with Justin Timberlake. Sawyer accused Spears of lying about her sexual activity based on Timberlake's "impression that [she] wasn't faithful," per the interviewer. The ABC journalist even offered printouts of Spears' more scantily clad photoshoots, prodding the singer to admit she regretted taking them. 
"What is it about?" Spears responded to seeing the photo Sawyer was holding. "It's about doing a beautiful picture. I feel comfortable in my skin. I think it's an okay thing to express yourself." Unfortunately, her well-spoken defense fell on incredulous ears. Sawyer continued to grill the singer on her life choices, even stretching to include a dramatic close-up of Spears popping her knuckles as if it were a tabloid-worthy offense.
As if this objectified interrogation wasn't bad enough, Sawyer continued hurling uncomfortable talking points at Spears, including when Kendel Ehrlich, wife of Maryland's former Governor Robert Ehrlich, said, "Really, if I had an opportunity to shoot Britney Spears, I think I would." Bafflingly, Sawyer offered a reasoning behind Ehrlich's comments, saying it was "because of the example for kids and how hard it is to be a parent and keep all of this away from your kids." Spears offered another quick-witted retort: "I'm not here to babysit her kids."
Their conversation highlighted how Britney Spears was turned into a spectacle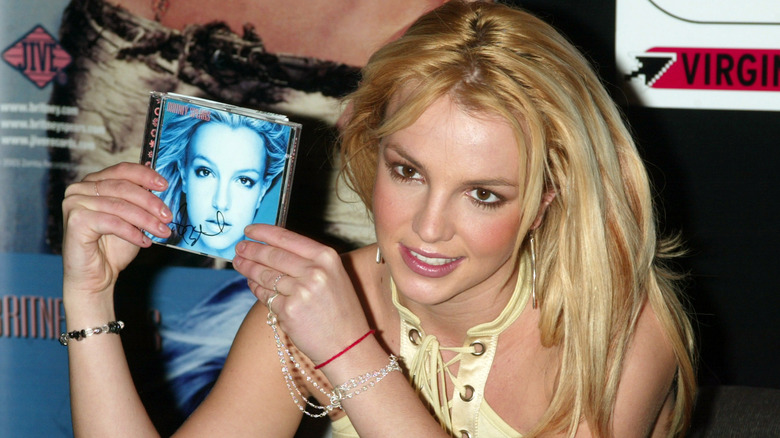 Jim Spellman/Getty Images
"Princess of Pop" Britney Spears was at the peak of her career when she sat down with Diane Sawyer in November 2003. Less than three months prior, Spears opened the MTV Video Music Awards with Christina Aguilera. Her fourth studio album, "In the Zone," came out days before the interview aired and would go on to be named as one of NPR's "50 Most Important Recordings of the Decade." She was an incredibly successful young woman who remained polite and diplomatic throughout Sawyer's intrusive questioning that painted Spears as irresponsible and depraved. 
While these types of tell-all interrogations might've been the norm in the early 2000s, the resurfacing of Sawyer's interview in the "Framing Britney Spears" documentary highlighted how Spears' life was unhealthily dissected in front of the whole world. One X user called the interview "absolutely disgusting" and "misogyny executed by another woman." The fan commented on Spears' later troubles, saying: "No wonder Britney seems so lost. We all betrayed her by allowing that narrative."
In Spears' since-deleted Instagram post, the singer wrote, "Do we dare forget the Diane Sawyer interview in my apartment almost 20 years ago? Geeze ... making me cry??? My manager put that woman in my home and made me talk to her on national television." But as heartbreaking as this retrospective realization is, the self-assured 21-year-old who clapped back at Sawyer's intrusive comments hasn't gone anywhere. Spears later wrote in her caption, "I'm embarrassed for all of them, and I'm sad for them because I know my value and worth now ... and they LOST ME!"