How Jenna Bush Hager Started A Wild Rumor About Taylor Swift And Travis Kelce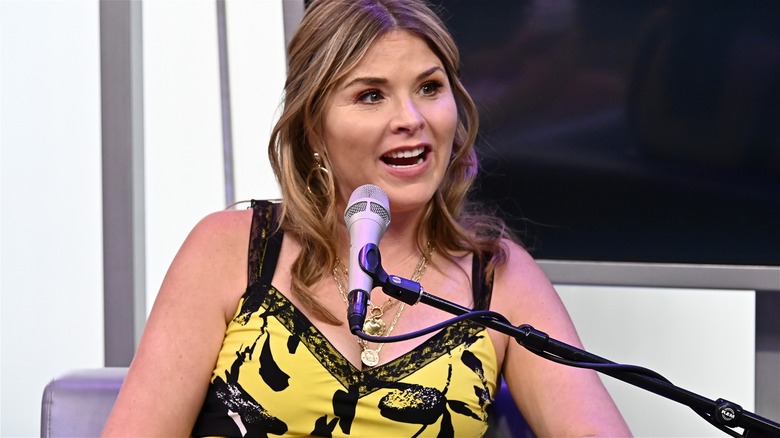 Astrid Stawiarz/Getty Images
The rumor mill has been hard at work churning out the latest updates and fan theories on Taylor Swift and Travis Kelce's relationship since the pop star was spotted rooting for the tight end alongside his mother, Donna Kelce, at a September 2023 Kansas City Chiefs game. It seems like no one is immune from diving into speculation around the captivating power couple — not even NBC personality Jenna Bush Hager.
Hager couldn't help but spill some hot tea regarding the musical icon and the Super Bowl champion on an episode of "Today with Hoda & Jenna," revealing that someone she knew from Kelce's hometown of Kansas City told her Swift and Kelce were looking to buy a house in the western Missouri metropolis.
Following the audience's excited reaction, Hager added that the rumor "was not confirmed by NBC News" (per Page Six). "I said might be," Hager argued as her co-host, Hoda Kotb, good-naturedly poked fun at Hager's unverifiable claim.
Taylor Swift and Travis Kelce have already spent time at each other's homes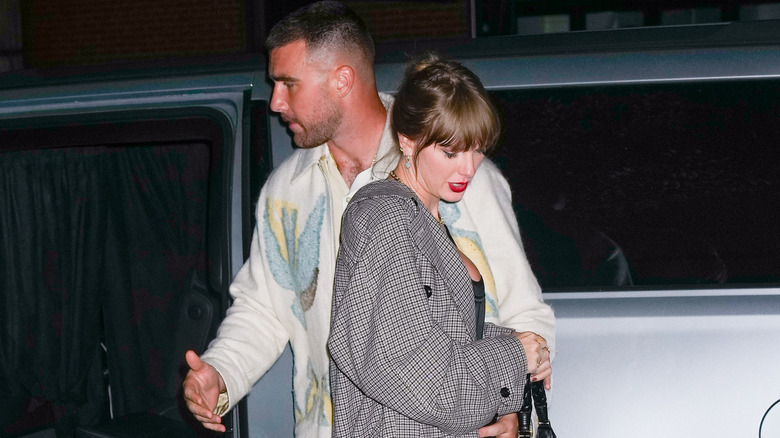 Mega/Getty Images
Jenna Bush Hager dished to the "Today with Hoda & Jenna" audience that sometimes, realtors know about upcoming estate purchases before the rest of the public, implying that her source's claim might not be so baseless, after all. When Kotb asked Hager whether the friend who reached out to her was a realtor, Hager replied with a laugh, "No, but she knows realtors."
While it's unclear whether Swift and Kelce actually have plans to buy a home together, the two have spent a considerable amount of time traveling back and forth between their New York City and Kansas City homes. In September 2023, the Daily Mail reported the pop icon was seen departing from Kelce's million-dollar home with the football player's friends and families ahead of the Kansas City Chiefs game against the Chicago Bears.
A few weeks later, the Daily Mail once again spotted Kelce in Swift's neck of the woods as he left the singer's posh Tribeca apartment after the couple not-so-subtly referenced their highly publicized new romance on the Season 49 premiere of Saturday Night Live (via Entertainment Tonight). As the two continue to get closer in the limelight, rumors of new milestones in their relationship are bound to continue.
Travis Kelce, a self-proclaimed Swiftie, was the first to make a move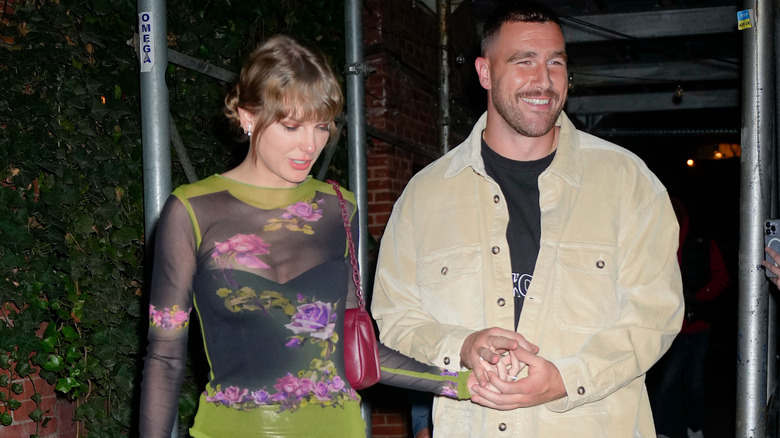 Gotham/Getty Images
Perhaps the internet has become obsessed with the athlete and the singer's new relationship because of how authentic the connection seems to be. Even before the pair were first spotted out together, Kansas City Chiefs tight end Travis Kelce wasn't afraid to confirm he was a Swiftie while gushing over Taylor Swift. In fact, Kelce used his love of Swift's music to make his first move — or, at least, tried to make his first move.
On an episode of the "New Heights with Jason and Travis Kelce" podcast, Travis talked to his brother about shooting his shot with the iconic pop star. Following the theme of Swift's Eras Tour, where attendees make and exchange friendship bracelets featuring Swift's song titles, Kelce made a bracelet with his phone number on it that he planned on giving to Swift after the show. Travis explained that because Swift doesn't speak before or after the show to save her voice, he couldn't meet her, which he said he felt disappointed about, though the footballer used a different word (via X, formerly known as Twitter).
However, Travis didn't have to wait long to get Swift's attention. His missed connection confession aired in July 2023, two months before Swift would attend his football game clad in Kansas City Chiefs gear. While it's still unclear how serious Swift and Kelce's relationship will become, there's no doubt the world will be eagerly watching along the way.