Camilla Parker Bowles Most Iconic Fashion Moments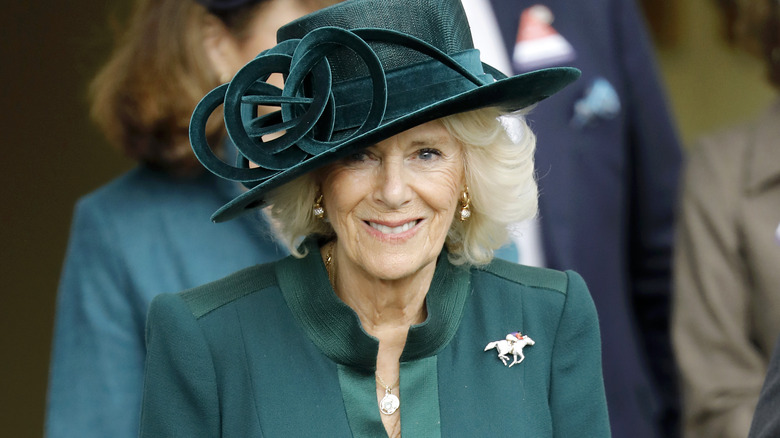 John Phillips/Getty Images
In 2022, the late Queen Elizabeth II made headlines around the world when she announced that her daughter-in-law, Camilla Parker Bowles, would officially be known as the "queen consort" upon her ascension to the throne. Simply put, a "consort" is a term referring to the spouse of a monarch who, unlike their spouse, has no constitutional power. Although Camilla had been married to the heir to the British throne since 2005, the idea of "Queen Camilla" came as a shock to many, perhaps because of her dramatic road to royal marriage. 
However, the matter was settled once and for all in 2023, when the invitations to King Charles III's coronation referred to his better half as "Queen Camilla." Despite the royal politics and drama that still surrounds her, a look back at Camilla's career in the spotlight shows that the new British queen has paid her dues. From attending charity galas, to movie premieres, to countless royal ceremonies, Camilla, Queen Consort has been a steady and dependable presence in the royal family for decades. 
Not only did these years of service endear her to the late Queen Elizabeth II, but they have also given us the opportunity to witness the queen consort's style evolution. From a royal girlfriend in the 1990s to Charles' bride in the 2000s to today, as a mature and seasoned queen consort, Camilla has carved out her own brand of traditional, often unexpected, royal fashion. 
Her coronation gown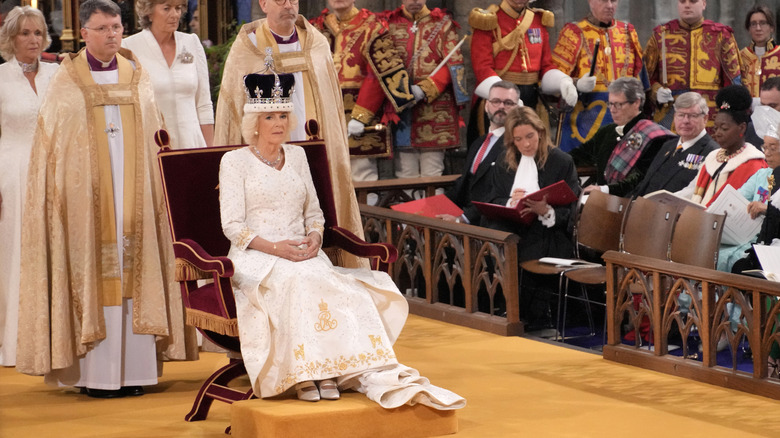 Wpa Pool/Getty Images
One of Camilla, Queen Consort's most breathtaking gowns was the bright white coat dress she wore to her and King Charles III's Coronation Ceremony in 2023. Designed by British designer Bruce Odfield, the dress featured long sleeves and a peekaboo-style underskirt, all made from fine silk fabric. Dotted across the dress were embroidered floral designs in silver and gold, including daisy chains, scarlet pimpernel, celandine, and forget-me-nots. A longtime lover of nature, these floral designs held personal meaning for the queen consort.
Other floral designs were also included to represent Camilla's patriotism, as the hem of her underskirt was lined with embroidered roses, thistles, daffodils, and a shamrock — symbolizing the four nations that comprise the United Kingdom. The newly anointed monarch finished off her coronation look with silk shoes designed by Eliot Zed and, of course, a glistening crown known as the Queen Mary 1911 crown.
The consort goes cobalt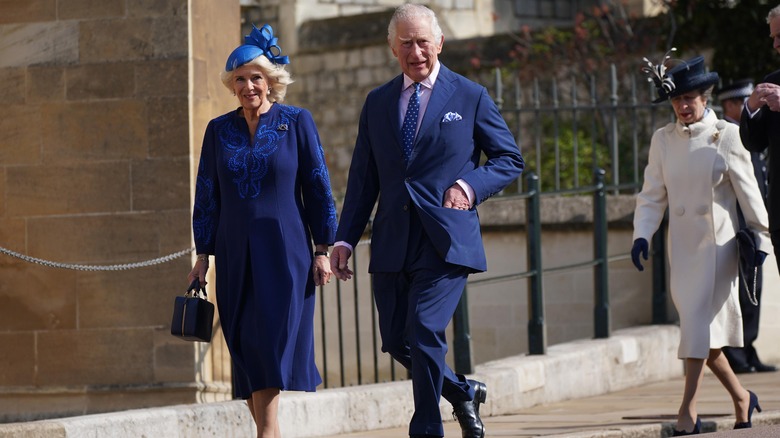 Wpa Pool/Getty Images
Camilla, Queen Consort looked absolutely regal in this midnight blue gown as she attended an Easter Service in 2022 with her husband, King Charles III, and the rest of the royal family. Blue seemed to be the color of the day, as Catherine, Princess of Wales was also spotted matching with her children in varying shades of royal blue.
With billowing sleeves, Camilla's dark-hued dress kept her warm on the chilly April morning while also displaying a sense of whimsy, looking ahead at the spring season to come. Swirling light blue designs embroidered across the bodice and down the sleeves of her gown also made Camilla stand out from the crowd of royals who were also marching their way to St. George's Chapel at Windsor Castle. Loving a monochrome moment, Camilla topped off her look with a matching blue fascinator, shoes, and a geometric square handbag. 
Her first Trooping the Colour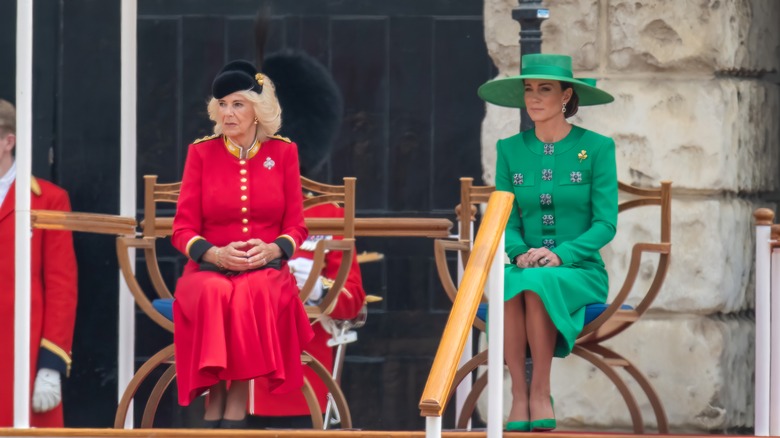 Antony Jones/Getty Images
June 17, 2023 was a big day for Camilla, as it was her first Trooping the Colour as the new Queen Consort. The ceremony been celebrated in England for the past 260 years as the official birthday of the nation's monarch, meaning that the eyes of the U.K. were trained on Camilla and King Charles III.
The queen consort did not disappoint the fashion-watchers of the day, as she appeared in ceremonies near Buckingham Palace wearing a bright, scarlet coat dress designed by Fiona Clare. The dress was very much giving military, and it turns out that was no coincidence, as the gown was designed to reflect Camilla's new role as the Colonel of the Grenadier Guards — a long-standing and highly respected regiment of the British Army. The royal's epaulets reflected her rank, while her black, feathered fascinator resembled the Guards' own bearskin toppers.  
Chic in silver for the Platinum Jubilee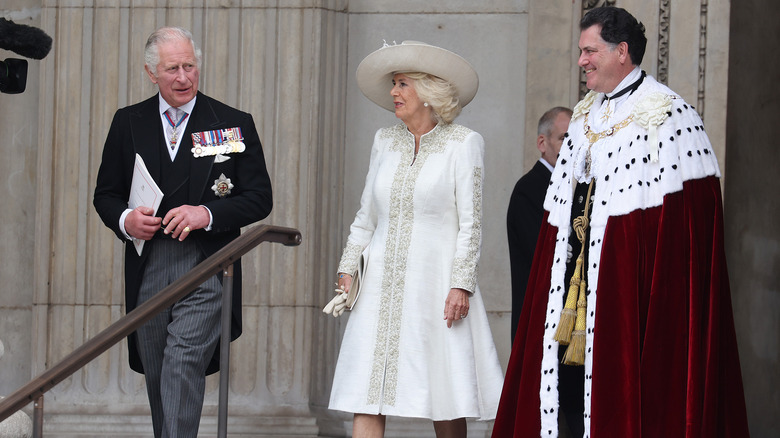 Neil Mockford/Getty Images
Camilla, Queen Consort saves some of her most breathtakingly royal looks for occasions that celebrate the monarchy itself, as evidenced by this dress she wore to the National Service of Thanksgiving held on June 3, 2022, celebrating the late Queen Elizabeth II's Platinum Jubilee. The night before the big event, the elderly monarch announced that she would not be attending for health reasons, leading to then-Prince Charles and his wife, the then-Duchess of Cornwall, being the most senior members of the family present. 
Camilla cut a regal figure in her crème colored coat dress, featuring an embroidered bodice and long sleeves which were both lined in intricate silver details. The hints of silver in the otherwise monochrome dress called to mind the fine jewels and crowns often worn by someone of Camilla's status, and surely reminded those around her of the duchess's soon-to-come queenly title.
Supporting the NHS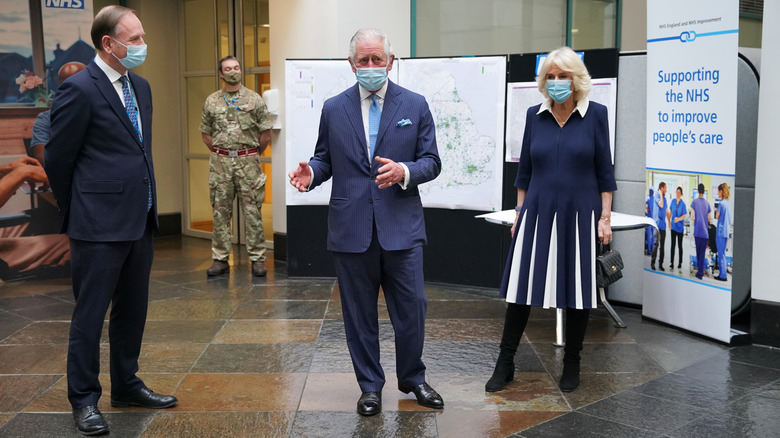 Wpa Pool/Getty Images
One of Queen Camilla's more modern fashion looks occurred on March 9, 2021 when the then-Duchess of Cornwall attended a meeting with Sir Simon Steven, the Chief Executive of the National Health Service (NHS), at the Skipton House in London. During her visit, the duchess and her husband, Prince Charles, also met with health officials and staff working on the Covid-19 vaccine rollout across England. To protect herself against the virus, the future queen consort wore a standard light blue face mask that subtly matched her sporty, navy blue dress.
While meeting with officials, the Duchess of Cornwall cut a fresh and energetic figure in her navy and white collared dress which also featured a dynamic pleated skirt in a bright, white peekaboo style. The royal further exhibited a youthful energy by accessorizing her look with thigh-high black boots and a quilted leather Chanel handbag. 
Night out on the town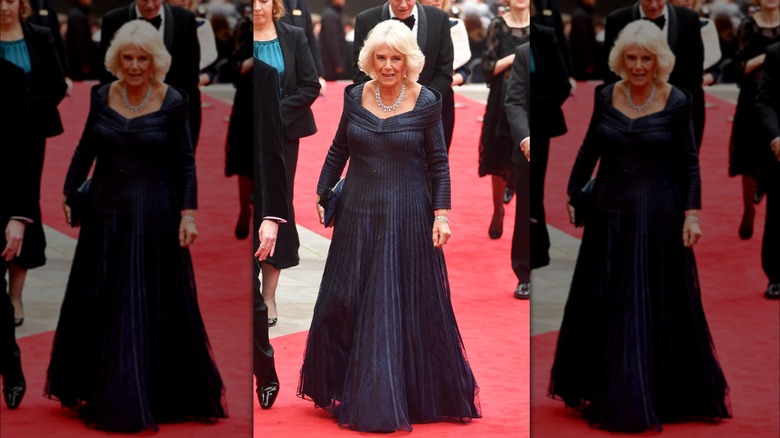 Wpa Pool/Getty
On April 7, 2019, the Duchess of Cornwall arrived at the Olivier Awards wearing a showstopping off-the-shoulder gown. The dress was dyed in what appears to be Camilla's favorite color — blue — except this time, she and her stylists opted for a sparkling midnight hue as opposed to her usual royal blue. Fashioned into a wide boatneck style with a pleated shawl-type attaché around her shoulders, the gown ensured that onlookers would have a clear view of Camilla's diamond necklace. 
Given that the now-Queen Consort's royal engagements routinely involve community outreach and daytime ribbon cuttings, this evening event held in London's Royal Albert Hall gave the queen the perfect opportunity to expand her fashion horizons. The glittering fabric of Camilla's gown and the amount of diamonds she was wearing prove that the royal can also pull off a sleek nighttime look. 
Caribbean inspiration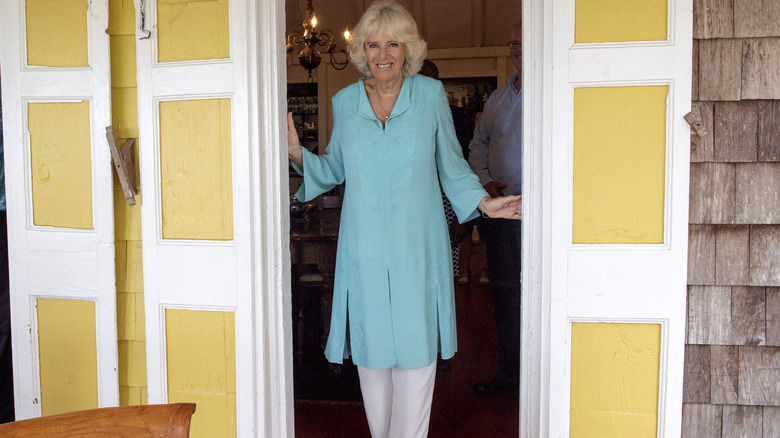 Wpa Pool/Getty Images
While touring the island nation of St. Kitts and Nevis in the Caribbean, Camilla was faced with a style question that has plagued many women before her: how do we switch up out closets when the weather changes? Considering that her home country is known for its rainy days and foggy skies, it's no surprise that the queen consort is usually spotted wearing cozy coat dresses and multiple layers. 
However, on March 21, 2019, the then-Duchess of Cornwall was photographed looking as light and breezy as ever in a pastel blue caftan and flowing white trousers. Her island-ready look was accessorized with matching turquoise earrings and a simple gold pendant necklace. Not only was her outfit clearly inspired by the beautiful waters of the Caribbean, but it also matched the jubilant vibes of the royal tour, as the duchess was photographed watching traditional dancers perform that same day.
Giving back in style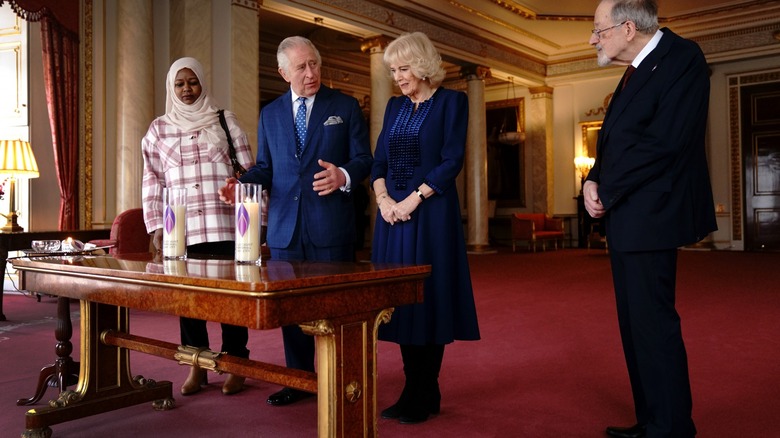 Wpa Pool/Getty
A classic dresser, Camilla is not known for being adventurous with fabrics. However, that all changed one winter's day in January 2023, when the newly crowned queen consort appeared at a formal engagement wearing a dark blue A-line dress that bloomed out around her waist and featured tight ruching along the bodice. The rippling of the fabric gave the geometric design an oceanic effect, adding depth and texture to her look. 
The choice of an elevated style for this occasion also served as a sign of respect, as Camilla chose this dress for a special reception at Buckingham Palace which marked Holocaust Memorial Day on the 78th anniversary of the liberation of Auschwitz-Birkenau. As the job of a royal is to give back to their national community, fashion can play a big role in drawing the media's attention to certain important causes and disadvantaged communities. 
Goddess-inspiration in Greece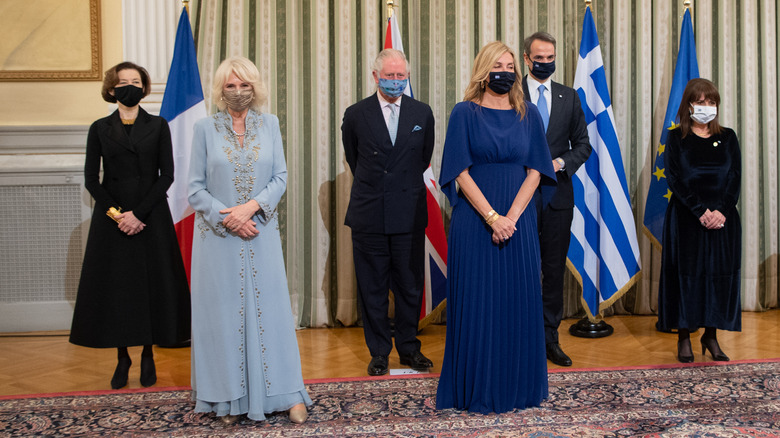 Pool/samir Hussein/Getty Images
While visiting the city of Athens to celebrate the 200th anniversary of Greek independence, the queen consort put a unique twist on her go-to style. Still opting for a blue gown, this time the Duchess of Cornwall chose a floor-length, flowy version in a pale, sky-blue color. With long, loose sleeves and a chiffon underskirt, you can imagine the duchess had said, "we're going for royal, but make it Mediterranean."
She was photographed alongside Prince Charles and other state dignitaries also wearing royal and navy blue gowns. Perhaps a shout-out to the colors of the Greek flag? Camilla's gown stands out from the crowd not only for its pastel hue, but also for the dainty gold embellishments sewed down the center of the dress and on the cuffs of her sleeves. It's this attention to detail that continually elevates the queen consort's fashion choices from her aristocratic peers.
The French connection
Chris Jackson/Getty Images
While on a State Visit to France in September 2023, the queen consort wowed for a night out in Bordeaux for the third and final day of her journey. After a long day of attending public engagements, Camilla appeared, alongside King Charles III, as a guest of honor at an official banquet held at the Palace of Versailles. Draped in a Prussian blue cape gown, the British matriarch was also slightly twinning with the First Lady of France, Brigitte Macron.
Though having traveled out of the city, Camilla's look still channeled all the chicness of Paris. She was dripping in sapphire gems that adorned her bracelets, drop-style earrings, and showstopping necklace. As her long skirt grazed the red carpet as she entered the iconic Palace of Versailles, Camilla's cape dress cut a fittingly regal trapezoid silhouette that seems to be a favorite of the queen consort's.
Barbadian glamor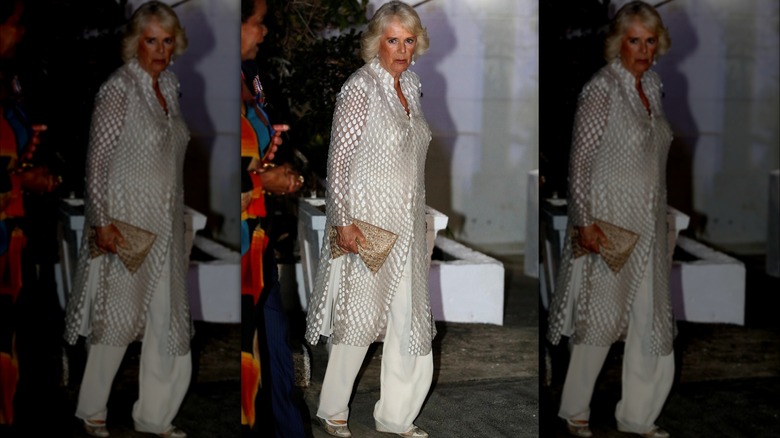 Pool/Getty
Camilla, Duchess of Cornwall kept turning out the looks during her and Prince Charles' royal tour of the Caribbean in 2019. The royal was photographed wearing all-white flowing trousers and a sheer caftan that featured unique appliqué detailing. Under the flash of the paparazzi's cameras, her eccentric piece appeared to have a moonstone glow.
It's no wonder the duchess chose such a beautiful piece for the evening, as it turned out to be a star-studded affair. While attending a reception hosted in the home of the Prime Minister of Barbados, Mia Mottley, the duchess was spotted smiling and chatting with music superstars such as Lionel Ritchie and Tom Jones. Despite being surrounded by such mega-famous friends, it was the Duchess of Cornwall's look that stole the show, as its unique details gave the royal a serpentine charm, echoing the scales of a snake.
White for Windsor Castle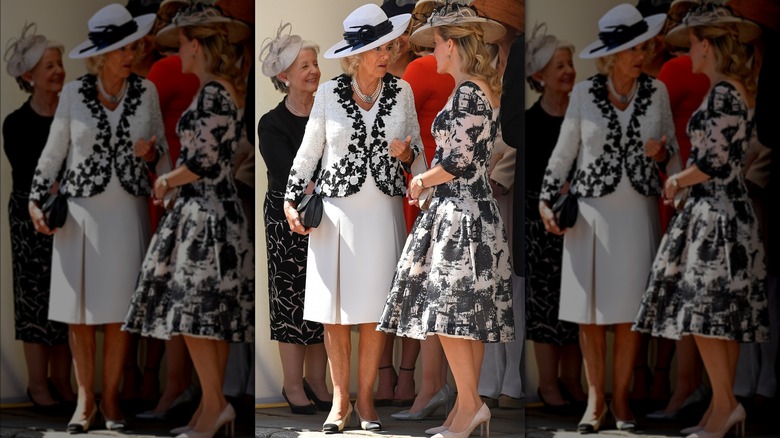 Wpa Pool/Getty
Pearl whites and onyx blacks made up the color palette for this preppy look that the Duchess of Cornwall wore while appearing at Windsor Castle for the 2018 Order of the Garter Service, a ceremony that celebrates one of the oldest and most high-ranking order of chivalry in the whole of the U.K. In fact, the order dates back as far as 1348! It's no wonder, then, that the duchess switched up her usual fashion fare for this royal affair. 
Over her white dress, Camilla wore a white jacket covered in floral details. Around her collar and along the bodice were intricately rendered leaves and flower details, embroidered in black. It was a smart choice, as these details drew the eye to the duchess's breathtaking three-strand pearl necklace. The floral motif was capped off with a tilted, fedora-style hat that featured a black ribbon and an artistic rose.
Cozy in Canada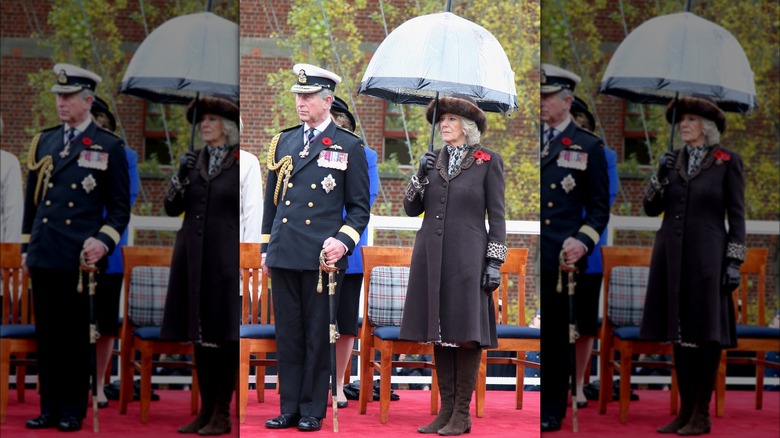 Chris Jackson/Getty
Canadian chill? No problem for the Duchess of Cornwall. As the wife of a king, international travel is par for the course for Camilla, and changing climates can't deter her from turning out classy and eye-catching looks. A perfect example of this is the winter-ready and pattern-heavy ensemble she wore during a royal engagement in Victoria, British Columbia, Canada in 2009. 
While attending a Navy Centennial Event at Duntza Head, HMC Dockyard Esquimalt, the then-Duchess of Cornwall wore a cocoa brown coat dress with gold detailing along the collar. The duchess was clearly having fun with this look, as she accessorized with two brooches — a red poppy and a citrine jewel. To add even more whimsy, the cuffs of her coat also featured a cheetah-print pattern. To top it all off, though, the duchess added a black and white polka dot kerchief and a fur-lined bowler hat.
Royal purple at Westminster Abbey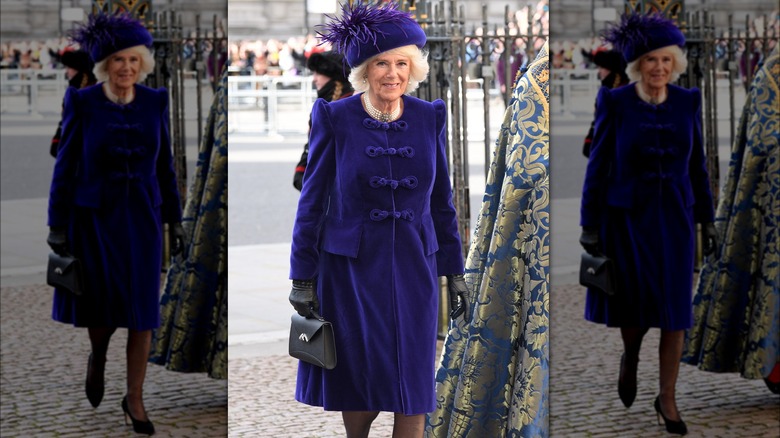 Karwai Tang/Getty
Any catalogue of the queen consort's best fashion moments throughout the years will show that the royal wife has a love of the cooler side of the rainbow. No matter the season or occasion, she regularly chooses gowns in rich blues and bright purples. However, she truly outdid herself when attending the 2019 Commonwealth Day Service, where all eyes were on the then-Duchess of Cornwall as she appeared in a vividly dyed indigo coat dress. 
Her velvet coat dress featured a series of rope-like buttons that latched along the bodice, as well as some unique padding at the shoulders. In addition to wearing one of her favorite hues, the duchess was also wearing what appears to be one of her favorite gemstones — pearls. She accessorized with a three-strand pearl choker and small pearl earrings. Best of all, however, was her matching hat with feathered plumes. 
A red carpet-ready look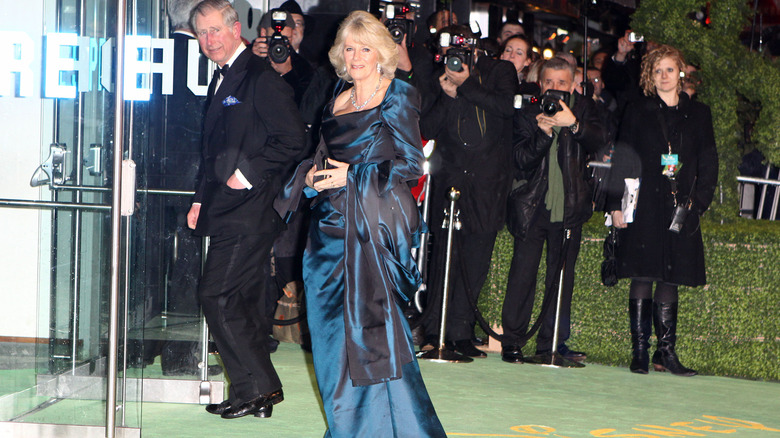 Fred Duval/Getty Images
Erdem, Burberry, Fiona Clare, Alexander McQueen — these are just a few of the designers you can normally expect ladies of the British royal family to turn to when it comes to big fashion moments. However, Camilla, Duchess of Cornwall, threw out the royal rule book when she turned to the unexpected, avant-garde designer Vivienne Westwood in 2010. 
The duchess looked like an Old Hollywood starlet as she appeared at the London premiere of 2010's "Alice in Wonderland" dressed in an iridescent blue Westwood gown, complete with a matching silk cape. The sculptural gown was perfectly fitted to the duchess's body, showing off her curves and taking the public by surprise. Not only did this fashion moment redefine Camilla's style capabilities, but it also paved the way for other royal women to explore different corners of the fashion market and work with more whimsical, off-beat designers.
Elegant in emerald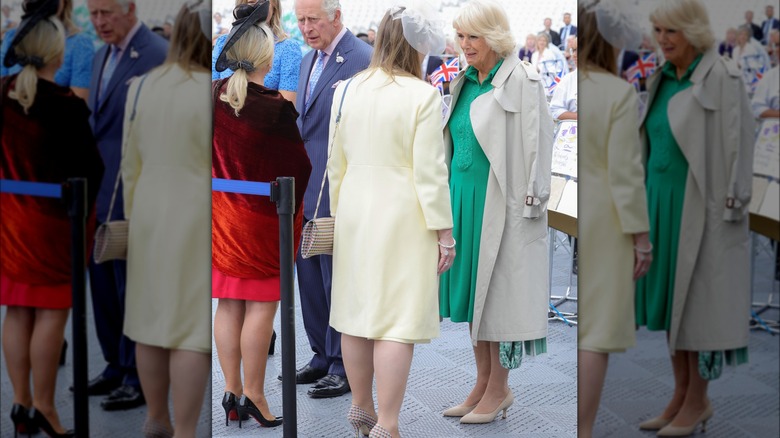 Chris Jackson/Getty Images
The Duchess of Cornwall stepped out of her color comfort zone for this outing to the Big Jubilee Lunch on June 5, 2022. Celebrating the Platinum Jubilee of the late Queen Elizabeth II, guests in South London greeted the royals with a tea table and a giant cake cut in honor of Her Majesty the Queen. For the occasion, Camilla wore a patterned, long-sleeve dress in a beautiful Kelly green paired with a beige trench coat. 
While the royal is usually spotted in dark blues, white, or blacks, her decision to wear a colorful ensemble for this special occasion shows that not only were Camilla and her royal dressers seeking to honor her mother-in-law, but they also might have been reconsidering Camilla's fashion future. With a drop-down waist reminiscent of a 1920s style and embroidered center bodice, this lucky charm look was one of Camilla's final looks before she became the queen consort. 
A Highlands-inspired look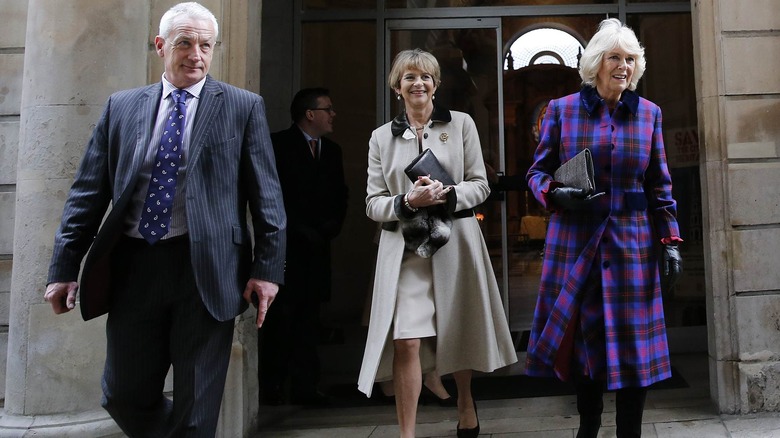 Wpa Pool/Getty Images
A visit to the Art Worker's Guild in London in 2015 saw the then-Duchess of Cornwall reach for a colorful, Scottish-inspired ensemble. Her tartan coat dress was a unique choice for the classic dresser, as this piece featured a bold periwinkle and cherry red pattern, including a crushed velvet collar in cozy black. This unexpected look especially stood out on this gray English day, as Camilla's associates were dressed in simple black and crème ensembles — allowing for her royal purple look to take the limelight. 
As for her accessories, the duchess kept it simple with black boots and a gray clutch bag. While the royals usually reserve tartan for engagements in Scotland, as the country has long been associated with the pattern, Camilla's choice to make this a London look may have been her way of shouting out Birkhall, her longtime Scottish residence.
Monochrome monarch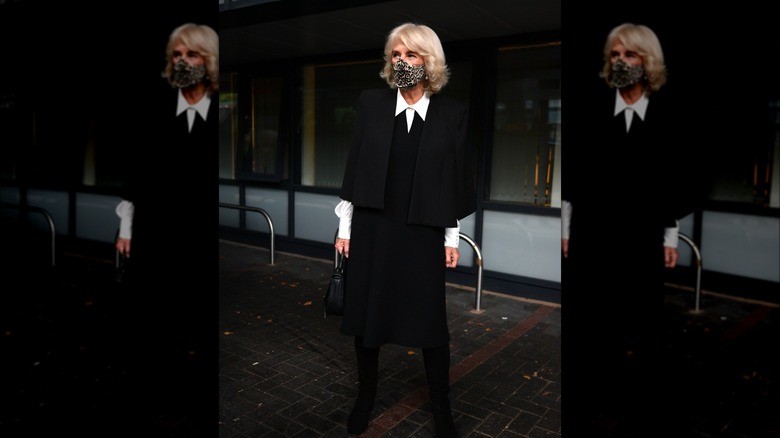 Wpa Pool/Getty Images
The Covid-19 pandemic did not stop Camilla and her stylists from turning out the looks. In fact, it was even more important during the pandemic that Camilla's public engagements garner attention, as many of her appearances were related to encouraging the people of England to take the Covid-19 vaccine. This was the case during one event in the spring of 2021, when the then-Duchess of Cornwall visited the Lordship Lane Primary Care Centre's Vaccination Centre where she met the centre's staff, volunteers and patients. 
While there, the royal was snapped wearing a stark ensemble that included a black dress and white long-sleeved undershirt. The Duchess of Cornwall cut an attention-grabbing silhouette with her sharp Barrymore collar and business-style cape that also appeared to feature some retro shoulder pads. She also drew attention to her health-conscious face mask by donning one in a fun cheetah print.
Her wedding gown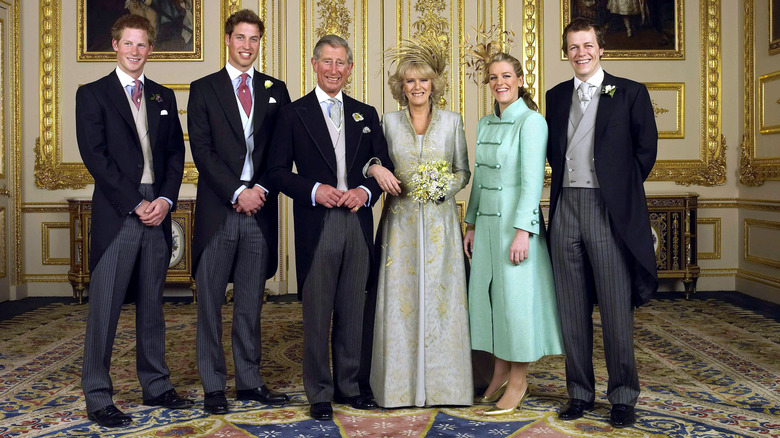 Anwar Hussein Collection/rota/Getty Images
After a decades-long romance, Camilla finally wedded her prince charming Charles in a civil ceremony on April 9, 2005. However, did you know that the newly coronated King and queen consort actually had two celebrations recognizing their nuptials? The ceremony was held at Windsor Guildhall with a service of blessing afterwards held at St. George's Chapel inside Windsor Castle where both bride and groom were joined by their children. For the blessing, the new bride wowed in a silver-blue chiffon gown with a matching coat. The long-sleeved coat included gold embroidery across the collar and skirt, adding in that extra regal touch. 
The choice of color could be because the aristocrat had already been married once, thus barring her from wearing the traditional bridal white, or it could simply be evidence of Camilla's out-of-the-box style sense. Either way, the future queen cultivated an iconic, mature bridal look. In classic British wedding fashion, she also finished off her ensemble with a feathery, gold fascinator created by Philip Treacy.
Her mother of the groom look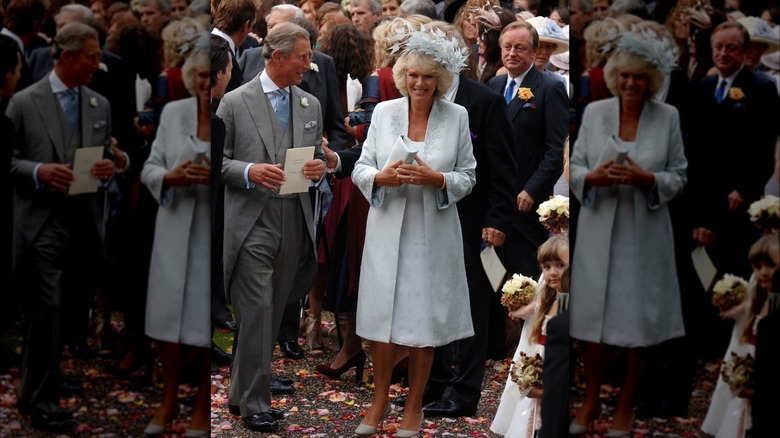 Anwar Hussein/Getty Images
The newly-married Duchess of Cornwall was all smiles as she attended another loved-up matrimonial ceremony in 2005 — that of her son Tom Parker-Bowles to his fiancée Sara Buys. Taking place in the picturesque, rural area of Oxfordshire, England, the mother of the groom was dressed perfectly for the occasion in a pewter blue coat dress, fit with a truly fascinating blue feathered fascinator. Nestled beautifully in her blonde hair, the topper resembled doves swooping in the air. 
If you looked closely, you could also spot the more intricately embroidered patterns trailing down Camilla's commendable classy look. The future queen consort paired this ice blue ensemble with a matching clutch bag, gold bracelet, and her own sizeable wedding ring. She and her new husband Prince Charles doubled down on their newlywed status, with Prince Charles also wearing a silver suit and light blue tie for the occasion.
Debuting her first royal tiara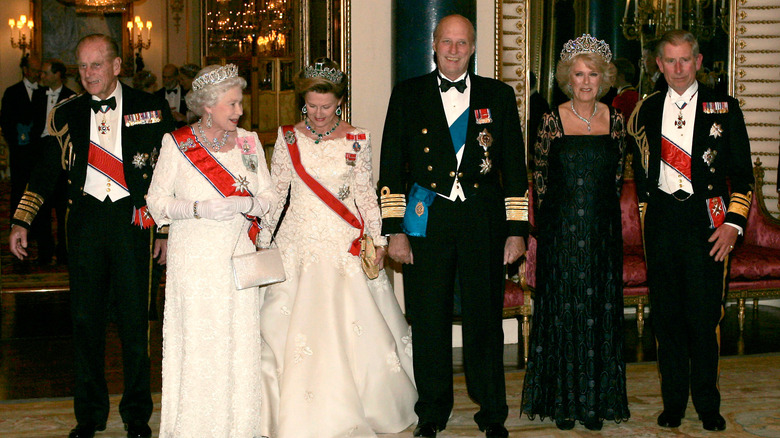 Tim Graham/Getty Images
It's no surprise that Camilla was spotted wearing some truly eyebrow-raising jewels and diamonds after her marriage to King Charles III in 2005. I mean, who wouldn't? Once she became an official member of the royal family, one can only imagine just how vast the newly inaugurated Duchess of Cornwall's collection became. The public were given a glimpse into this royal jewelry box when she appeared at a royal banquet in 2005 wearing her first royal tiara, loaned to her by Queen Elizabeth II. 
Pictured smiling with her new husband, Camilla wowed in the tall and glistening Durbar Tiara, which dates back all the way to 1911 and was originally worn by Queen Mary at a celebration in Delhi. The dress did not disappoint either, as the duchess opted for a black, lacy number whose intricate, geometric patterns mirrored the intricate diamond swirls of her tiara. 
Mamma Mia!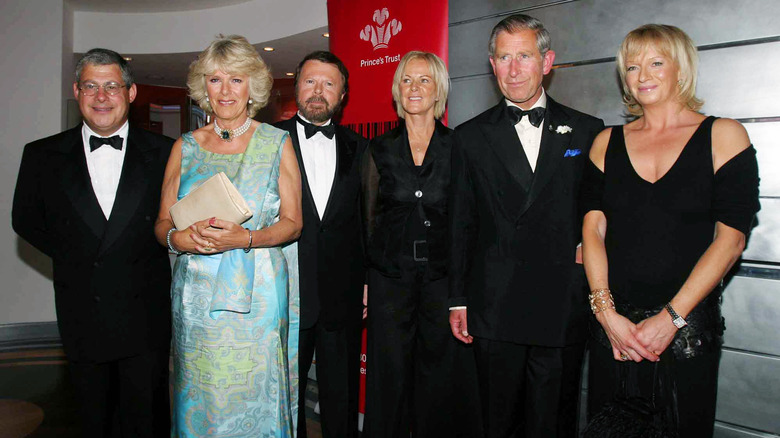 Tim Graham/Getty Images
Throwing it way back, the future Queen Consort of England wowed fans when she turned up to an exclusive premiere of the film "Mamma Mia!" in London in June of 2004. While Camilla has been known for her conservative chic fashion sense in recent years, the early 2000s saw the aristocrat experimenting with fabric, patterns, and even some skin-bearing frocks. 
This sleeveless pale blue silk dress with lime green accents was the perfect choice for the premiere of "Mamma Mia," as the ABBA-composed movie musical set on a Greek island is all about summer love and throwing away your inhibitions. Camilla accessorized her Mediterranean-inspired gown with a matching silk shawl, simple pearl earrings, and a crème-colored handbag. The most regal aspect of her ensemble, however, was her showstopping pearl choker fit with a sapphire centerpiece set in gold. To match his longtime love, Prince Charles also donned a royal blue pocket square.
Her own revenge dress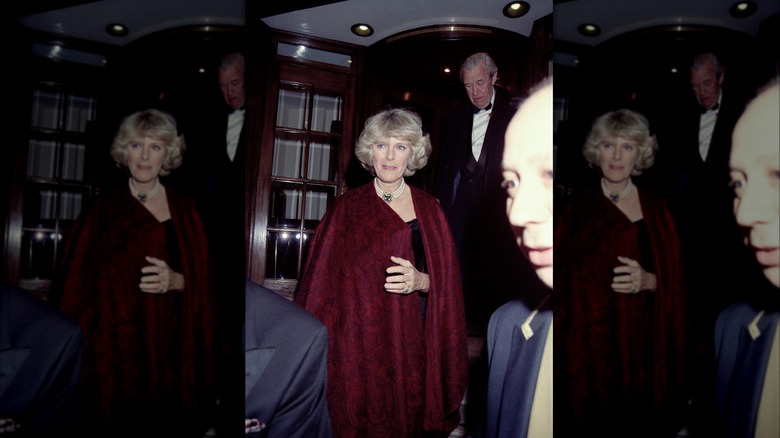 Dave Benett/Getty Images
While Diana, Princess of Wales made headlines in what was dubbed her "revenge dress" in 1994, Camilla had her own little black dress moment just a year later in 1995. Only mere months after announcing her divorce from her first husband, Andrew Parker Bowles, Camilla stepped out with her new partner on her arm wearing a velvet black dress with a seductive off-the-shoulder neckline and her classic blonde bob. 
Could this have been the future queen's way of getting 'revenge' on her former husband, as the public speculated was the case with Diana? The world may never know the behind-the-scenes details, but this only adds even more edge to this seductive ensemble, which might be one of Camilla's best fashion looks of the 90s. Adding a three-strand pearl choker and a scarlet patterned cape, Camilla showed that she was more than ready for the royal spotlight. 
Violet and velvet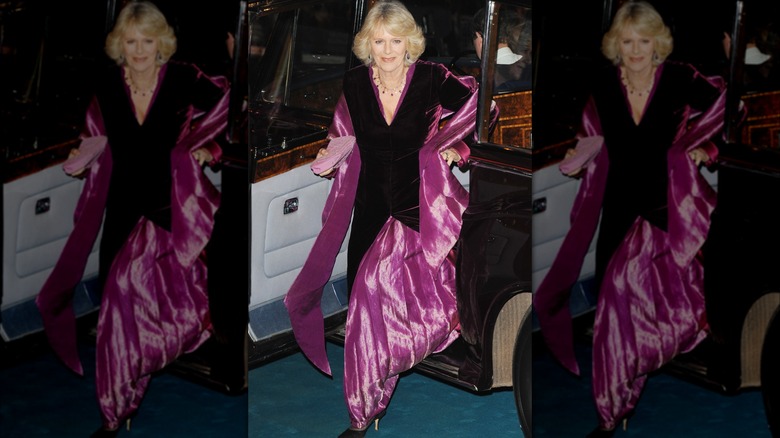 Rune Hellestad - Corbis/Getty Images
Is there anything more royal than a duchess attending the premiere of a film about an infamous British monarch? That's exactly what happened one November night in 2008, when Camilla, Duchess of Cornwall turned heads at the London premiere of "The Other Boleyn Girl." The duchess's presence was a bit ironic, considering the fact that her relationship with King Charles III began as a scandalous affair, and the film, though set back in the 1500s, follows the extramarital exploits of a fellow prince-turned-king. 
However, Camilla was having fun with it. Despite the possible negative press her presence could have garnered, it was her bright purple velvet gown that really stole the show. Featuring an oversized cape in a matching light violet color, Camilla's ensemble truly was fit for a future queen. She topped it all off with matching purple jewelry, which seemed to contain bright amethyst stones. 
New Millennium Barbie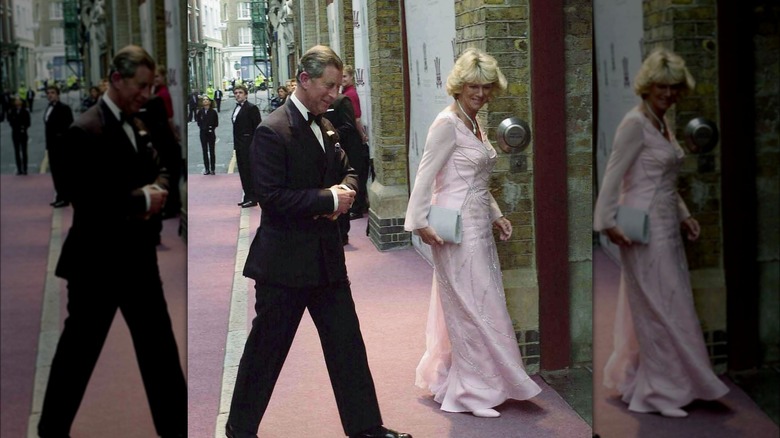 Anwar Hussein/Getty Images
It's a rare occurrence to see pink appear in Camilla's wardrobe, as the newly coronated queen usually opts for cool colors or creme hues. However, in the summer of 2000, the woman who was then the long-term girlfriend of Prince Charles turned heads when she appeared at a gala dinner celebrating The Prince's Trust in a bubblegum pink satin gown, fit with glittering bead details sewed on in a swirling pattern.
Was she ahead of the fashion curve? With Barbie-mania taking over runways and sidewalks alike in the summer of 2023, it wouldn't be hard to argue that Camilla was an early adopter of the aesthetic, as the future queen was clearly channeling her fellow famous blonde with this all-pink look. She kept it regal, however, by adding a shapely diamond necklace that hung from her neck in an artsy swirl pattern, matching the beading of her gown. 
Equestrian chic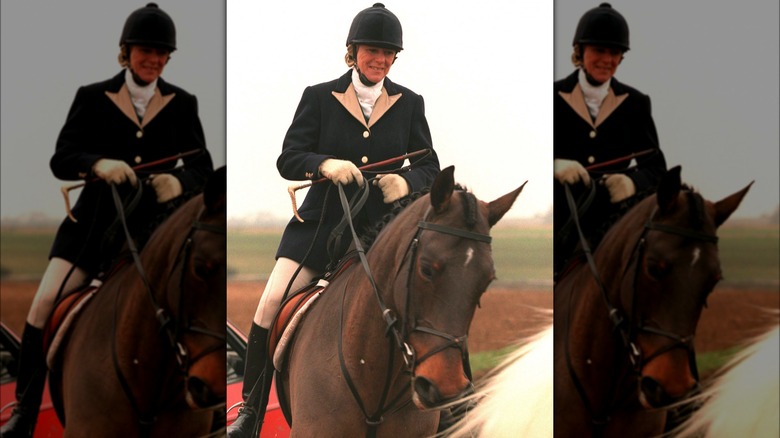 Uk Press/Getty Images
Ever hear of a tomboy queen? Well, now you have. Before she officially entered the royal frenzy, the formerly-named Camilla Parker Bowles was a renowned fan of horseback riding and fox hunting. In November of 1998, she was pictured riding her horse at the Beaufort hunt, which is known as one of the oldest and most prestigious fox hunting groups in England. 
Riding high atop her steed, the younger Camilla is seen wearing classic equestrian fare, including a smart, navy button-down blazer with creme-colored accents. Her gold cuff buttons and pastel yellow buttons along the bodice add a definitively feminine touch to her otherwise rough-and-rumble look. With riding crop in hand, the sporty Camilla also wore pastel yellow gloves to shield her from the classic British chill. That classic blonde bob? Camilla wore it tucked underneath her equestrian helmet, ever the practical, safety-minded sportswoman.