How Many Daytime Emmys Has General Hospital's Anthony Geary Won? (Spoiler: It's A Lot)
Allen Berezovsky/Getty Images
As if saving the world wasn't enough for Luke Spencer on "General Hospital," actor Anthony Geary has dominated the Daytime Emmys category for Outstanding Actor in a Daytime Drama Series with a whopping 17 nominations and eight wins across his impressive 37 years on the show. Geary jumped into the part of Luke in 1978, and his pairing with Genie Francis' Laura Webber would create the first super couple in 1981. Despite the conflicted history of Luke and Laura's wedding, they would go on to remain fan favorites over the decades. He proved himself to be a phenomenal actor, turning con artist Luke into a reluctant hero, and having great chemistry with nearly all of his scene partners.
All of his awards were for "GH." He was nominated for four Soap Opera Digest awards for Outstanding Lead Actor, winning twice in 1999 and 2000. He also won all three of his Soapy Award nominations in 1980, 1981, and 1983. Geary nabbed seven nominations for Best Actor in a Daytime Serial from the Online Film & Television Association, winning only once in 2008. In 2006, he was nominated for Most Wonderful Wedding by the TV Land Awards, and got a Gold Derby Award nomination for Lead Actor — Daytime Drama in 2011.
That's a lot of awards to put on a shelf, so let's focus on his Emmy wins here.
1982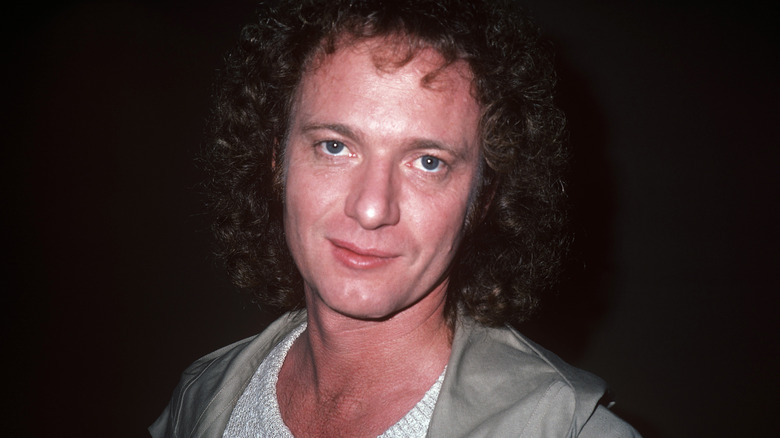 Walter Mcbride/Getty Images
After appearing in the 1972 horror film "Blood Sabbath," as well as such TV shows as "Barnaby Jones," and "The Streets of San Francisco," Anthony Geary would find his niche playing Luke Spencer on "General Hospital." 1981 was a milestone year for the sudser as not only would Luke and Laura Spencer defeat Mikkos Cassadine (John Colicos) and his plot to blackmail the world with a weather-dominating device, but they also got married in one of the highest-rated soap opera episodes ever with 30 million viewers. With the phenomenal stories and acting, "GH" and its stars were put on the map, granting Geary his first Daytime Emmy nomination for Outstanding Actor in a Daytime Drama Series in 1982.
He had some stiff competition going up against fellow soap stars Larry Bryggman, who played John Dixon on "As the World Turns;" "GH" co-star Stuart Damon for playing Alan Quartermaine; and "All My Children" stars James Mitchell, and Richard Schoberg for portraying Palmer Cortlandt and Tom Cudahy, respectively. When Geary's name was announced, he raced to the stage, grabbed the trophy, and held it high yelling, "Thank you!" He pointed to the audience and yelled, "Gloria [Monty, then executive producer], thank you! The cast: Jackie Zeman [Bobbi Spencer], Norma Connolly [Ruby Anderson], [and] Genie Francis — half of this is yours! Thank you!" Then he walked quickly off the stage, waving the statue high in the air.
1999
When he was next nominated in 1999, it was a first for the Daytime Emmys as all five candidates for Outstanding Lead Actor in a Drama Series were previous Emmy winners. His powerhouse competition that year consisted of Peter Bergman (Jack Abbott, "The Young and the Restless"), Eric Braeden (Victor Newman, "The Young and the Restless"), David Canary (Adam Chandler, "All My Children"), Robert S. Woods (Bo Buchanan, "One Life to Live"). When Geary's name was again announced, his then "General Hospital" co-star Stephen Nichols (Stefan Cassadine) lovingly grabbed the sides of his head as he was getting up to go to the stage.
The clip that got him the nomination was of Luke acknowledging his horrible rape of Laura to another character, stating, "I was weak. I couldn't control myself. And I was a coward." When Geary's name was announced as the winner, he gracefully moved up to the stage and said, "Thank you! I have so many words and so little time to say them." He pointed out then-executive producer of "General Hospital" Wendy Riche in the audience and declared, "It takes a grain of sand to make an oyster into a pearl. You are my grain of sand." He noted that he loved the writers, directing praise to Michele Val Jean, stating, "Thank you for your beautiful words." Before exiting the stage he stated, "I'm very excited. I thank you very much."
2000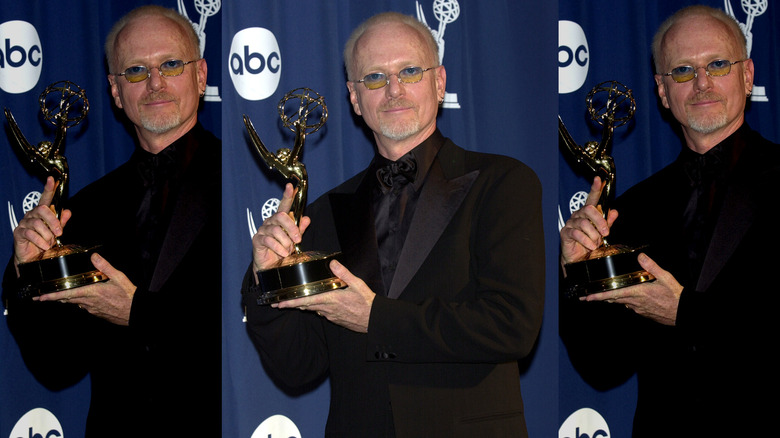 Rj Capak/Getty Images
At the 2000 Daytime Emmy Awards show, Anthony Geary and Genie Francis presented the nominees for Favorite Couple in a soap opera, humorously noting that their characters Luke and Laura weren't in the running because they were seeing other people. That year would also see a repeat of all the actors nominated for Outstanding Lead Actor in a Drama Series from 1999, including Geary, Peter Bergman, David Canary, Eric Braeden, and Robert S. Woods. The clip that secured Geary's win that year was of Luke Spencer's emotional breakdown when he believed his son, Lucky Spencer (Jonathan Jackson), had died.
Even though the character of Lucky would later be revealed to have been kidnapped and brainwashed by the evil Helena Cassadine (Constance Towers), Geary's performance as Luke and Laura clear out their son's room was heartbreaking. "General Hospital" itself would win the Emmy for Outstanding Drama Series that year, along with Outstanding Drama Series Directing Team that included show directors Joseph Behar, Shelley Curtis, William Ludel, Scott McKinsey, and Alan Pultz.
2004
"General Hospital" alum Vanessa Marcil — who played fan favorite Brenda Barrett — hosted the 2004 Daytime Emmy Awards show, and Anthony Geary was once again facing stiff competition. The other nominees for Outstanding Lead Actor in a Drama Series included Grant Alexsander for "Guiding Light," Roger Howarth for "As the World Turns," Eric Braeden once again for "The Young and the Restless," and Thorsten Kay for the "GH" spin-off series, "Port Charles." Geary was also up against one of his own as Maurice Benard was nominated for his portrayal of ruthless mob boss, Sonny Corinthos. Howarth would later play three different characters on "GH," Todd Manning, Franco Baldwin, and Dr. Austin Gatlin-Holt.
The year 2004 was also special, as Marcil presented a posthumous lifetime achievement award to the son of Anna Lee, who played the beloved Lila Quartermaine from 1978 until her death in 2003. Everyone in Port Charles loved the charming Lila, and when Luke Spencer and Felicia Scorpio (Kristina Wagner) were working on her memoirs, they discovered in her youth she killed her then-fiancé in self-defense when he attacked her. Loving Lila as they did, Luke and Felicia kept that secret from then on.
2006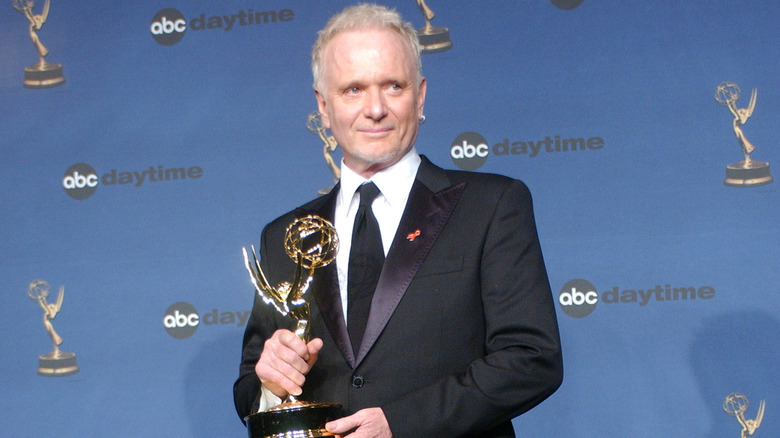 Albert L. Ortega/Getty Images
Nabbing his 10th Daytime Emmy nomination in 2006, Anthony Geary would also win for Outstanding Lead Actor in a Drama Series, securing his fourth win. After hugging several castmates, including Maurice Benard, Geary went up to the stage where "One Life to Live" star Erika Slezak presented him with the trophy. He thanked the crowd as they honored him with a standing ovation, and said, "It was almost 30 years ago that a creative genius invited me into her office and said, 'I want to create an iconic character for "General Hospital," the likes of which daytime has never seen before.'" That genius was none other than the famed executive producer of "GH," Gloria Monty, who revolutionized daytime serials with an influx of action and adventure storylines, of which Geary was part of many. He credited Monty for why he was standing at the Emmys at all, adding, "God knows where I would be standing without her."
Geary was clearly touched as he thanked all of the directors, producers, and writers on the show, particularly pointing out one person as he stated, "I wanna thank Luke Spencer's guardian angel. The woman I always turn to when I'm in trouble, Irene Suver. Thank you very much!" Suver was Geary's good friend and writing partner, and together they concocted the story that would bring Luke and Laura back to "GH" in 1993.
2008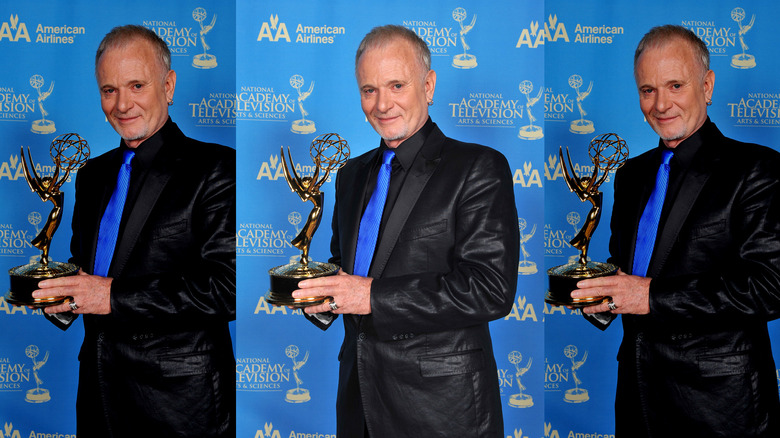 Marc Bryan-brown/Getty Images
In 2008, venerable soap star Susan Lucci (Erika Kane, "All My Children") presented Anthony Geary with his sixth Outstanding Lead Actor in a Drama Series, again for his portrayal of Luke Spencer, which set the record for the most wins in that category. He went up against nominees like Peter Bergman ("The Young and the Restless"), David Canary ("All My Children"), Christian LeBlanc ("The Young and The Restless"), and Thaao Penghlis ("Days of Our Lives"). Amidst another standing ovation, Geary got to the podium and explained that there wouldn't be enough time to thank everybody, but he did quote a legendary actor, stating, "You know the great character actor Peter Lorre called acting, 'Merely makin' faces.'" He breathlessly held up the statue, adding, "And I made a lot of faces to get this, I'll tell ya."
He referenced a comedy that he was in where the director, Bill Ludell, "Encouraged me to make faces that you could see from the moon, and I love you for that Bill. Thank you." He again thanked the producers and writers, as well as noting his castmate Jane Elliot (Tracy Quartermaine), "I'm grateful to my partner in crime, Jane Elliot, who makes me better, who makes me on time, makes me know my words." He then thanked the academy and as he left the stage he blew kisses at the audience.
2012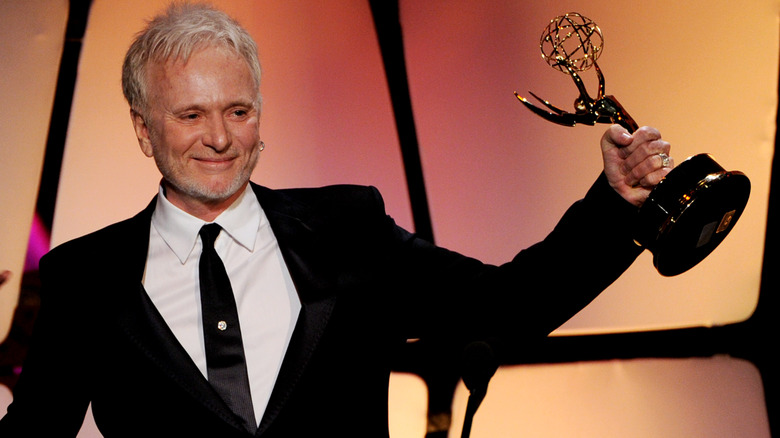 Kevin Winter/Getty Images
In 2012, Anthony Geary's performance as Luke Spencer battled alcoholism because he thought he'd killed his own grandson in an auto accident netted him his seventh Daytime Emmy for Outstanding Lead Actor, securing his position as having the most wins in the category. He addressed his competitors, Maurice Benard, John McCook ("The Bold and the Beautiful"), Darnell Williams ("All My Children"), and Robert S. Woods, stating, "You're all dear friends of mine and I admire you all very much, and I feel a little bit guilty here. I think you were all robbed." Because the award was given early in the evening, he felt he had more time for proper gratitude. He remarked, "It's a good way for 'GH' to start. We have 23 nominations, which is pretty amazing, since last year we were almost canceled in favor of a surefire ratings bonanza, 'Celebrity Boob Jobs Gone Wrong,'" sending laughter throughout the audience.
He thanked the "hard-working" cast, crew, and production, adding, "I would like to thank [executive producer] Jill Phelps for over three decades of friendship and support. I'd like to thank [writer] Bob Guza for throwing my character into the existential abyss and giving me the blackest story I could have ever hoped for." He wound things up by stating, "And finally, to the finest acting team, an acting family, a guy could ever ask for in Jonathan Jackson [Lucky Spencer], Julie Berman [then Lulu Spencer], Nathan Parsons [Ethan Lovett], and the incomparable Jane Elliot."
2015
Anthony Geary's eight and final Emmy win came in 2015 for his portrayal of Luke's alternate personality, known as "Fake Luke," or "Fluke." He was only up against three other stars: Christian LeBlanc and Billy Miller for "The Young and the Restless," and his "General Hospital" castmate, Jason Thompson. He praised the other nominees, saying, "You guys are the real deal. It's an honor to be on the shortlist with you. He thanked the writers, including then-head writer Ron Carlivati, "For some spectacular material." He also credited executive producer Frank Valentini for asking him what storyline he hadn't done and what he wanted to do, explaining that the base of his statue belonged to Frank who could visit it in Amsterdam whenever he wanted. His final words were, "Thank you academy for not being sick of me yet!"
Fox News reported on an interview TV Guide did with Geary in October 2013, where he stated, "If I ever do leave 'GH' — not something I want to see happen anytime soon — I want Luke to die. I don't want him coming home for Christmas episodes or the birth of his great-grandchildren. I would prefer to have him go out in a blaze of glory and also that it be the climax of a wonderful story that involves the entire community, rather than some inconsequential B plot." 
Sadly, Luke was killed off-screen in January 2022, and we're hoping that he'll return someday for a proper send-off.
If you or anyone you know has been a victim of sexual assault, help is available. Visit the Rape, Abuse & Incest National Network website or contact RAINN's National Helpline at 1-800-656-HOPE (4673).