Signs Harry And Meghan Aren't As Close To The Obamas As They Claim To Be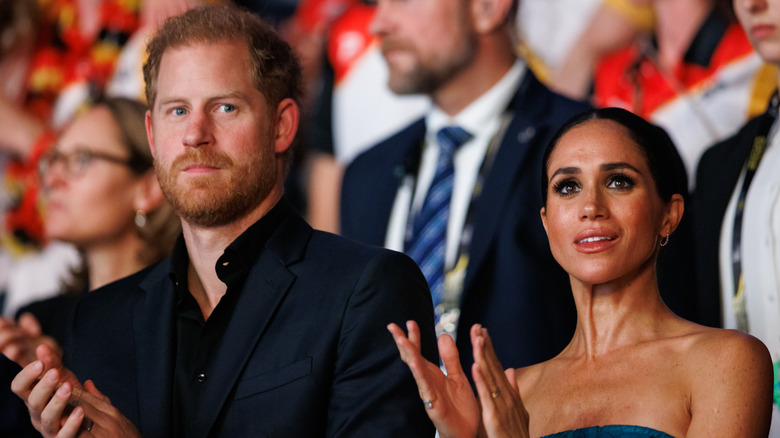 Joshua Sammer/Getty Images
We may receive a commission on purchases made from links.
When you look at Prince Harry and Meghan Markle and compare them to President Barack Obama and his wife Michelle, you'll quickly spot a handful of similarities. Both Prince Harry and Barack are seen as outliers in their roles as leaders of the people. The president-to-be was young, charismatic, and down to earth — a far cry from many of the previous presidents that came before him. Likewise, Prince Harry is definitely a people's prince, as his charity work and decision to step away from his royal duties exemplify. As for the Duchess of Sussex and the former First Lady, both had their previous lives swapped out for something infinitely more public when they married their respective husbands. There are even those who believe (with ample evidence ) that Prince Harry and Meghan have tried to emulate the Obamas over the years.
When these two couples started hanging out together in public, it probably didn't come as much of a surprise. Per Time, Prince Harry was seated courtside at the 2017 Invictus Games with the former POTUS at his side. In 2019, Meghan even interviewed Michelle over lunch for British Vogue, during which she called the health advocate a "friend." Despite their public displays of affection, we're not quite sold on their friendship. Over the years, we've seen signs that the Duke and Duchess of Sussex aren't as close to the Obamas as we previously thought.
Michelle doesn't like Meghan's 'attitude' towards the royal family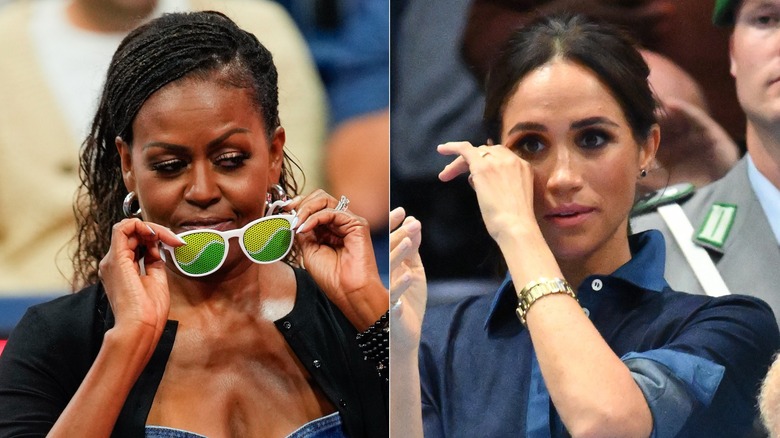 Jackson Lee & Karwai Tang/Getty & undefined
We got our first glimpse into how Michelle Obama really feels about Meghan Markle all the way back in December 2018. Per ABC News, Michelle was in London on a highly anticipated promotional tour for her memoir "Becoming." Among those in the crowd eagerly awaiting the chance to meet with the legendary First Lady was Meghan Markle. As soon as Michelle was finished giving her speech, the British duchess hurried backstage to finally meet the woman who is believed to be her role model.
While this has been widely lauded as the moment their friendship began, new details from that day reveal that Michelle might have grown royally irritated by Meghan instead. In his book "Revenge: Meghan, Harry and the War Between the Windsors," author Tom Bower claimed that Michelle felt put off by Meghan's attitude towards Queen Elizabeth and the other members of the royal family. Michelle apparently wasn't shy about telling Markle how she really felt about her. "Her advice to Meghan was delivered in public," Bower wrote (via Newsweek). During their conversation, she gave some advice to her younger colleague, saying, "Take some time ... and don't be in a hurry to do anything."
It wouldn't be the first time Michelle shot down Meghan's concerns about the royal family. When asked about Prince Harry and Meghan's infamous "Oprah" interview, Michelle reminded the new royal to put her people first. "Public service is a bright, white, hot spotlight," she told Today host Jenna Bush Hager. "None of this is about us in public service — it's about the people that we serve."
A birthday party snub put their friendship into question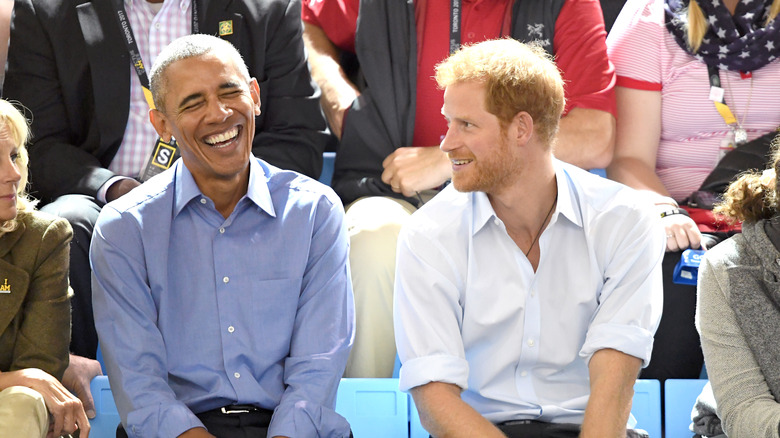 Karwai Tang/Getty Images
Barack Obama's 60th birthday party was something to remember. It happened during the height of the COVID-19 pandemic, which forced the politician to adjust his invite list so everyone could celebrate safely. Huge stars like George Clooney, Oprah Winfrey, Tom Hanks, and more were among those who made the shortened list, according to the Daily Mail. But Prince Harry and Meghan Markle were nowhere in sight. In fact, as author Angela Lavin explained to The Sun, the royal duo didn't even make the original list.
If someone really likes you, you expect to receive an invite to their birthday party. And if your friend happens to be the former president of the United States whom you're diplomatically linked with, there's all the more reason to expect that invitation to appear in your mailbox. Royal expert Phil Dampier explained that the Sussexes not receiving an invite was a major snub. "It was on the other side of the country but a lot of movers and shakers were there, and it would have been the perfect networking event if Meghan has political aspirations," Dampier told The U.S. Sun. He said the decision was likely a political move by the Obamas. Neither wanted to take sides in the ongoing fight between the Sussexes and the rest of the royal family.