Barron Trump Was Reportedly Disturbed By Kathy Griffin's Controversial Anti-Donald Pic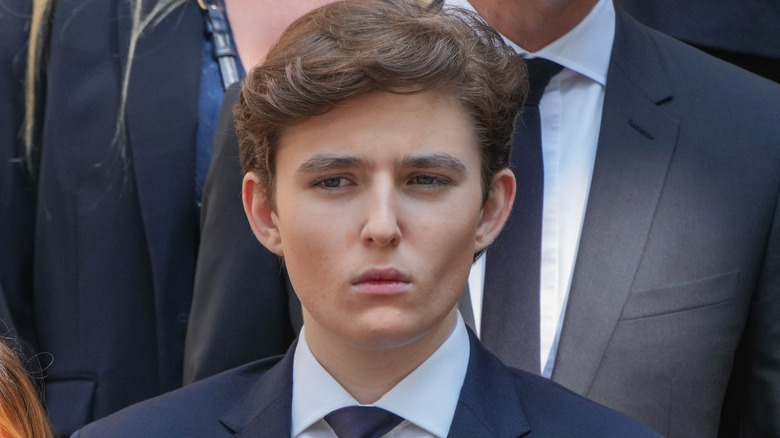 Jni/star Max/Getty Images
Any child whose parent is the President of the United States can expect especially unique life experiences, but watching someone holding a bloody replica of your father's decapitated head likely isn't one of them. Yet, that's precisely what Barron Trump went through at the vulnerable age of 11 when comedian Kathy Griffin shared her now-infamous anti-Donald Trump photo on X, the platform formerly known as Twitter, in 2017.
Griffin's controversial photo quickly became a headline news story, splattered across social media platforms, news sites, and television screens everywhere. According to an inside source for TMZ, the youngest son of former President Donald Trump, Barron, was watching TV with his mother — Donald's third wife, Melania Trump — when he first saw the photograph.
TMZ reported that Barron was immediately distraught, shouting for his mother in fear that something had actually happened to his father. "He's 11," the source told the news outlet. "He doesn't know who Kathy Griffin is, and the head she was holding resembled his dad."
Barron's parents were quick to condemn the comedian's gory photo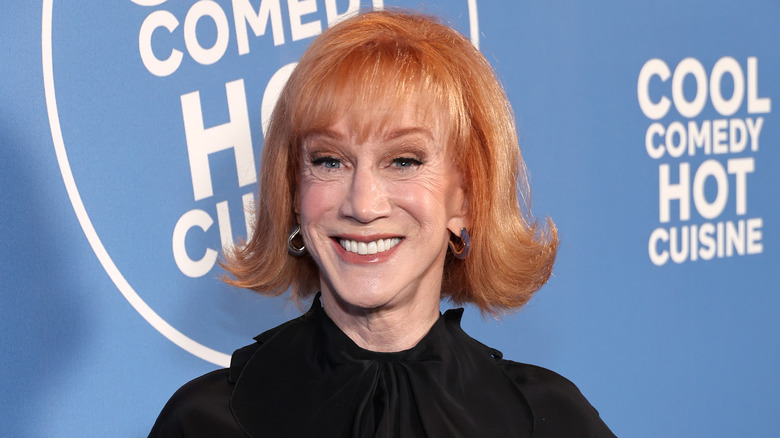 Matt Winkelmeyer/Getty Images
Donald and Melania Trump didn't mince their words when responding to Kathy Griffin's violent political photograph, particularly in response to how it affected their young son. "Kathy Griffin should be ashamed of herself," the then-newly elected president posted on X. "My children, especially my 11 year old son, Barron, are having a hard time with this. Sick!"
The former first lady also released a statement that was posted on ABC's John Santucci's X account which read: "As a mother, a wife, and a human being, that photo is very disturbing. When you consider some of the atrocities happening in the world today, a photo opportunity like this is simply wrong and makes you wonder about the mental health of the person who did it."
Griffin later apologized for the image, saying that she understood she crossed a line, per Entertainment Weekly. However, she later recanted her apology and reshared the photo three years later during the hotly contested 2020 presidential election. The photo received far less backlash and condemnation the second time around, and neither Donald nor Melania commented on the image or their then-14-year-old son's reaction to it.
The Trump family has always been incredibly protective of young Barron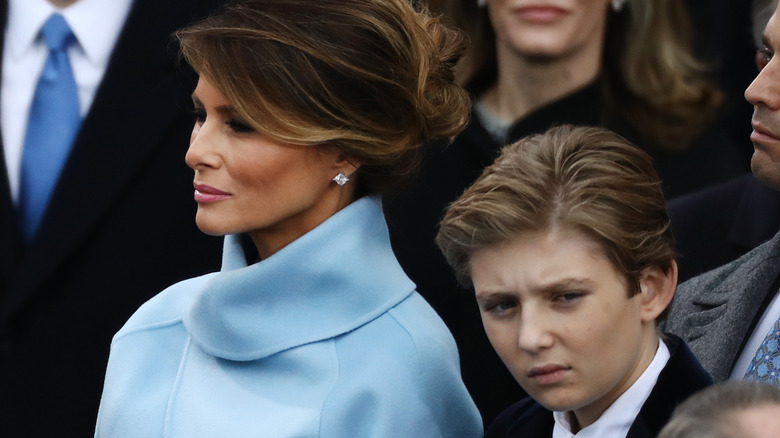 Bloomberg/Getty Images
Despite the intensely divisive culture that grew from Donald Trump's election to the presidency in 2016, even the most disagreeable public figures seemed to agree on one thing: leave Barron Trump, a child, out of the hateful rhetoric. This idea was even able to briefly unite Donald Jr. and Chelsea Clinton after Chelsea, the only daughter of Bill and Hillary Clinton condemned online jokesters mocking Barron.
Melania Trump, for her part, has also been fiercely protective of her only son. She once slammed Food Network star John Henson for posting a snide remark about Barron's "real" father on X. "A minor child should be off limits and allowed to grow up with no judgment or hate from strangers and the media," Stephanie Grisham, Melania's spokeswoman, responded in a since-deleted tweet (via Access Online). Not even Melania's husband is exempt from the "no joking about Barron" rule, as evidenced by the former model's allegedly furious response to Donald posting a photo of his son to Truth Social in August 2023.
"Melania has been incredibly protective of Barron and has told Donald she would not stand for him to be exploited by anyone, even his father," a source told Radar Online. Melania has worked hard to keep her son's life private, which is why Barron Trump is almost never seen in public. And after experiencing the things he has as an innocent child, one can hardly blame him.