All The Drama Surrounding Angelina Jolie And Brad Pitt's Winery, Explained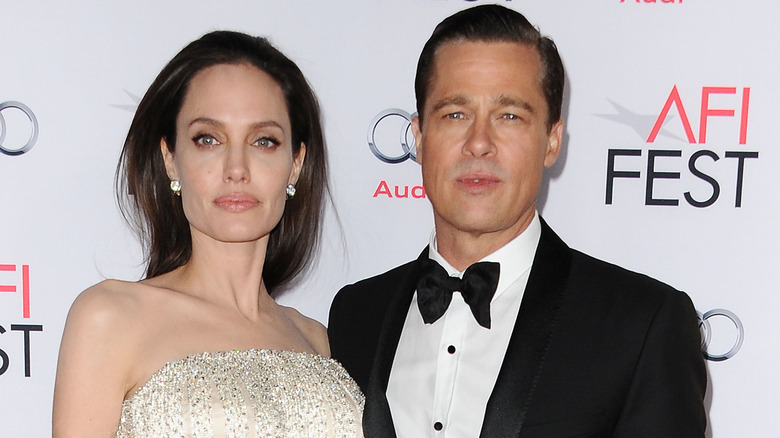 Jason Laveris/Getty Images
As the old saying goes, there's no use crying over sold, er, spilled wine — but that's what seems to be happening amid the contentious divorce of Hollywood A-listers Angelina Jolie and Brad Pitt. The former power couple's Château Miraval, a sprawling medieval estate and vineyard in the south of France, is now the subject of tense legal drama prompted by Pitt suing Jolie for selling her shares of Miraval without the "Fight Club" actor's consent.
People published legal documents that explained Jolie's sale was illegal due to a "contractual agreement to hold Miraval together and not sell their interests separately without the other's consent." Pitt's legal team also cited concerns with the recipients of Jolie's shares, Tenute del Mondo. The beverage company is a subsidiary of the Russian spirits manufacturer Stoli Group, owned by Yuri Shefler, whom Pitt's legal documents call a "Russian oligarch."
Pitt's lawsuit claims the Russian link to Château Miraval would damage his business and the actor's reputation. Jolie countersued, claiming no wrongdoing regarding the sale and accusing Pitt of mishandling Miraval's funds. With words like "hostile takeover" and "vindictive war" being thrown out by both legal teams, it's clear this feud is impassioned on either side. 
Brad Pitt claims he and Angelina Jolie had a mutual contract, but Jolie disagrees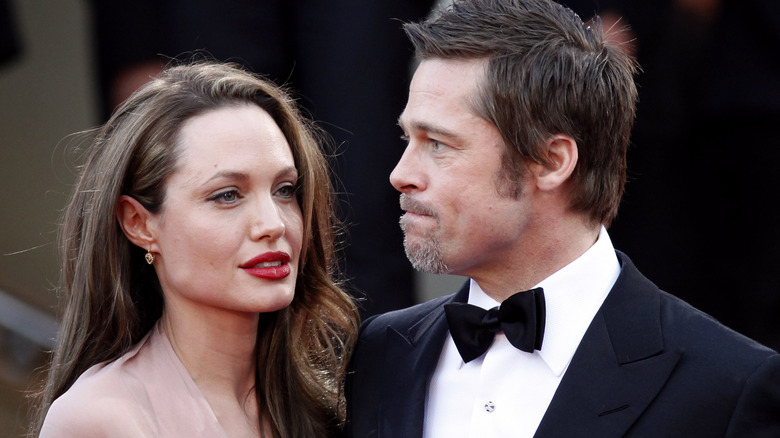 Jean Baptiste Lacroix/Getty Images
Brad Pitt and Angelina Jolie bought Château Miraval and its surrounding vineyards for $60 million in 2012. In addition to using the home as a luxurious vacation spot, the stunning French estate was also the site of Pitt and Jolie's 2014 wedding. It was around this time that Pitt alleges he and Jolie formed their agreement to sell their shares exclusively with the other's consent. Jolie's legal team rejected this idea in their countersuit.
In courtroom filings published by People, Jolie's team retorts, "Plaintiff Pitt's allegations that he and Ms. Jolie had a secret, unwritten, unspoken contract to a consent right on the sale of their interests in the property is directly contrary to the written record and, among other legal defects, violative of the Statute of Frauds and public policy." Jolie claimed she sold her shares of Miraval to gain independence from her ex-husband and "to have some form of peace and closure to this deeply painful and traumatic chapter of her and their children's lives," per CNN.
Moreover, Jolie's lawsuit asserts that she did try to sell her half of the winery's shares to Pitt, but he walked away from the $54.5 million sale after Jolie refused to sign a non-disparagement clause banning the "Girl, Interrupted" actor from discussing Pitt's accused physical or emotional misconduct toward his family after a heated airplane ride severely damaged his relationship with Jolie and his six children (via CNN).
Brad Pitt says his reputation is at stake, Angelina Jolie alleges mishandling of winery funds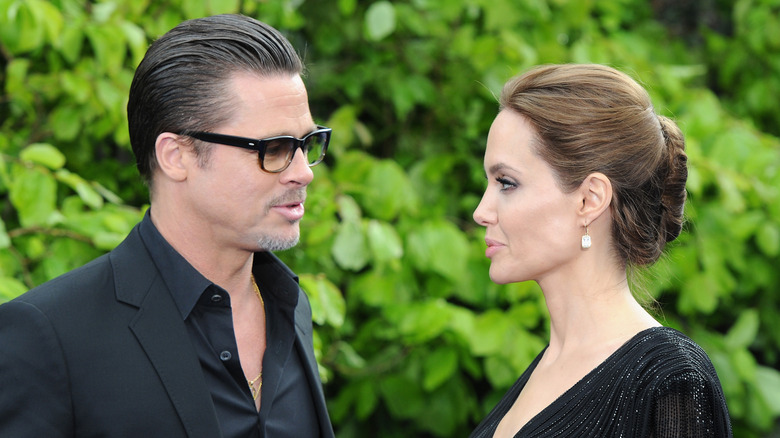 Eamonn Mccormack/Getty Images
While Brad Pitt's lawsuit largely rests on the contract he alleges he and Jolie shared, the court filings also accuse Angelina Jolie of damaging Pitt's reputation by selling her shares to a Russian company amid ongoing boycotts due to the war in Ukraine and Vladimir Putin's homophobic policies. Pitt's legal team states, "Affiliation with [Yuri] Shefler and Stoli jeopardizes the reputation of the business that Pitt so carefully built with Perrin [his wine-making partner] and with which Pitt has so closely and carefully associated himself and his image" per People.
Jolie's defense claims that any damage to the Miraval business has been largely due to Pitt's mishandling of company funds. Her defense is seeking $350 million in damages due to Pitt "wasting the company's assets, spending millions on vanity projects, including more than $1 million on swimming pool renovations, building and rebuilding a staircase four times, and spending millions to restore a recording studio," per CNN.
Documents obtained by TMZ reveal that both parties have stated they're willing to settle the legal dispute out of court through mediation, though it's unclear whether (or when) that will actually happen. The celebrities reportedly struggled to co-parent before their divorce in 2016, and as their impassioned legal battle continues, it doesn't seem like things will be getting any easier for the ex-spouses.