General Hospital's Maurice Benard Struggled During The Pandemic More Than We Knew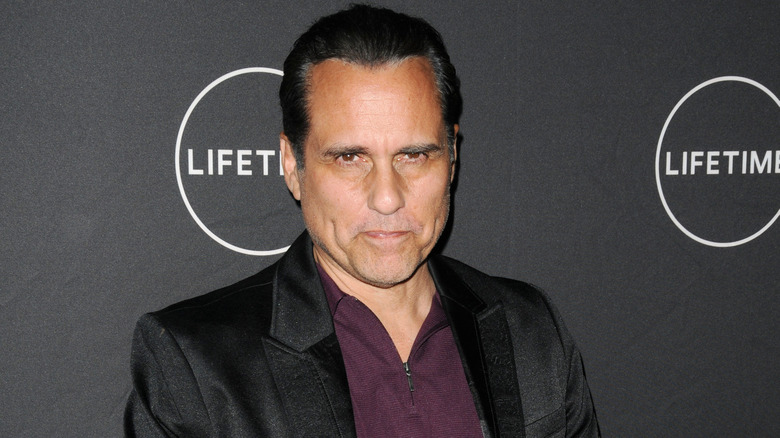 Howard Wise/jpistudios.com
We may receive a commission on purchases made from links.
Editor's note: This article includes a discussion of suicide.
"General Hospital" star Maurice Benard has been very transparent about his mental health struggles over the years. The actor, who is best known for his role as mob boss Sonny Corinthos, has made it no secret that his bipolar disorder has made it very difficult for him to function on a day-to-day basis, both at home and at work. It's what has also prompted him to be a spokesperson for mental health awareness. 
By telling his own story in his book "Nothing General About It" and his YouTube series "State of Mind," Benard uses his platform to talk about the kinds of struggles that you wouldn't hear a celebrity of his caliber otherwise talk about. He told ABC in an interview that it was a letter from a young boy who had also struggled with his mental health that encouraged him to become one of the most vocal advocates in the entertainment industry. "He said that, by reading what I wrote, it helped him deal. And then I decided, at that point, I will not shut up. And I haven't shut up for over 30 years," he said.
While Benard previously had opened up about his mental health struggles during the pandemic and worldwide lockdown, it seems like the actor dealt with it harder than what we already knew. It was so bad, that Benard even contemplated suicide.
Maurice Benard was in a very dark place during the pandemic
In an interview with People magazine, Maurice Benard admitted that he had contemplated suicide during the pandemic back in 2020. It was so bad that he even thought about ending his life daily. The actor discussed one particular moment when he was in bed with his wife, Paula Benard, who had to help calm him after he was having a panic attack. "That night I was shaking like a fish out of water and crying like a baby. This had never happened in my life," he said. " I was stuck in this horrific panic that wouldn't leave."
Benard decided to open up about his suicidal thoughts because he and the cast of "General Hospital" have lost two actors in the last several months who had also dealt with their inner demons. Billy Miller took his own life in September 2023 at the age of 44 while Tyler Christopher died of a cardiac arrest on Oct. 31 after dealing with his own well-documented substance abuse problems. 
Benard said that the only reason why he didn't take his own life is because that would give others a reason to do it, too. "I always believed that God wanted me to suffer so I can prevent other people from suffering," he said.
If you or anyone you know needs help with addiction issues, help is available. Visit the Substance Abuse and Mental Health Services Administration website or contact SAMHSA's National Helpline at 1-800-662-HELP (4357).