Zooey Deschanel Corrects Jonathan Scott's Disappointment From His First Wedding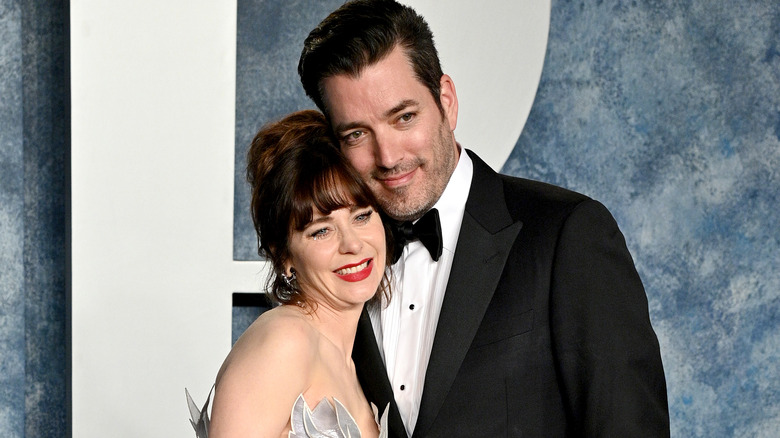 Lionel Hahn/Getty Images
HGTV star Jonathan Scott has found his dream woman in "New Girl" alum Zooey Deschanel, so it's only fitting that his new partner is helping him finally have his dream wedding. In an October 2023 episode of the "You Made It Weird with Pete Holmes" podcast, Scott opened up about how his first wedding fell short — and what Deschanel did to make up for it.
While discussing the importance of not allowing others to dictate your wedding plans on the podcast, Scott mentioned his first wedding to Kelsy Ully in 2007. "It should have been a red flag for me," he began. "I kind of glossed over it. I'm Scottish, proud of my Scottish heritage. I wore a kilt to the wedding. We had this beautiful outdoor setting. Our friends let us use their place out on the lake; it was gorgeous. She forbade me from having bagpipes play."
Luckily, Scott won't have to worry about missing out on this essential Scottish element in his wedding to Deschanel, who has seemingly greenlit bagpipes at their impending nuptials. Scott told Holmes, "She knows the things that are important to me."
Bagpipes were involved in Jonathan Scott and Zooey Deschanel's proposal story
The instrument isn't just a nod to "Property Brothers" co-host Jonathan Scott's heritage. Bagpipes were also involved in Scott and Zooey Deschanel's over-the-moon sweet engagement. In a 2023 cover story with People, the couple shared their engagement story that started on a tour of Scotland's historic Edinburgh Castle with Deschanel and her two kids, Elsie and Charlie.
The HGTV star explained that he, Deschanel, and the kids were the last group to tour the centuries-old castle. "I had a pipe band that was playing on this one raised platform area that has the most magnificent view," he recalled. Deschanel added that, as the group made their way to the platform, "All of a sudden, this guitarist steps forward and starts playing "Harvest Moon," and that's a special song for us. And I was like, uh, I think something's happening."
The "500 Days of Summer" star said she didn't want to assume what was going on until she knew for sure. But her suspicions were confirmed when she saw Elsie and Charlie unfurl a banner that read, "Zooey, will you marry me?" (via YouTube). After she said yes, the couple snapped a pic and posted it to Instagram with the caption, "Forever starts now!!!"
Jonathan Scott and Zooey Deschanel pay attention to each other's wishes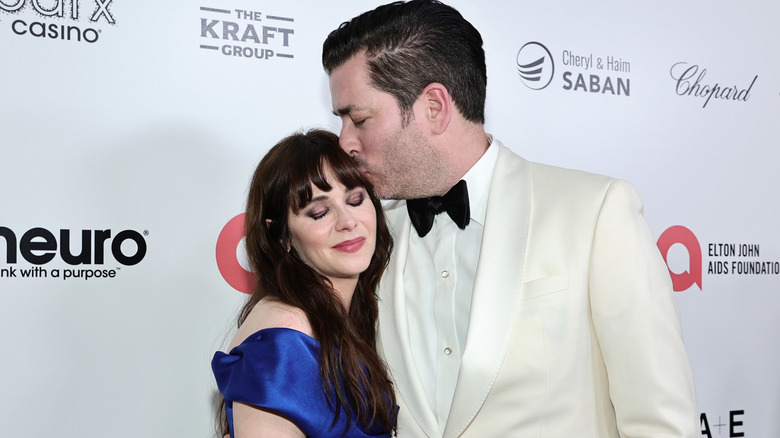 Jamie Mccarthy/Getty Images
Part of what makes Jonathan Scott and Zooey Deschanel's relationship so swoon-worthy is the obvious effort they put into honoring each other's wants and wishes — Deschanel's stunning engagement ring is a perfect example of that dedication. Scott told People he took a screenshot of his future wife's dream ring after she mentioned liking it in passing "probably over a year" before he would finally pop the question.
Deschanel's ring is a gorgeous Folie des Prés ring by Van Cleef & Arpels that retails for $41,300 before tax and features diamond and purple and pink sapphire-encrusted flowers on a white gold band. In an exclusive interview with The List, diamond pro Mike Fried commended Scott on his selection, saying: "It is far from a traditional or classic ring. Zooey is a one-of-a-kind person, and it's evident that Jonathan Scott sees that and values that about her."
With their romantic gestures and evident admiration for each other, it's hard not to classify them as Hollywood's cutest "It Couple." A body language expert spoke to The List following the couple's People cover story, saying, "Their encouragement of one another is unquestionable. You could also see that special gleam in their eyes as each spoke." And there's no doubt that sparkle will be there at their wedding, bagpipes proudly playing in the background.