The Highs And Lows Of Keke Palmer And Darius Jackson's Relationship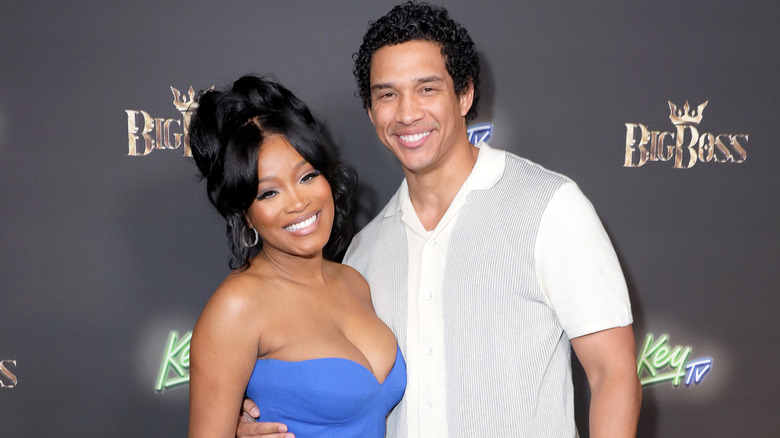 Rebecca Sapp/Getty Images
The article includes mentions of domestic abuse.
A multi-hyphenate talent who acts, sings, produces, and has her own digital TV network (KeyTV), Keke Palmer has been racking up credits since she was a child. She was the 13-year-old who stole your heart in the film "Akeelah and the Bee," the precocious Nickelodeon star with her own series "True Jackson, VP," a stripper in "Hustlers," and the title role in the movie "Alice," among so many other credits.
It was her one-episode gig as Kira on the HBO series "Insecure," though, that brought Palmer into the role of girlfriend. While at a party in May 2021, the actor saw "Insecure" star Sarunas J. Jackson arrive with a man who intrigued her. Turns out it was Sarunas' little brother, Darius. "I was not looking for love," Palmer told Terrell Grice. "But when I talked to him ... he's just a sweet guy." Palmer and Darius Jackson struck up a romance. Sadly, it didn't last.
Two years later, in early November 2023, Palmer filed for and was granted a temporary domestic violence restraining order against Darius. Amidst the information contained in the court documents was the fact that the two had split a month earlier in October and that the couple's relationship had been filled with both physical and emotional abuse. It was another low in their time together, one of many ups and downs. Pick a month between 2021 and 2023, and it was anyone's wild guess whether they would be gushing about each other, or deleting pictures from their social media.
If you or someone you know is dealing with domestic abuse, you can call the National Domestic Violence Hotline at 1−800−799−7233. You can also find more information, resources, and support at their website.
Happy, then not so happy, then happy, then not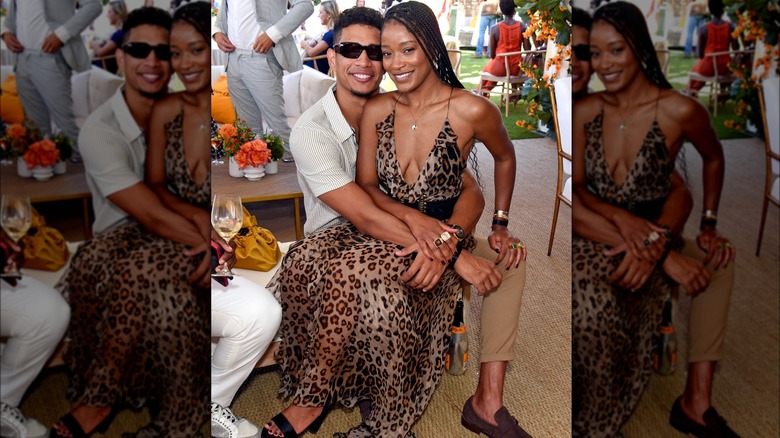 Gregg Deguire/Getty Images
The romance between Keke Palmer and Darius Jackson started out with a lot of love in the air. The actor shared with the Tamron Hall Show the reason she became Instagram official with Jackson, sharing her new relationship with fans. "We spend all this time together, and he really is my closest friend, so it just becomes a thing where I'm not gonna hide something that makes me happy." Jackson also shared his smitten status, telling his lady love she was a blessing.
But in spring 2022, rumors started swirling the two had called it quits. In March, it looked like the former child star had scrubbed her social media of all signs of her fitness-trainer boyfriend, and had hit the unfollow button on his accounts; Jackson reciprocated in like. Then in December, the "Big Boss" singer proved they were back in the thick of things when she showed off a baby bump on "Saturday Night Live." It was the outcome of that bump that eventually caused Palmer to end things permanently, in a big way.
Along with the restraining order against Jackson, Palmer was temporarily given full custody of her child. "It is because of our son, Leo, that I was finally able to end my relationship with Darius once and for all and escape the abuse," Palmer declared in her court filing, reported by NBC News. "He needs and deserves to be safe and grow up in an environment free from violence."
Baby Leo was the high point of their romance
One of the biggest highs in the relationship between Keke Palmer and her boyfriend Darius Jackson was the birth of their son in February 2023, Leodis "Leo" Jackson. In June, the singer praised her partner in an Instagram post on Father's Day, "Congrats Mr. Man, Leodis and I are so very happy to have such a fun, kind, responsible, dependable and supportive man like you in our lives."
But one month later, in July, baby Leo was also the cause of a big low for the couple. Palmer attended an Usher concert in Las Vegas, wearing a curve-revealing bodysuit and a see-through dress; Jackson did not approve. "It's the outfit tho.. you a mom," People reported him writing in a since-deleted tweet on X, formerly known as Twitter. He added, "We live in a generation where a man of the family doesn't want the wife & mother to his kids to showcase booty cheeks to please others & he gets told how much of a hater he is."
Palmer responded by posting more pictures of her outfit on social media. Also, she seemingly clapped back during her appearance in Usher's "Boyfriend" music video. At the end, she says how tired she is. "I'm a mother, after all," she explained with a wink. The drama was apparently a catalyst for the beginning of the final end for the couple. An unnamed source reported Jackson had moved on by the time the video appeared in August. Palmer, meanwhile, has added "I'm a Motha" merchandise to her online store.