Inside Maria Shriver's Friendship With Rob Lowe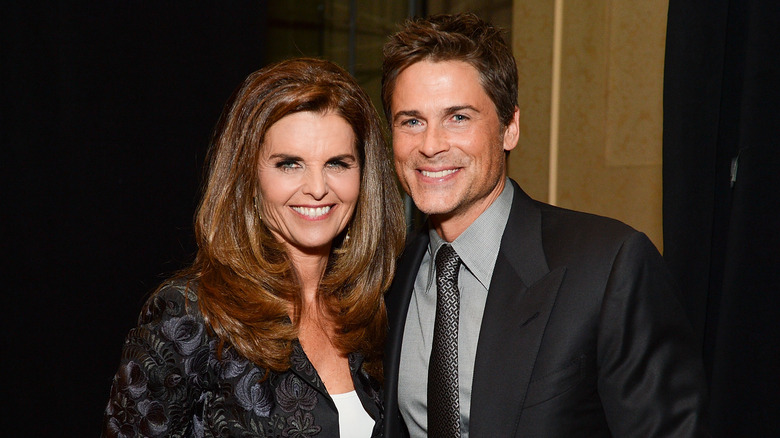 Michael Kovac/Getty Images
Maria Shriver, the former first lady of California, may seem like a surprising candidate for Rob Lowe's BFF. But sometimes truth is stranger than fiction. Shriver, as just about everyone on the planet knows, was married to Arnold Schwarzenegger; if her jawline looks familiar, her connection to the Kennedy dynasty is to thank. Rob, of course, is an actor whose career took off in the '80s. The former teen idol went on to appear in television shows like "The West Wing," "Parks and Recreation," and Netflix's "Unstable".
On a 2020 episode of "Literally! With Rob Lowe," Rob and Shriver unpacked their friendship history. "We've known each other for more than 20 years, through thick and thin," he said. "And through life events, that if somebody had said, 'hey, here's what's going to happen in the future,' we would have said, 'no it's not, are you out of your mind.' And we've lived through all of it, good and bad."
Rob and his wife, jewelry designer Sheryl Lowe, forged a close friendship with Shriver and Schwarzenegger in the early 2000s when they bonded at Sheryl's 40th birthday celebration in the Bahamas. They had kids at the same time, lived in the same area (Santa Barbara), and would often get together for meals, as Schwarzenegger shared in a 2023 episode of "Literally! With Rob Lowe." Although Schwarzenegger and Shriver remained friends after their split, Lowe stuck firmly with Shriver. Since then, buddies Shriver and Rob have grown from strength to strength. Theirs is a long-term friendship worth celebrating.
Maria Shriver is a godmother to Rob Lowe's younger son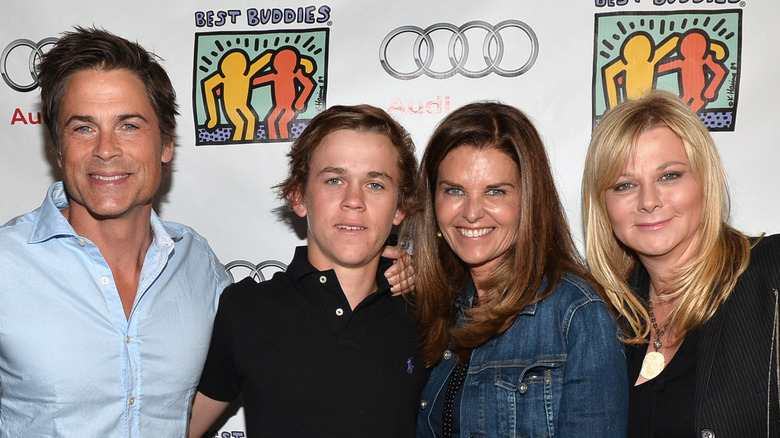 Alberto E. Rodriguez/Getty Images
Maria Shriver and Rob Lowe are both very family-oriented. Shriver has four children with her ex, Arnold Schwarzenegger, and Rob has two sons with his wife, jewelry designer Sheryl Lowe. And as Shriver and Rob shared in the aforementioned 2020 episode of the "Literally!" podcast, the Lowe kids have been known to go have dinner at Shriver's house even when Rob's not in town. "They're really great," Maria said. "They always text ahead and say, 'We're coming, just wanted to make sure you knew.'" She also noted that she taught them to stand up whenever she enters the room — a sign of respect she learned from her own parents. And as far as Rob's concerned, his kids are happy to oblige. "You occupy a very specific place in my boys' hearts," he said. "You are it." 
John Owen Lowe, the younger of Rob and Sheryl's two sons, is an actor and writer who also happens to be Shriver's godson. In a 2023 chat with Shriver for her YouTube channel, John Owen called her "one of my favorite people on the planet." What's more, John Owen and Shriver share a birthday: Rob's BFF was born on November 6, 1995, and his youngest kid arrived exactly 40 years later.
Rob Lowe was Maria Shriver's first podcast guest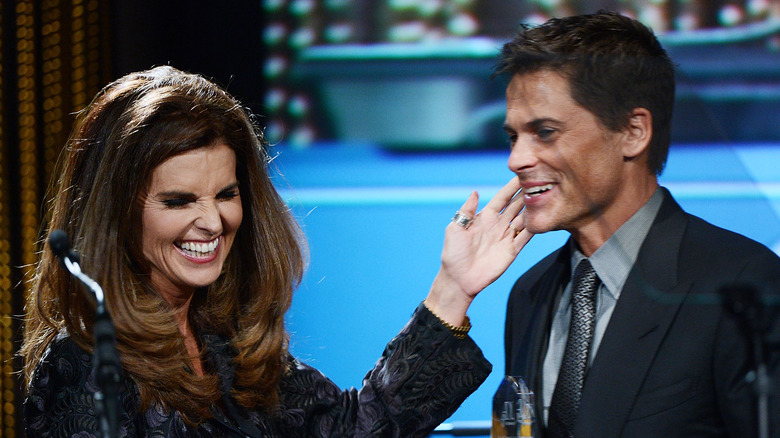 Michael Kovac/Getty Images
In 2019, Maria Shriver launched her podcast "Meaningful Conversations" and her good mate Rob Lowe was her first guest. On the podcast, Maria gave her guest a sweet introduction: "My dear friend, my great friend, one of the great loves of my life — Rob Lowe." Need we say more?
Unlike a number of her relatives, Shriver did not dive headfirst into a life in politics. Rather, she pursued a career in broadcast journalism, working as a television anchor for "Today" and NBC News, as well as a political journalist on "Dateline." And her skills as a journalist are on full display on the podcast, as is her effortless rapport with Lowe. They crack jokes, she gives him space to talk about his experiences as a dad and husband, and he opens up about how finding sobriety at age 26 changed his life.
"I wanted to kick off my podcast series with Rob because I knew we could talk candidly about the issues that so many of us are facing in our relationships, our families, our careers, and our inner lives," Shriver explained in the episode description. "Rob has lived through it all and has remained grounded and fully focused on the things that truly matter — living in authenticity, being a positive person, and putting family first."
After she filed for divorce, Maria Shriver stayed close to Rob Lowe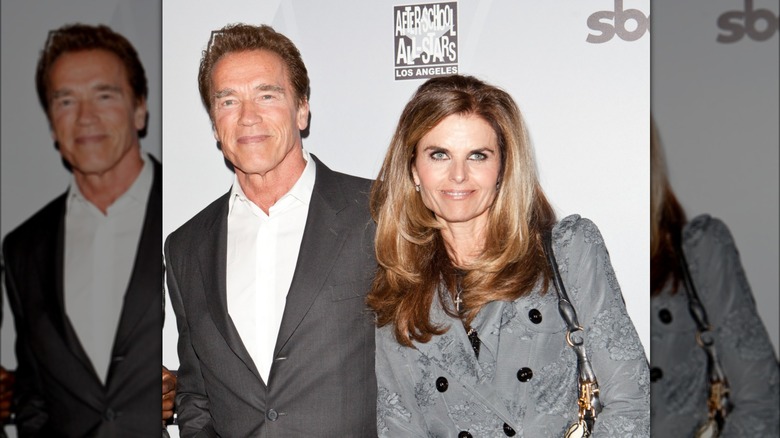 Chelsea Lauren/Getty Images
In 2011, Maria Shriver and Arnold Schwarzenegger announced they'd separated after 25 years of marriage. The impetus was "The Terminator" star's infidelity. Soon after he finished his run as governor, Schwarzenegger came clean that he'd had an affair with the family's housekeeper over a decade before and bore a child with her. Unsurprisingly, this was a huge scandal and a difficult time for Shriver and the four children she shares with Schwarzenegger.
Their divorce, which was only finalized in 2021, shook things up in their friendship circle. During a 2023 episode of "Literally! With Rob Lowe," Schwarzenegger expressed that he genuinely "misses" Rob. The two families used to hang out, and even go on holiday together. "Let the story be told that since I got divorced from Maria, you haven't been around much," said Schwarzenegger. "You wanted to prove to her that you're loyal to her and not to me."
According to the action star, if he and Lowe were to see each other out and about following the divorce, Lowe would suggest they get together to catch up... but apparently, those hangout plans would never come to be. "It's years later and finally, we're doing a podcast together," Schwarzenegger said in part one of the two-part interview. When it came to choosing friends post-divorce, Rob Lowe said it best: "I think she got custody."
Rob Lowe and Maria Shriver support each other's causes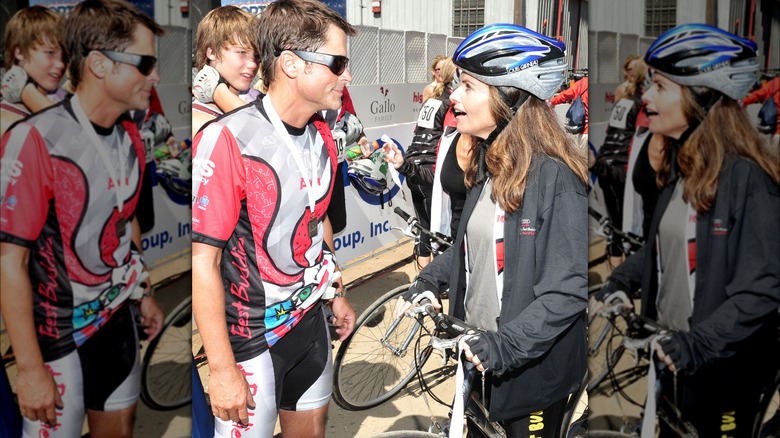 Steve Jennings/Getty Images
In addition to being dear pals, Rob Lowe and Maria Shriver are public figures who are happy to use their respective clout to promote the other's causes. For starters, Lowe literally went the extra mile for Maria when he cycled in the Best Buddies Challenge in 2004. (Best Buddies was founded by Maria's youngest brother, Anthony Kennedy Shriver.) Per the Sacramento Press, Rob and Maria assembled a team to raise funds for the organization dedicated to advocating for people with intellectual and developmental disabilities. Rob even shared a tandem bike with Maria's late mom, Eunice Shriver, who at the time was over 80.
Rob also lent his support to one of Maria's causes, planning for long-term care of the elderly. She invited him to a candid conversation about the responsibility they've undertaken of caring for their parents as well as planning for their own care later in life so the financial burden doesn't fall on their children. Maria is invested in the insurance organization that provides assistance to individuals in this matter.
Maria returned the favor by showing up to the premiere of the new Netflix series "Unstable." Rob and his younger son, John Lowe are the main stars. The script was written by John and their roles are loosely based on their father-son relationship dynamic in real life. JustJared shared pictures of a smiling Maria, along with son Patrick Schwarzenegger, daughter Katherine Schwarzenegger, and son-in-law Chris Pratt.
Rob Lowe attended Maria Shriver's daughter's wedding to Chris Pratt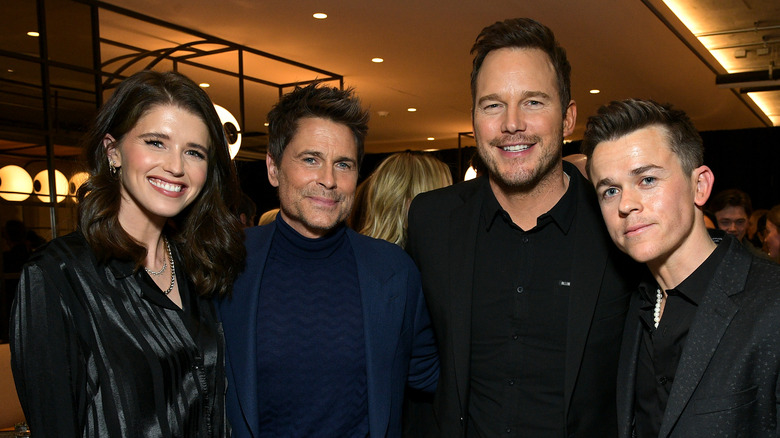 Charley Gallay/Getty Images
Given all we know about his friendship with the mother of the bride, it checks out that Rob Lowe was at Katherine Schwarzenegger's June 2019 wedding. As Rob said to Maria Shriver on the aforementioned episode of the "Literally!" podcast, "Your kids are like my second kids and vice versa." On top of that, Sheryl Lowe has a special connection to Katherine, too. As the Brat Pack actor told Extra, "My wife Sheryl is her godmother, so by proxy, I am the godfather." As if the families were not intertwined enough already, Rob and Katherine's hubby, Chris Pratt, go way back: The pair of actors starred in the beloved NBC comedy "Parks and Recreation" together for six years.
Rob was not just any old wedding guest, mind you. He not only attended the nuptials, but hosted the rehearsal dinner at his home. (If that isn't family, what is?) What's more, as TMZ noted, he played golf with Pratt on the actual day of the wedding. A few months later, Rob chatted with ET about going golfing on a regular basis with Shriver's son-in-law and daughter. "I'm always third-wheeling with everyone. I'm a professional third wheeler," he quipped. "It's just my lot in life."
Maria Shriver and Rob Lowe are both political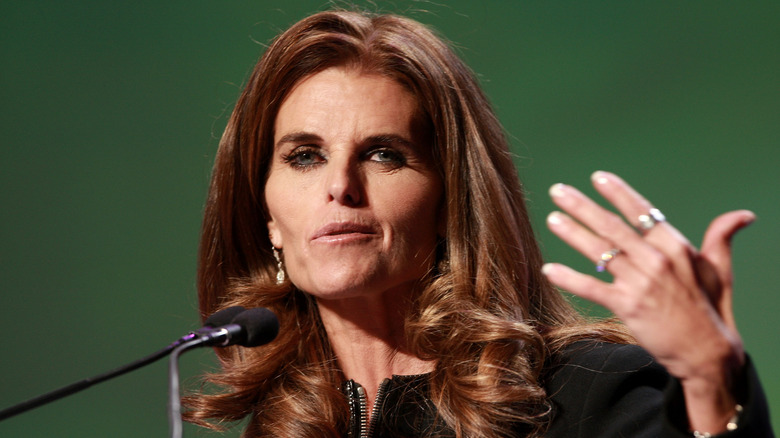 Steve Jennings/Getty Images
While Rob Lowe and Maria Shriver are not professional politicians, that is not to say they aren't political people. Shriver, as previously noted, not only grew up in a very political family and used to be married to a former governor, but has worked in journalism. As noted in the Los Angeles Times, Lowe's life in politics began way back when he raised money for George McGovern when he was still in elementary school.
After Joe Biden won the 2020 presidential election, Shriver and Lowe were spotted out shopping together. In photos obtained by the Daily Mail, Shriver sports shoes that spell out "VOTE." Shriver publicly endorsed Biden/Harris, so it seems safe to say she was pleased with the election results. And ahead of the election, Lowe (and other "The West Wing" alumni) chatted with Entertainment Weekly about the importance of voting. "If you're not going to vote, then you don't have a dog in the fight and you shouldn't complain," he said. "Empowering people to vote, making it easier for people to vote, is a total no-brainer."
Way back when Arnold Schwarzenegger ran for governor of California, Shriver and Lowe supported him. Though Lowe and Shriver's respective political views may not have always lined up Schwarzenegger's more conservative platform, they stood by his candidacy. As Lowe told Extra (via Entertainment Weekly), "[Schwarzenegger] put the people above partisan politics."
Maria Shriver and Rob Lowe are there for the smaller moments, too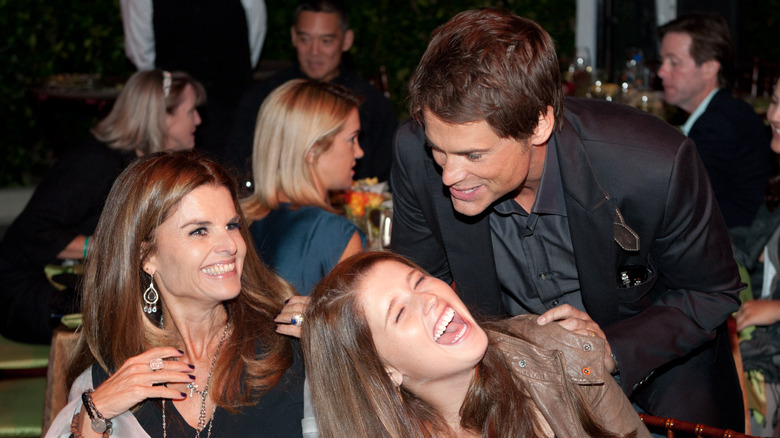 Steve Jennings/Getty Images
Rob Lowe and Maria Shriver host each other on their podcasts. They have each other's children around for dinner. They attend family weddings. And, of course, they also enjoy a low-key hangout. The two friends have been spotted out at restaurants together, running errands together, and going for walks together. Whether it's a glitzy event or a casual get-together, it is clear these two A-listers enjoy each other's company. At the end of the day, they simply like chatting. "I always have such deep, meaningful conversations with you," Shriver told Lowe on a 2019 episode of "Meaningful Conversations." "We're great friends, but we talk about everything, and I think a lot of people don't realize your breadth and your depth."
The two are there for each other for life's small and big moments alike. In 2013, a source dished to Radar that Lowe suggested she look into Buddhism in the wake of her split from Arnold Schwarzenegger. According to the outlet's tipster, Lowe credits Buddhist teachings with helping him on his sobriety journey. Per his recommendation, Shriver reportedly attended a Buddhism workshop. "Maria may have stood out in the capacity crowd, but she was definitely serious about the lesson," Radar's source said.
Whether it be an impromptu lunch or a serious conversation about life, Shriver and Lowe are up for it.
Rob Lowe and Maria Shriver talk about everything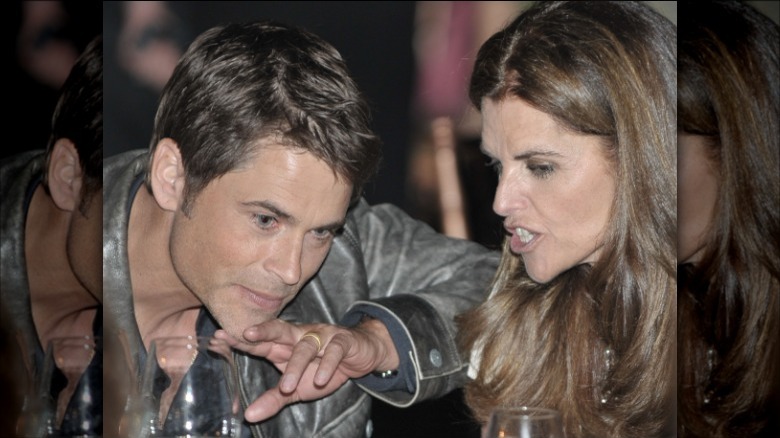 Steve Jennings/Getty Images
In the tapestry of a friendship, communication is a vital thread. And there's no question about whether or not Maria Shriver and Rob Lowe communicate. As previously noted, the two celebrities are big on talking to each other. Whether over a cup of coffee or through the pixels of a screen, Shriver and Lowe confide, laugh, and empathize together. And they talk about the real stuff. In various podcast episodes and YouTube channel chats, they've covered many of the big issues: sobriety, aging, empty nest syndrome, how to navigate demanding careers, raising kids, being authentic, leadership, their sex lives, cycles of trauma — you name it. As two people who have been public figures since they were kids, they both certainly understand what it is like to have your private life and past traumas out for all the world to see. 
While they may not always see eye-to-eye, the respect Lowe and Shriver have one another is evident. "We disagree about a lot of stuff, which is fun. We argue about California, we argue about politics, we argue about the roads," Shriver acknowledged on the aforementioned episode of "Meaningful Conversations." To this, Lowe quipped, "Here's a shocker, not many people want to stand up to Maria." They noted that while they may clash over political topics from time to time, the two friends continue to value one another's perspective and insights.
Maria Shriver is close with Sheryl Lowe too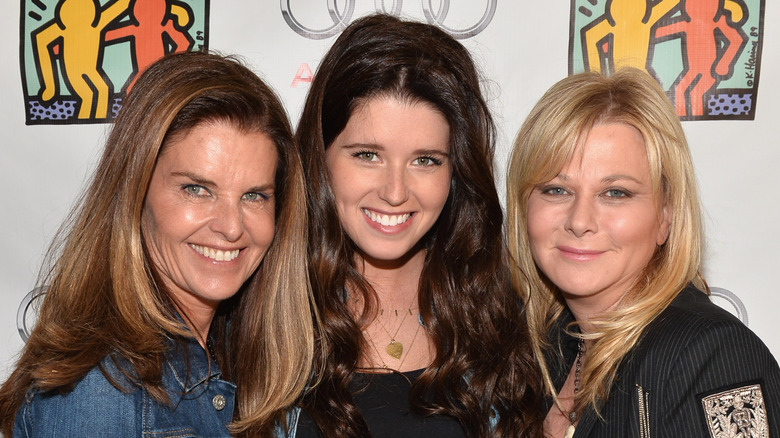 Alberto E. Rodriguez/Getty Images
Rob Lowe's wife, Sheryl Lowe (née Berkoff), also calls Maria Shriver a dear friend. As Rob told Extra in 2023, "My wife Sheryl and Maria are best, best friends." Clearly, Shriver and Sheryl play a major role in one another's lives. When it was time for Sheryl and Rob's firstborn, Matthew Lowe, to head to college, for example, Shriver took to X to wish them well. "They are great parents, raised great kids," she wrote.
Sheryl's other famous pals include Gwyneth Paltrow and Cameron Diaz, the former of whom is a godmother to Sheryl and Rob's younger son, John Owen Lowe. When John Owen celebrated his 28th birthday in 2023, his co-godmothers, Paltrow and Shriver, were part of the small group in attendance. "My family, my friends," John Owen wrote alongside a group photo on Instagram. "I am a lucky guy."
In addition to being there for each other's families, Sheryl and Shriver support each other's professional endeavors. When Sheryl's jewelry line made its debut at Bergdorf Goodman, Shriver organized a luncheon in her honor and delivered a speech; Sheryl has called Shriver a "muse" for her designs. After Shriver released her book "I've Been Thinking," Sheryl congratulated her "best friend for life" and described the book as "masterful and thought-provoking"  on X. In a piece for The Flair Index, Sheryl gave a shoutout to The Women's Alzheimer's Movement, a nonprofit founded by Shriver.
The two public figures regularly sing each other's praises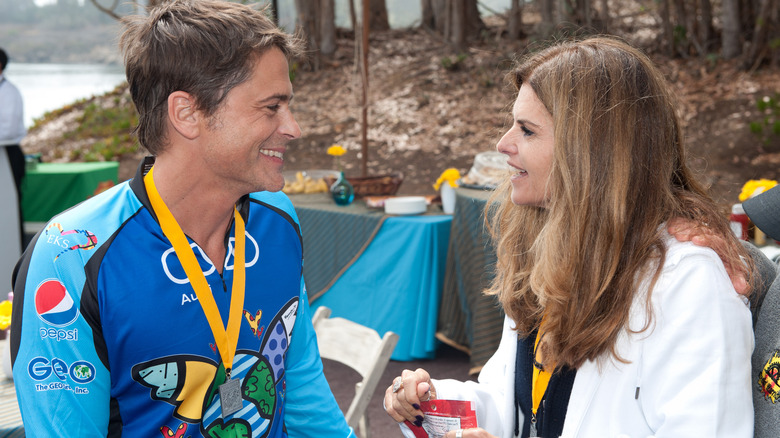 Steve Jennings/Getty Images
It's one thing to hear an actor wax poetic about a co-star — that's a classic PR move — but Maria Shriver and Rob Lowe seem eager to sing each other's praises no matter the context. Take, for example, when Shriver appeared on  "Literally! With Rob Lowe" in 2020. The former first lady of California gushed about Lowe without batting an eye. "I think of you as being super smart, super well-read, super opinionated on so many different fronts, super wise," she told the podcast host. "I think of you first and foremost as a human being, as a dad, as a husband, as an advocate for sobriety in the world, as an advocate for honesty in the world."
And this doesn't only happen when she's sitting opposite Lowe. When promoting her podcast on a 2019 episode of "Today," Shriver heaped the praise on her pal. "He's a really deep guy, and a really fun guy, he's really observant, he spends a lot of time thinking. He's more than a pretty face," she said. 
Of course, this compliment fest isn't a one-way street. When Shriver was a guest on his podcast, Lowe said he wanted her to run for president. "She's not only with the smartest, brightest, most beautiful, most articulate people I know, but she comes from a fantastic legacy and has raised amazing kids," he continued. "And I adore her." Somebody get these two friendship rings or matching tattoos ASAP.