Arnold Schwarzenegger Lives An Incredibly Lavish Life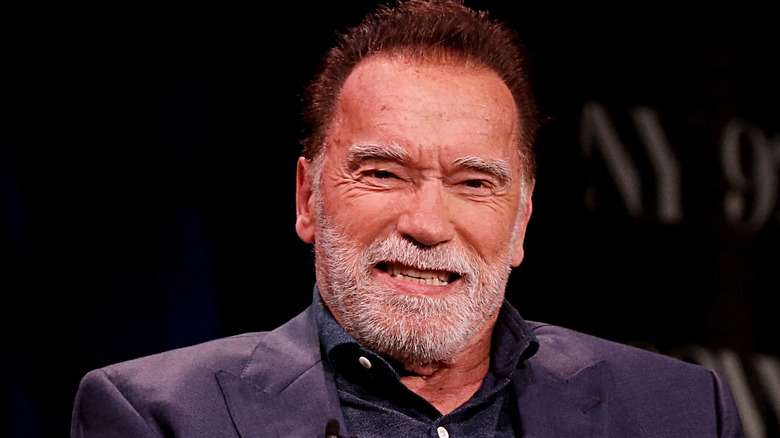 Dominik Bindl/Getty Images
As a young boy in post-war Austria, life was hard for Arnold Schwarzenegger. "I was poor because we didn't have anything," he once said on Channel 4's "The Johnny Vaughan Film Show" (via LAD Bible). Back then, the actor said that his family didn't have money for appliances, not even a refrigerator. But then, Schwarzenegger also pointed out, "I was rich because I had a dream."
Ever since he could remember, Schwarzenegger's dream had been to become the best bodybuilder in the world. As he grew up, he set out to make that dream a reality, eventually becoming the youngest bodybuilder to win the Mr. Universe title back in 1967. Soon, he would also get the attention of the late Joe Weider, the father of bodybuilding. Weider flew Schwarzenegger to America where he found more success in the bodybuilding world as he won several Mr. Olympia titles.
Not long after, Hollywood also came calling. After landing minor roles at first, Schwarzenegger would eventually be cast in the 1984 sci-fi action hit "The Terminator" and become a Hollywood star. From there, more hits followed, including "Terminator 2: Judgement Day," "True Lies," "Total Recall," "Predator," and "Collateral Damage." Schwarzenegger would also later venture into politics, taking on the role of governor of California pro bono. After his political stint, he eventually returned to acting. By then, estimates indicated that Schwarzenegger was already worth anywhere between $400 and $450 million. The Hollywood legend also boasts of a lavish lifestyle to match his fortune.
Arnold Schwarzenegger has an extensive cowboy boot collection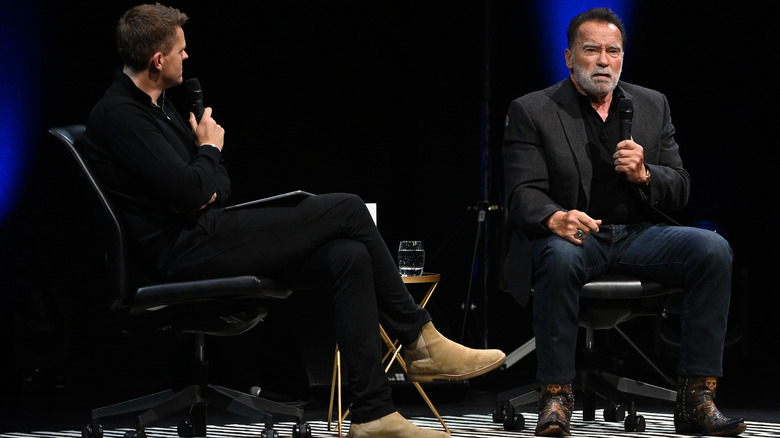 Jeff Spicer/Getty Images
Arnold Schwarzenegger may have already been doing all sorts of movies for years, but the only time that he ever got to play a cowboy was in the 1979 Western comedy "The Villain" where he is merely credited as the "handsome stranger." In real life, however, the actor has been sporting cowboy fashion since he first came to America, getting his hands on as many pairs of cowboy boots as possible.
As he found more success, Schwarzenegger often wore a pair whenever possible. He even kept his cowboy boots on while serving as California's governor. He didn't see the point of dressing up like every other politician. "If I was all of a sudden to stop wearing cowboy boots [just] because I'm representing the people," Schwarzenegger told the Los Angeles Times in 2011. "Of course, I continue to wear cowboy boots, three times a week on average."
If Schwarzenegger wore boots three times a week, it most likely was not the same pair every single time. After all, the Hollywood legend had already amassed quite a collection by then. And while it is unclear exactly how many pairs "The Terminator" star already has, it is worth noting that a single pair costs way more than the average men's footwear. Cowboy boot maker Lisa Sorrell, who has made boots for Schwarzenegger, sells her boots for $5,000 and up. She also made a pair of patriotic boots for the former governor, which cost $11,000.
The actor has his own tank
Long before he found success in bodybuilding and in Hollywood, Arnold Schwarzenegger had been in the Austrian Army. Military service is mandatory for male citizens in Austria, and that was how the Hollywood legend found himself driving a tank, a 1951 M-47 Patton tank to be exact. In the past, Schwarzenegger and his tank were practically inseparable. When he wasn't driving it, he was stashing the weights he lifted in between drills inside it.
When Schwarzenegger ended his military service, the tank also underwent decommissioning. In the Austrian Army, that meant burying the vehicle underground. But then, the actor called them up and expressed his wishes to be reunited with his old Patton tank. Upon hearing from the actor, the Austrian Army dug his tank out and restored it. All Schwarzenegger had to do was to have the tank sent over to him, and that meant spending $20,000 to ship it to the U.S. The tank itself was free.
Since then, Schwarzenegger has been driving around in his old tank for a good cause. While appearing on CNBC's "Jay Leno's Garage," the actor explained that he's been using the tank to motivate kids to prioritize their education. "I bring kids out here from the after-school programs," Schwarzenegger told host Jay Leno. "When they stay in school their reward is to come out here and drive tanks with me." In the past, the actor also used his tank to raise money for a good cause.
He has several eco-friendly Hummers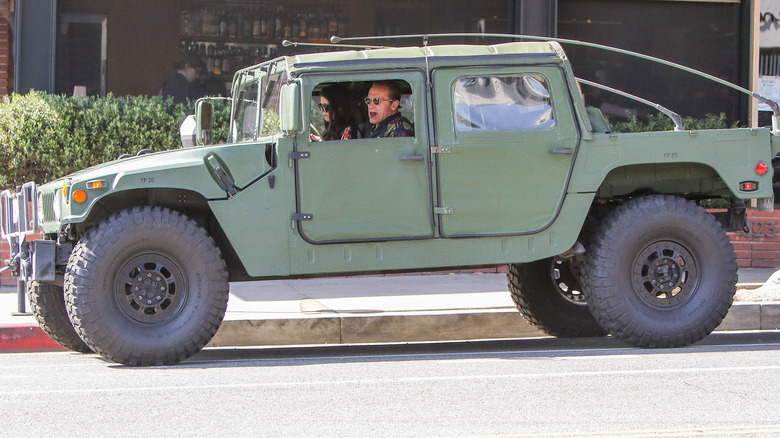 Bg004/bauer-griffin/Getty Images
Back in the early 90s, Arnold Schwarzenegger was making the comedy "The Kindergarten Cop" and while on his way to set, the actor saw a convoy of military Humvees. Since then, he knew he had to have one. "He just went ape for that machine. I mean, it was big, it was unique, and it was something that was larger than him," Schwarzenegger's agent, Lou Pitt, said in the book "Fantastic: The Life of Arnold Schwarzenegger" according to Vox.
At that time, however, Humvees were strictly military vehicles and there was no way the actor could own one. Undeterred, Schwarzenegger set up a meeting with Humvee maker AM General. In the end, he got his wish — AM General reached a deal with General Motors, allowing for a civilian version of the Humvee to be made. This came to be known as the Hummer.
Since then, Schwarzenegger has reportedly owned up to seven Hummers, including a military-converted one that's estimated to be worth $100,000. That said, he gave up some units and only kept four around. Having become more conscious about his carbon footprint, Schwarzenegger also set out to make his remaining four Hummers more eco-friendly. As a result, three of his Hummers had already been running on vegetable oil, bio-diesel, and hydrogen respectively. Meanwhile, back in 2017, Schwarzenegger was already thinking about turning his fourth Hummer into an electric vehicle. Not long after, he teamed up with Kreisel Electric to make one.
The other cars in Arnold Schwarzenegger's collection are impressive and pricey too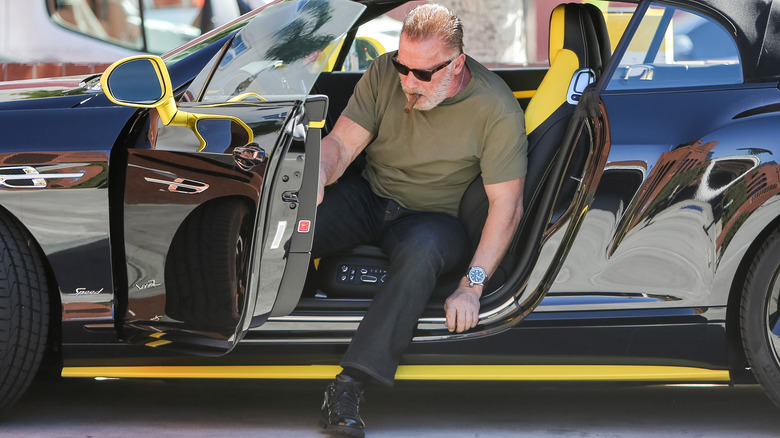 Bg004/bauer-griffin/Getty Images
Just as one might expect from a Hollywood legend, Arnold Schwarzenegger doesn't just rely on his Hummers to get around. Instead, he has an entire car collection to choose from. Among these is a Mercedes-Benz SLS AMG Roadster that comes with a powerful 6.2-liter V8 engine. Estimates indicate that the car is worth at least $180,000. Aside from this, Schwarzenegger is also a proud owner of a Bentley Continental GT Speed Convertible with a reported base price of $218,400. The Speed variant boasts a 6.0-liter twin-turbo engine that cranks out 633 horses. The actor also owns at least one more Bentley, a Bentley Continental GT Supersports Convertible with 621 horsepower under the hood, thanks to its 6.0-liter twin-turbocharged engine. Estimates indicate that the one belonging to Schwarzenegger costs as much as $320,000.
At one point, the actor also owned a Mercedes-Benz Unimog, which is surprisingly street-legal despite its behemoth size. Schwarzenegger later put up the car for sale in 2014. Similarly, the actor also once owned a $1.5 million Bugatti Veyron, which also happens to be one of the fastest cars around. He eventually sold it for a reported $2.5 million, essentially profiting around $1 million from the sale. 
He once rented a luxury yacht to cruise around Sydney Harbour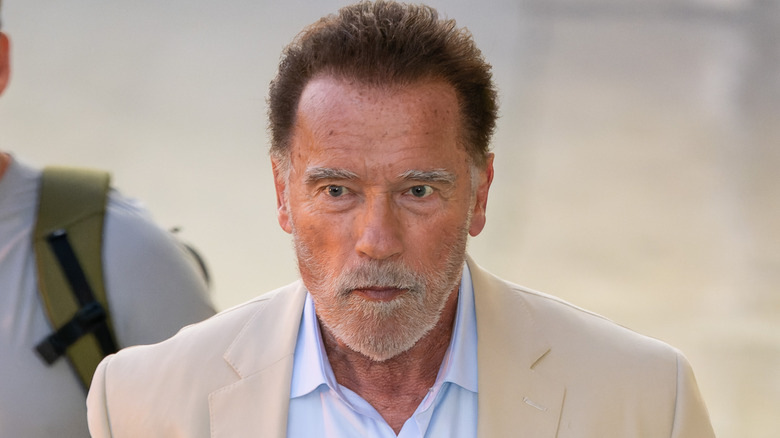 Rb/bauer-griffin/Getty Images
When good friend Sylvester Stallone once invited Arnold Schwarzenegger aboard his yacht, "The Terminator" star famously turned him down. "I can get my own yacht. That's not my trip. I can't even relax under those circumstances," Schwarzenegger later explained during an interview with People. And while it is unclear if the actor has since bought his own yacht (he easily could), he has been spotted onboard one at least once.
Back in 2017, Schwarzenegger was in Australia and determined to enjoy the views around the Sydney Harbour with his son, actor Patrick Schwarzenegger, and the rest of his group. That's why the Hollywood legend decided to splurge on a luxury yacht that rented for an incredible $2,500 per hour. His yacht of choice was the ultra-luxurious 98-foot-long MY Seven Star which features various entertaining areas, a main saloon, a home theater, a swimming platform, and a diving board.
The yacht can easily accommodate up to 75 guests, which is perfect for Schwarzenegger's entourage. What's more, clients can also arrange to have some food catering onboard. Seven Star boasts a catering menu that includes seared scallops, duck pancakes, mini beef wellingtons, and Southern fried chicken. Renters can also have an oyster bar or grazing station set up. 
Arnold Schwarzenegger loves his Cuban cigars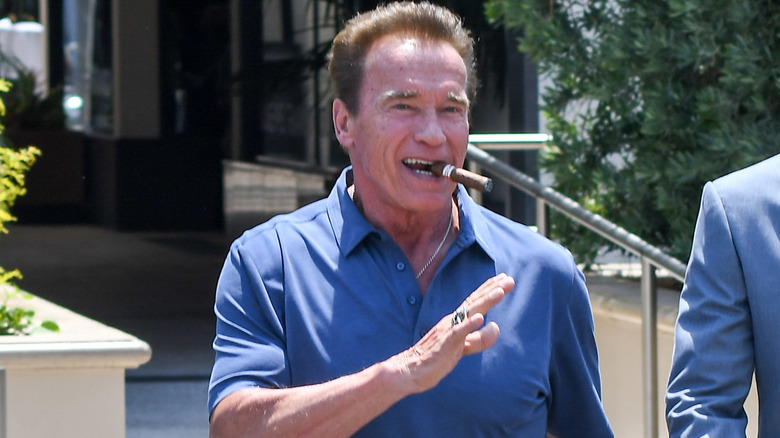 Bg008/bauer-griffin/Getty Images
Arnold Schwarzenegger certainly loves his Hummers and cowboy boots, but perhaps he loves his cigars just a little bit more. Cigars were even a main feature in "The Terminator" star's former restaurant, Schatzi on Main. When it was still open, the place hosted cigar nights on the first Monday of each month, and Schwarzenegger would come and catch up with some friends.
It's easy to think that Schwarzenegger has been smoking cigars his whole life, but that's not exactly the case. As an up-and-coming bodybuilder, he often smoked Virginians. After he met his ex-wife Maria Shriver though, her father, Sargent Shriver, introduced him to the real deal. Since then, he's been smoking them. "Your wife can't complain about your cigars," Schwarzenegger once pointed out while speaking with Cigar Aficionado. "You can always say, 'Look, honey, your father wouldn't have introduced me to something that's bad.'"
It's also a good thing that Schwarzenegger fell in love with cigars a bit later in life considering they are anything but cheap. The actor's cigar of choice is Punch Punch, which retails for $435 for a box of 25. He also sometimes enjoys Davidoff Havanas — Dom Perignons cigars, which already ceased production. Since then, a box would sell for at least $3,000.
The actor also collects valuable timepieces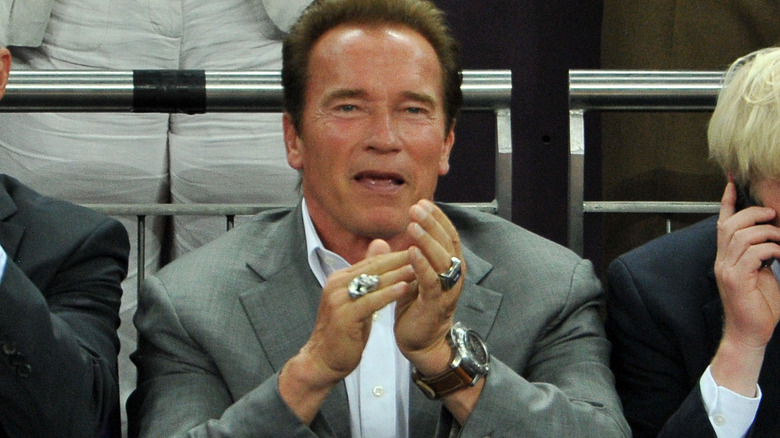 Pascal Le Segretain/Getty Images
Perhaps, when Arnold Schwarzenegger started getting recognized in the bodybuilding world, he never thought he'd become a watch endorser. But that's exactly what happened next. Back in the 90s, high-end big-size watches needed big, muscular men to promote them, and they often turned to action stars, including Schwarzenegger. It was also around this time that Swiss luxury watchmaker Audemars Piguet decided to gamble on a collaboration with "The Terminator" star, working with him on a timepiece that didn't look anything like everything else they had. "He told AP, 'I want the watch to have a black case and yellow numerals and hands,' and sure enough, they did it. They made a limited edition of 500 watches," Paul Boutros, the Deputy Chairman and Head of Americas for Phillips Auction House, told GQ.
Soon after, Schwarzenegger's movie "End of Days" came out, and the action star could be seen sporting an Audemars Piguet Royal Oak Offshore with yellow numerals onscreen. The watch became a huge hit. Later on, Audemars Piguet also released the limited edition Audemars Piguet Royal Oak Offshore "Arnold Schwarzenegger The Legacy." It is valued at around $30,000. Since then, Schwarzenegger has also amassed quite a watch collection. These include a couple of Rolex watches that are valued anywhere from $28,000 to $50,000. The actor has also been spotted wearing a $40,000 U-BOAT U-1942 watch and a Jacob and Co. Napoleon Quadra Tourbillon watch worth $600,000.
He once spent a fortune on a Quinceañera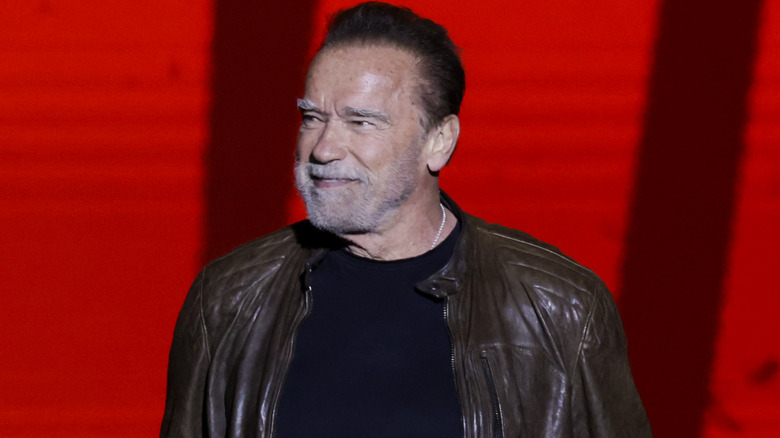 Alexandre Schneider/Getty Images
By now, it's probably become clear that Arnold Schwarzenegger loves to splurge on all kinds of things (the action star is worth millions after all). As it turns out, he likes to splurge on people around him too. And sometimes, the actor's spending habits can also stir some controversy.
Just after Schwarzenegger ended his second term as the governor of California, the action star made a public admission that he had an affair with Mildred Patricia Baena. Baena was working as a housekeeper for the Schwarzeneggers when she ended up in a relationship with the actor. She later welcomed their son, Joseph, although she first refused to admit that he was Schwarzenegger's until Schwarzenegger's now ex-wife, Maria Shriver, confronted her.
When the truth finally came out, the Hollywood legend committed to providing for the son he never knew and his mother as his marriage to Shriver ended in divorce. Over the years, Schwarzenegger has also provided financial support for Baena's family. Back in 2011, it was revealed that Schwarzenegger splurged on a Quinceañera (a Latin American celebration for a girl's 15th birthday) for Baena's niece. According to TMZ, the actor paid the bill for the party venue, decorations, food, and entertainment. He even booked a limo service too. Schwarzenegger also attended the party, along with his family.
He has an extensive real estate portfolio, which includes a Los Angeles animal sanctuary
Arnold Schwarzenegger may love to splurge on fancy cars, watches, and cigars. But the Hollywood legend also knows the value of making key investments to secure his future. And for him, there's no better place to start an investment portfolio than in real estate. That's how Schwarzenegger made his first real fortune. "The first time I became a millionaire, it wasn't from movies — it was from real estate investments," he once told Parade. "I would invest in apartment buildings and office buildings so I wouldn't have to make sh***y movies." While speaking to author Tim Ferriss for the book "Tools of Titans," Schwarzenegger also revealed (via CNBC), "Buildings that I would buy for $500K within the year were $800K and I put only maybe $100K down, so you made 300% on your money."
Over the years, he has also gone on to expand his residential portfolio. Schwarzenegger's main home is located in the swanky Pacific Palisades neighborhood. Spread over 2.5 acres of land, the home boasts uninterrupted views of the Pacific Ocean. It is also home to Schwarzenegger's beloved pets — pony Whiskey and donkey Lulu — which explains why having a stable on the property is necessary. At the same time, the palatial estate also comes with a chef's kitchen, a private gym, various entertainment areas, and a chef's kitchen. Aside from this, reports have also indicated that Schwarzenegger has a home in Sun Valley, Idaho.
Arnold Schwarzenegger has his own jet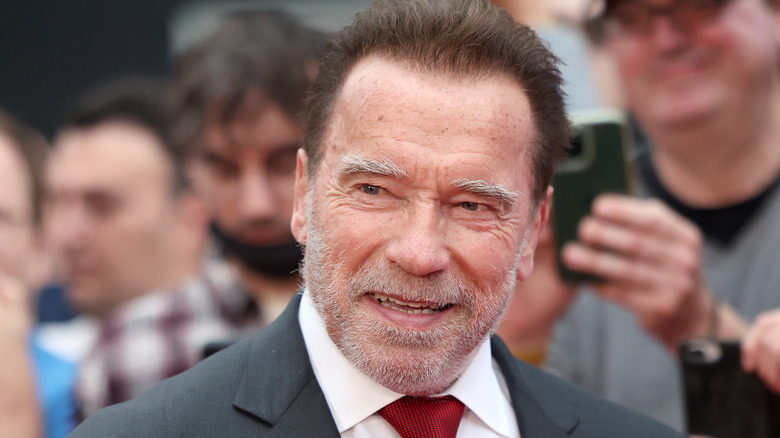 Phillip Faraone/Getty Images
Once Arnold Schwarzenegger became incredibly successful, he came to realize that his fleet of luxury cars and military vehicles wouldn't be enough to get him around. The Hollywood legend also needed his own private jet, and he had a rather practical reason why. In Schwarzenegger's newsletter, he once wrote, "Once I hit a certain level of stardom, I started to fly everywhere on private planes. I couldn't walk around the airport or pick up my bag without being bombarded by people taking photos of me when I was exhausted."
In 1991, the Los Angeles Times reported that Schwarzenegger did get a 1982 Gulfstream III jet that came with a price tag of $12.75 million. While some speculated that this was part of a deal he made with "Terminator 2: Judgement Day" producer Carolco Pictures, the actor's lawyer later denied that Schwarzenegger got the jet in lieu of payments for the movie. And while he did get a jet, the actor still appreciated commercial travel. Schwarzenegger realized he didn't have to always take his jet since the airlines could provide him an escort or get him through a private terminal. His goal to cut his carbon emissions also motivated the actor to avoid flying private when possible. That said, he still likes to keep it luxe and opts to fly in first class.