Arnold Schwarzenegger Would've Never Become Governor Without Maria Shriver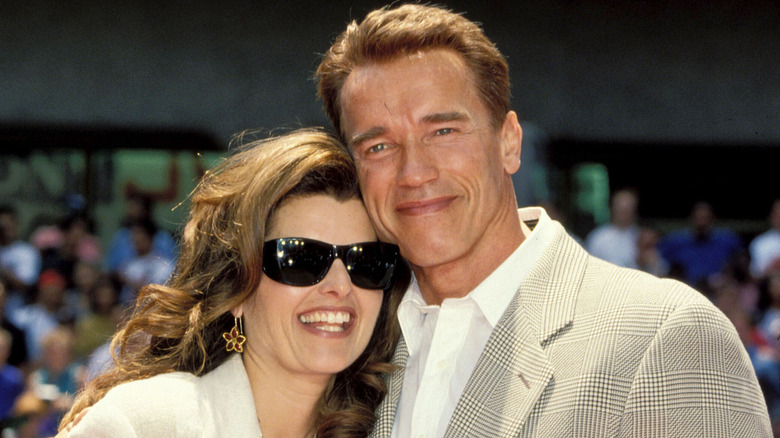 J. Redmond/Getty Images
Arnold Alois Schwarzenegger, aka "The Terminator," has been one of the most famous names in Hollywood for decades thanks to his high-profile career as an action star and bodybuilder. Despite the tragic details of Schwarzenegger's childhood, he's had a record of winning from an early age. The Austrian native became "Mr. Universe" at 20 and went on to win "Mr. Olympia" seven times. However, it came as a shock when the "Last Action Hero" star contested for the governorship seat in the most populous state in America and won. 
Schwarzenegger beat out 134 candidates on the ballot to replace his predecessor, Gray Davis, in 2003. This intrigued Americans, prompting a nationwide curiosity about how the inexperienced politician became the 38th Governor of California. We know that he definitely didn't force the votes by charging in all guns blazing or beating the other candidates to a pulp with his huge muscles. So, what was Schwarzenegger's secret?
In a Google + Hangout with Shira Lazar, back in 2012, the retired bodybuilder revealed that the secret to his success in all avenues of his career, including politics, was down to the support of the people around him, per ET. In fact, Schwarzenegger especially valued his ex-wife, Maria Shriver, as the key to his political success. 
Shriver was his ace card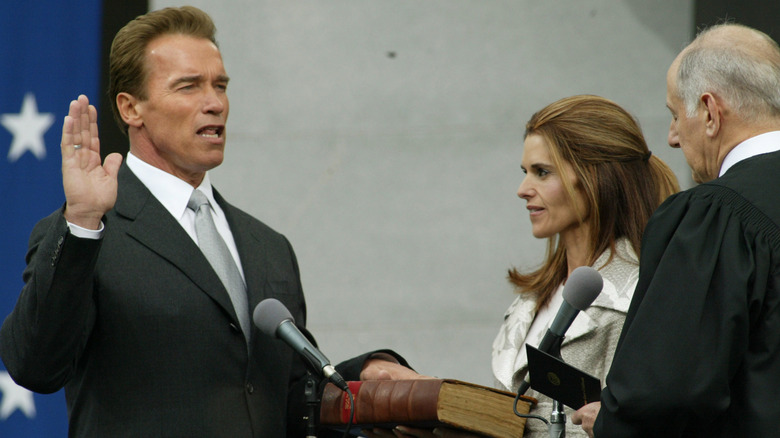 Lee Celano/Getty Images
While many American celebs have crossed over to politics, only a handful have succeeded in actually attaining a seat. Arnold Schwarzenegger made the cut and served as the Governor of California for not one, but two terms, serving from 2003 to 2011. By the actor's side was his then-wife, Maria Shriver, who was highly suited for her role as California's first lady.
Shriver came from a long line of politicians, with her father serving as the former U.S. Ambassador to France, while her uncle was Former President John F. Kennedy. In an interview with O (via Oprah.com), it's noted that she intentionally turned away from politics despite her heritage and chose a career in journalism instead. However, Schwarzenegger's former wife took an active role in his campaign when he decided to run for governor — even though Shriver initially disagreed with his intentions.  
However, Schwarzenegger adamantly refused to pursue the governorship unless Shriver was fully on board with the idea. In the Netflix docuseries "Arnold," it was revealed that her approval came on the morning of "The Tonight Show" taping, during which he announced his candidacy, when Shriver slipped a note under his door that read: "In case you decide to run, here's what I would say and here's if you decide not to run what I would say," (via Page Six). Shriver's more liberal, and crucially female, viewpoint helped shape Schwarzenegger's views on policies, as a Republican himself, essentially giving him a view of both sides during his two terms.
Their relationship after the governorship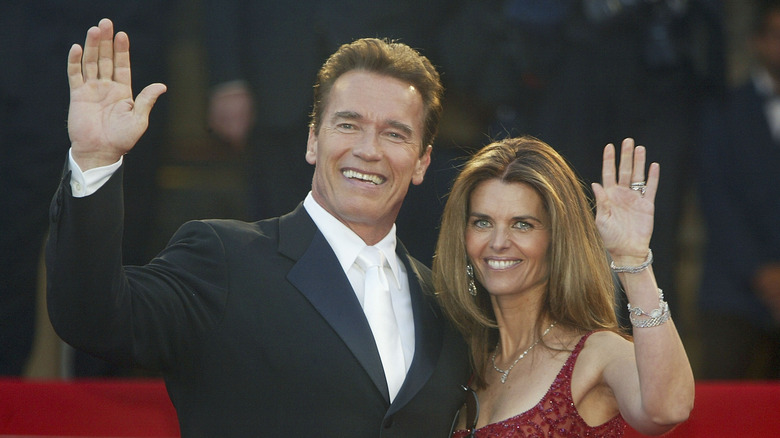 Pascal Le Segretain/Getty Images
When the love story between Arnold Schwarzenegger and Maria Shriver became public knowledge, many were skeptical as they looked from the outside like a strange match. She wasn't an actor or a gym rat, but rather came from a political dynasty, while he was "The Terminator." They made it work, and their lengthy relationship bore four children: Katherine, Christina, Patrick, and Christopher Schwarzenegger. The celebrity couple achieved a lot together but the bombshell that would eventually lead to Schwarzenegger and Shriver's divorce after 25 years of marriage was dropped in 2011.
In his Netflix documentary, Schwarzenegger opened up about the affair he had with then staffer Mildred Baena, which led to the birth of their now 26-year-old son, Joseph Baena. The news was broken to Shriver during a couple's counseling session when she had their therapist ask Schwarzenegger about Joseph's paternity, per People. Despite the emotional impact the affair had on their family, the co-parents maintained an amicable relationship for the sake of their kids. 
However, many also questioned if Shriver had an affair before Schwarzenegger and was maybe more inclined to go easy on him as a result. We'll likely never know the truth but, whatever the case may be, it's heartening that the former couple's friendship remains as they were, evidently, hugely beneficial to each other while their marriage lasted.