Below Deck Med: How A Scary Accident Actually Saved Captain Sandy's Life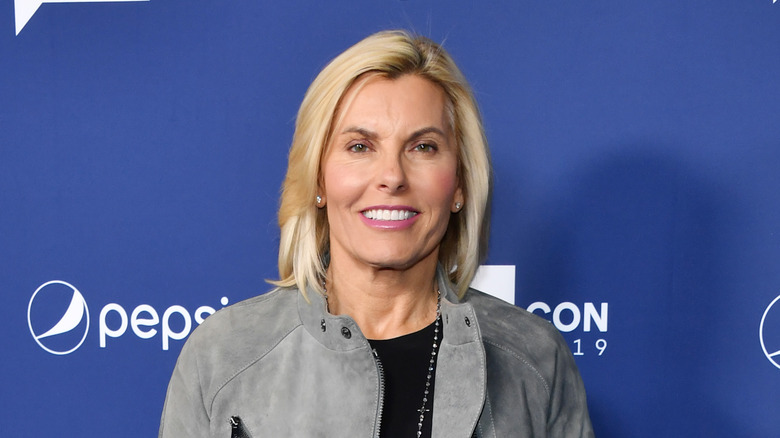 Dimitrios Kambouris/Getty Images
Captain Sandy Yawn is even tougher than she seems while wrangling luxury mega-boats on hit Bravo series Below Deck Mediterranean. The super-yacht captain revealed that she had a terrifying brush with death that actually turned out to be more of a life-saving experience than she ever could've imagined.
Yawn took to Instagram to detail her inspirational story, explaining how grateful she was for her life, and the people around her. The reality star shared with fans that she'd been in a motorcycle accident years ago, which, although traumatizing, led to the discovery and eventual removal of a potentially deadly tumor.
Captain Sandy got very lucky thanks to the terrifying incident
"Due to that crash the doctors discovered a tumor on my kidney. It was cancer. 4 years ago today I had the tumor removed and I am alive and cancer free," Yawn wrote in the emotional post, alongside an image of a smashed up motorcycle.
The Below Deck Mediterranean star also noted how everybody, including those in the yachting industry, stuck by her during the difficult time, saying, "Today I want all of you to know how much I appreciate you and life! May I never forget and pay it forward. Never stop believing!" Fans rallied around to commend Yawn for her bravery, thanking the captain for sharing the story.
Captain Sandy spoke to Bravo at length about the terrifying ordeal, admitting how crazy it sounded to be grateful for an incident that almost took her life. The accident involved her hitting a car, which sent her flying through the air and left Yawn with fractured bones in most of her limbs.
Captain Sandy has a newfound respect for life
It was a urologist friend of Yawn's who requested a colleague look in on her during the captain's hospital recovery, and who prompted a kidney scan, which led to the discovery of a tumor. The tumor was stage 2 kidney cancer.
"As the doctor explained, it might have been years until that tumor was found. At that point, the cancer would have progressed, and it would have been too late," she explained.
Less than a month after the motorcycle accident, Captain Sandy had the tumor removed via laparoscopic surgery. Shortly thereafter, she was back on her bike and back captaining a yacht, where she belongs. The Below Deck Mediterranean star is also careful to get annual kidney scans, too.
These days, Yawn says, "I don't sweat the small stuff, I invest my time in helping others, and I encourage people to take risks. You never know which risk could save your life."