Why Shopping At Erin Napier's Store Will Leave You With A Bigger Bill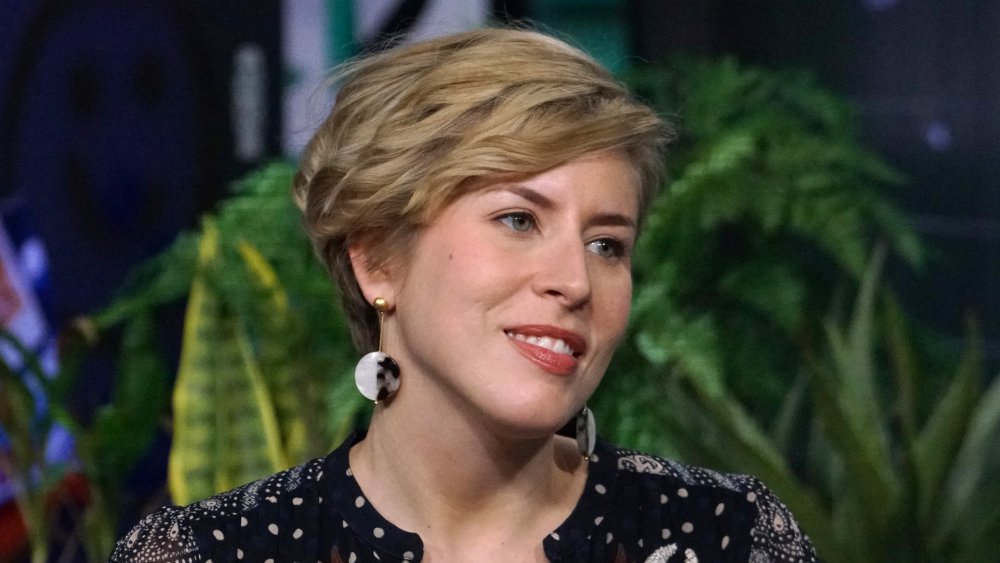 Manny Carabel/Getty Images
Erin Napier and her husband, Ben, aren't just another sweet HGTV couple in the same vein as Chip and Joanna Gaines. The Home Town stars have a goofy, easy rapport which, combined with their obvious love for their, well, hometown of Laurel, Mississippi, makes the show an irresistible watch. They're not terribly interested in being celebrities either, telling House Beautiful that working on Home Town every day "doesn't feel like a big thing." Although residents of Laurel, in particular, are stoked their beloved town is getting the TV treatment, the Napiers shrug off what they do as anything special. "We get up, we work with our coworkers, and we go home," they said.
Being HGTV hosts comes with perks, however. Aside from running their own companies, the Napiers also have a furniture line with Vaughan-Bassett. Their celebrity status naturally brings more attention to everything they do, but when it comes to their stores, fans are confused about why they're seemingly paying more for the Home Town stars' names.
Erin Napier is dedicated to supporting American businesses
Erin took to social media to set the record straight about why the home goods sold in the couple's two retail stores might appear to be a "little more expensive" than customers expect (via Instagram). "I love the chance to explain," the HGTV star started off her lengthy caption, which was focused on how she and Ben do business at Laurel Mercantile and Scotsman Co., both located in the heart of their beloved Laurel.
"Many stores sell imported goods which are fairly inexpensive. If we imported our goods from countries without labor laws on the books like minimum wage and minimum working age, cost would be much less," Erin explained. "We have chosen to support American manufacturing by featuring products made here in the USA because if we're going to be serious about revitalizing small town America, we have to be serious about making things here to keep our hometowns strong."
Erin Napier also wants to support local economies
The Napiers realize that this increases retail prices for their customers, but they feel it's worth it to "support local economies by providing a demand for the jobs needed to create these products." Erin ended her post by asking fans who are complaining about the high cost of the items to reconsider the long-term ramifications of so-called bargains. "Think of how far your dollar goes when it stays in the USA," she argued.
The Napiers are currently filming the fifth season of Home Town, with all the requisite social-distancing measures in place, as Erin confirmed on Instagram. "We are surrounded by a masked team, but thankfully we know the familiar faces under there and are finding our groove again. Thank you for loving our show and letting us do this," she wrote. They're also headed to Wetumpka, Alabama, for spinoff show Home Town Takeover.