How Taylor Swift Has Changed Since Her First Time At The ACM Awards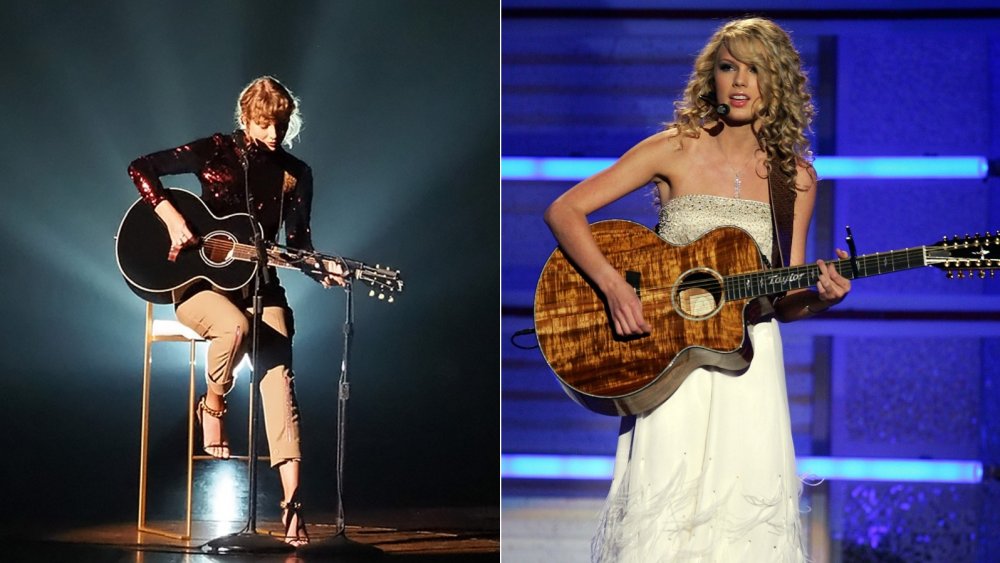 Tasrightsmanagement2020, Ethan Miller/Getty Images
Taylor Swift did her own hair and makeup and styling for the 2020 ACM Awards (via People). We don't know if she did them in 2007 when she first performed. Regardless, she's purposefully swapped her feathery, white dress and innocent, goldilocks hair for a much sterner, darker "The Man"-inspired look. Even her guitar's gone from light to dark.  
That's not all that's changed in the artist's life since she first graced the ACM Awards ceremony with her voice, 13 years ago. Since 2007, Swift's gone from good girl to bad girl, to "the loudest woman this town has ever seen" (yes, that's a "Last Great American Dynasty" reference for you, Swifties). She's survived tattoo scandals, Kanye West, and two highly speculated-over boyfriends (via Billboard). She's gone from country musician to pop star, to whimsical, independent indie-folk artist. Oh, and she's racked in awards. All the awards. Taylor Swift has 10 Grammy Awards and 35 nominations to her name (via Grammy Awards). She's got 11 MTV Video Music Awards, including the one she accepted in 2020 for directing (yes, directing!) "The Man."  Then there's the 23 Billboard Music Awards that she has stashed away somewhere (via Billboard). Not that we're counting... 
But back in 2007, the world was just getting to know the 17-year-old girl. And her visible awe at meeting her icon, "Tim McGraw!," during the 2007 ACM Awards endeared her to us almost immediately (via Rolling Stone). 
Is Taylor Swift's 2020 ACM performance a sequel to her 2007 performance?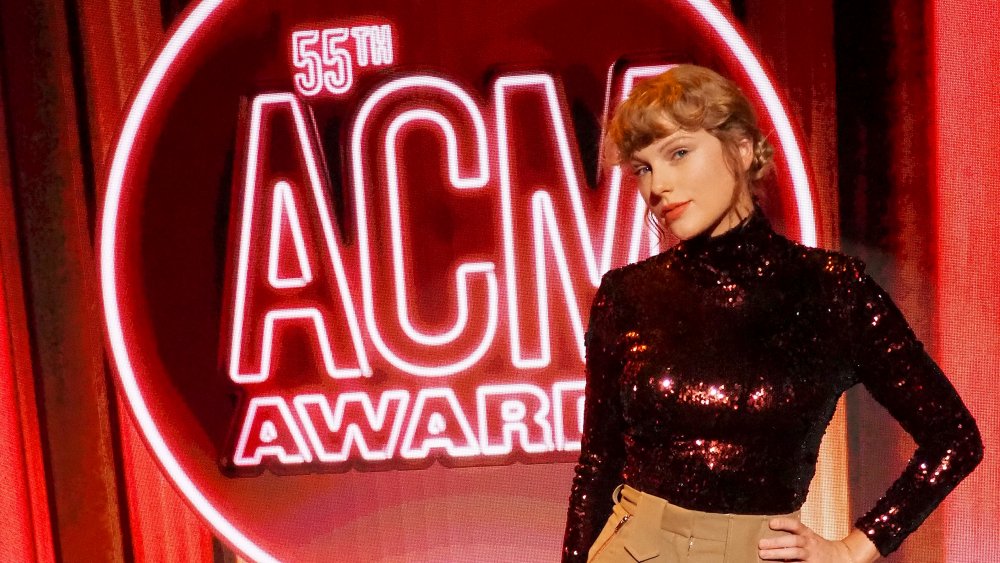 Tasrightsmanagement2020/Getty Images
Taylor Swift as a style icon, music artist, and overall person has undeniably evolved from her 2007 ACM performance to 2020's. But during her 2020 performance, Swift nonetheless seems to tip a hat to her younger self.
In 2007, Swift performed her first hit song, "Tim McGraw."  Need a refresher? "He said the way my blue eyes shined," sang Swift to her audience in 2007, "put those Georgia stars to shame that night, I said, 'That's a lie.'" Taylor Swift has since explained the song, admitting that it's about a relationship she had in high school, one she knew was not going to last (via Spin). During the 2020 ACMs, Swift brought us back to the halls of a high school, this time with "Betty" a track from her new album, Folklore. "Betty, I won't make assumptions about why you switched your homeroom, but I think it's 'cause of me," Swift opened her song in 2020.  Similar to "Tim McGraw," Swift has since told the media that "Betty" is about a teen who's "lost the love of his life basically and doesn't understand how to get it back" (via Cinema Blend).  
The parallels are enough to make you wonder. Was Swift, perhaps, singing a song back to her younger, 2007 self, but this time from the boyfriend's perspective?