What You Should Know About The Titanium Hair Color Trend
Vittorio Zunino Celotto/Getty Images
In the past few years, trendy hair colors have moved through shades of pale. From the white and platinum hair trends came gray and silver, which evolved, yet again, into another fresh shade. Enter: the titanium hair trend, an edgier version to its precursors, which happens to make it an excellent choice if you're in search of the perfect fall and winter hair color (via Byrdie). Although it popped up a year or two ago, it's making a comeback via social media and runways, and now is the perfect chance to test the waters with something a little less traditional this season.
But what's the difference between titanium hair and other recent gray and silver trends anyway? Glamour UK says its the cooler shades and undertones that set it apart. "The shade is, as its name suggests, a metallic silver with cool or ashy undertones, which also lends itself nicely to ombré or highlights in pink or blue shades," Glamour reports. This means that asking for this particular hue will entail some kind of blue or purple undertone and most likely appear as a deeper color than their lighter sister trends.
How to get titanium hair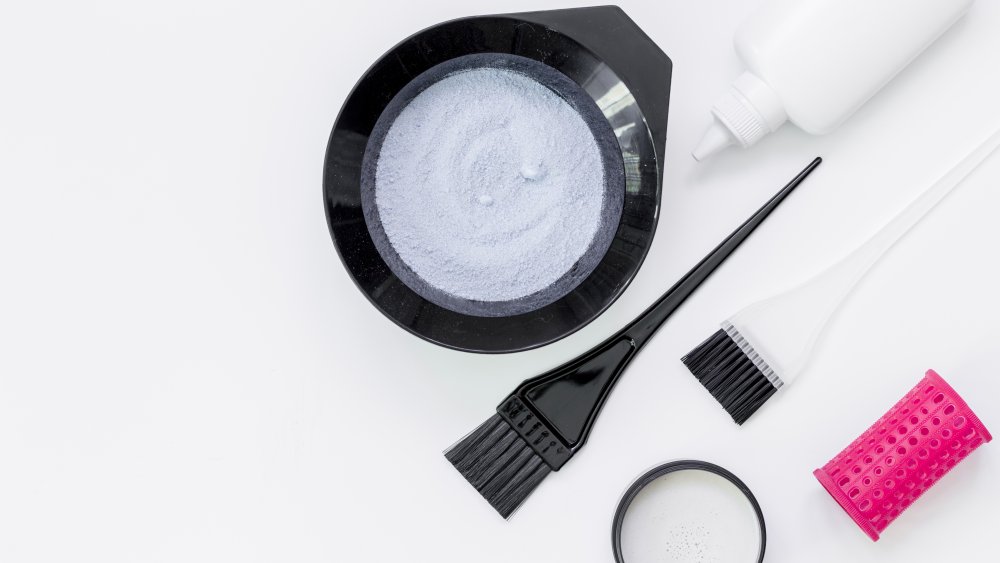 Shutterstock
When it comes to actually attaining this shade, there are plenty of temporary dyes and color-depositing conditioners that will give your hair a silvery gray aura, but they wash out quickly and will look somewhat diluted compared to a full dye job. If you'd really like to embrace the titanium hair trend, booking an appointment with your salon is the safest bet.
According to PopSugar, bleaching your hair is a must if you're committed to this metallic color. It must be said though, that a majority of hair dyes will cause some kind of damage, and with bleach you're looking at quite a bit more than usual. But with proper care and a knowledgeable colorist, you can have titanium locks that look and feel healthy. If you're going to take this next step, plan a consultation first to see if this is something a colorist would even recommend for you. It also gives you both a chance to discuss a plan of action and align your thoughts on the exact shade you're going for. 
Once your hair is bleached, your colorist will most likely use a toner to achieve that silver and gray finish. From there, be sure to use nourishing masks and spread out how often you wash your strands. A purple shampoo is also a must to counteract any yellow or brassy tones and keep your titanium locks looking fresh.