This Shahs Of Sunset Star Has A History With Meghan Markle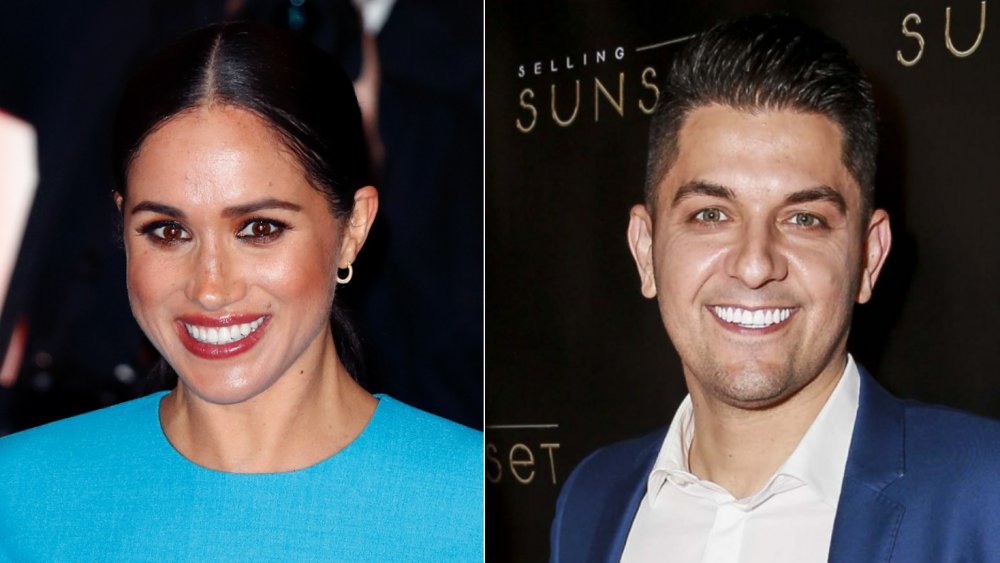 Max Mumby/indigo, Rochelle Brodin/Getty Images
Meghan Markle hangs with the cool kids. And by that, we mean she enjoys dinners with Amal and George Clooney every now and again, reportedly did pilates with Adele, and spent some time living near Oprah Winfrey. She's BFFs with Serena Williams. As Vogue noted back in 2017, she and Priyanka Chopra saw Hamilton together. Oh, and we almost left out a minor detail: Meghan Markle is also tight with former first lady, Michelle Obama. 
Her teenage years weren't much different. As Reuters noted, Markle attended Immaculate Heart High School, and all-girls junior high and high school in Los Angeles. And what do you know, Katharine McPhee (who you might recognize as Paige on Scorpion) attended Immaculate Heart Middle School while Markle was in high school. In 2019, McPhee Instagrammed a photo of the Markle and herself together, noting that the two had done musicals. "My sister was in her class, so they were the same age. She was always lovely and always talented and always put together," McPhee remembered on Good Morning Britain (via E!). And Shahs of Sunset star Nema Vand purportedly remembers Markle's high school days as well. Vand, who claims to have been a grade below Markle, says that his all-boys school was Immaculate Heart High School's brother school. In May 2020, he told Reality Life's Kate Casey (via Page Six) that "Meghan was amazing, a woman among girls. Everyone was in love with her. She was sweet and very kind."
Shahs of Sunset's Nema Vand says Markle was a master flirt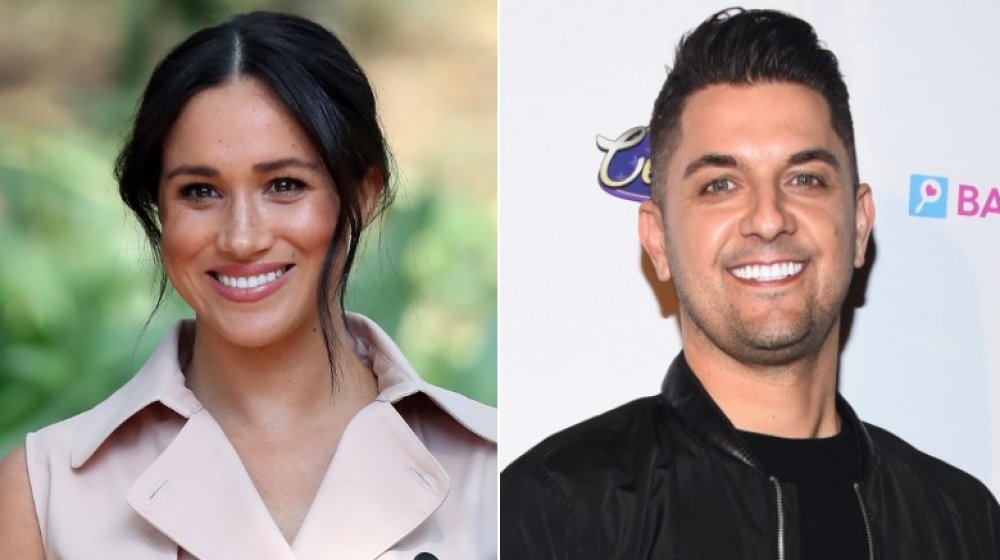 Chris Jackson, Araya Doheny/Getty Images
Nema Vand went viral after his interview with podcast host Kate Casey, partly because the Shahs of Sunset star claimed that Meghan Markle had ghosted an ex-boyfriend called "Gabe," leaving him distraught (via Us Magazine). "She toyed with our hearts masterfully," Vand told Casey. "We were at a party one time and she sat on my lap. She got nose to nose with me. For a 16-year-old guy, that is an emotional moment. She said to me in Farsi, 'You are so beautiful.'" If you choose to believe Vand, Markle told the starstruck teenager that she learned Farsi just for him. 
You could also choose to not believe the reality star. For what it's worth, Hola reports that Markle is fluent and Spanish and proficient in French, but we've yet to receive confirmation that she can speak a fourth language. There are also multiple sites that show Vand was born in 1988, which would make him about seven years younger than Markle. As Markle's Twitter fans have pointed out, that would mean he almost definitely was not just one grade below the future Duchess of Sussex. However, it's worth noting Page Six, Us Weekly, and Daily Mail all list his age at 37.