The Internet's Hilarious Take On Susan Page's Debate Bracelet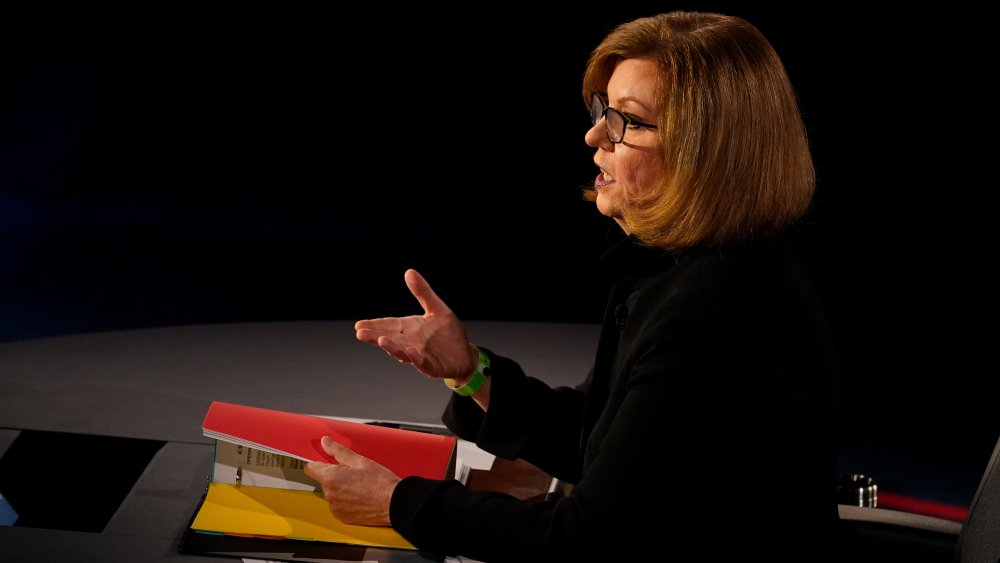 Pool/Getty Images
If the first presidential head-to-head was a "hot mess inside a dumpster fire," vice presidential debate moderator Susan Page was not taking any chances on October 7. The veteran journalist seemed determined not to have a barrage of rotten Twitter tomatoes flung at her — it was enough to see Fox's Chris Wallace undergo that fate. In 2016, Mike Pence and Tim Kaine's VP debate attracted the least viewers since 2000 (via CNN). October 7, 2020 was different. This, said a Brookings editorial, was the "most important vice presidential debate in history."
During the presidential head-to-head, Chris Wallace came off as a friendly, if baffled uncle. Susan Page had the grit of a drill Sargeant. She warned Senator Harris and Vice President Pence that she would not hesitate to "enforce ground rules;" she admonished the candidates that the country "deserves a discussion that is civil," and she insisted that "we can and will have a respectful exchange."
Page is no stranger to politician-speak. USA Today's Washington Bureau Chief is a heavyweight when it comes to keeping discussions sternly and professionally on track. But if there's anything that September's presidential debate (i.e unintelligible yelling match) taught us, it's that sometimes the biggest messages aren't verbal. Take Ivanka Trump's "I'm innocent" debate day get-up, for example. Or, as The Washington Post pointed out, the Trump team's refusal to wear face masks. 
And while Susan Page's wardrobe choice was demure, there was one accessory that the Twitterverse latched onto. 
Twitter's first theory about Susan Page's neon green bracelet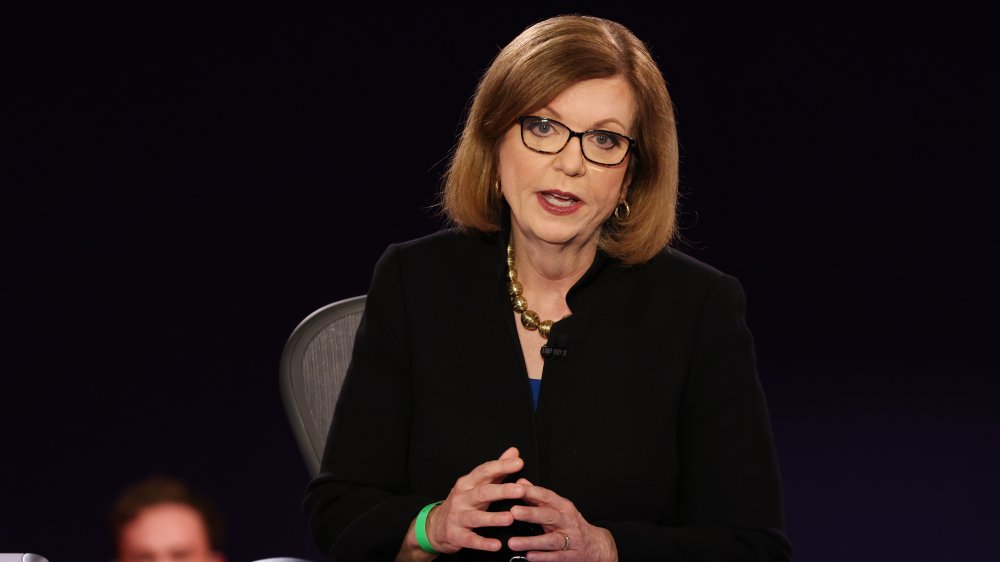 Justin Sullivan/Getty Images
Her neon green snap-on bracelet. Of course, the world would see it. The room was dark. Page was decked out in dark colors: black and blue, and hints (more like whispers) of gold. Unencumbered by other distractions, the Neon green fashion statement was hard not to stare at. And Page, who has had a front-row seat to the politics and paparazzi surrounding 10 presidential campaigns, would have known this (via USA Today). What message, then, was the vice presidential debate moderator trying to send with her puzzling accessory? 
The debate's social media followers have two big theories when it comes to Susan Page's snap-on bracelet. The first? Perhaps Page needed a cocktail or two before working up the nerve to moderate. Or maybe she was hedging her bets on needing something stiff afterward. "Based on her green bracelet, clearly Susan Page is still hungover from last night's pub crawl and she is NOT having Pence's s***..." mused one observer. "Does Susan Page have a drink bracelet?" asked another. Or perhaps, posited a third, Page's bracelet was a secret ticket to much-needed post-debate underground rave. 
We wouldn't blame Page if an open bar was in her post-debate plans. We would have gone for a couple too, if, after months of preparation, a housefly landing gracefully on Mike Pence's head stole the show. But there's a second theory, floating around the Twitterverse, explaining Page's fashion choice. This one hits a little closer to the truth. 
Twitter's second theory about Page's snap-on bracelet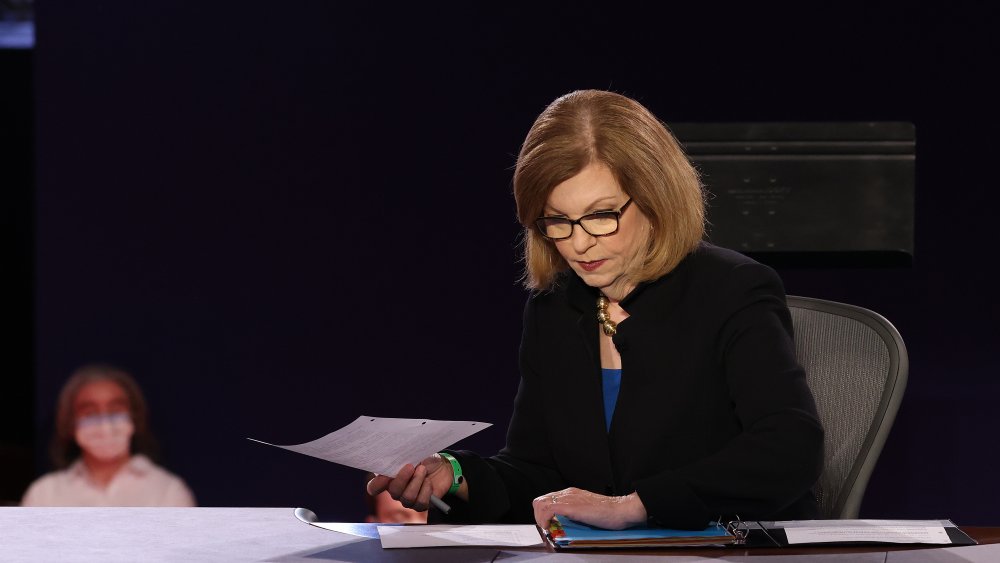 Justin Sullivan/Getty Images
Are you ready for this? The second theory October 7th debate watchers have goes to the tune of: was Susan Page afraid of COVID? "Susan Page got a bracelet for a free shot of bleach after the debate," snarked one viewer. "Is Susan Page preemptively wearing a green hospital ID bracelet because she's resigned to catching the Rona from Pence?" asked another. 
Pence, of course, was also Twitter fodder on debate night: Not for his oratory capabilities, but for his shiny, red, left eye. It must be COVID, social media sounded the alarm bells. (Yes, for those of you wondering, COVID can cause pinkeye. Just ask the Opthalmology Times. In June 2020, the publication suggested that "a case of pink eye is now a reason to be tested for COVID-19.") By all accounts, Vice President Mike Pence was in close contact with many in the Trump Administration who have since come down with COVID 19. At one event, says Rolling Stone, he sat in front of Senator Mike Lee. Days later, Lee tested positive. Moderator Page, in other words, would have had good reason to worry. 
As it turns out, followers of the second "why is Page wearing a neon bracelet" theory aren't that far off the mark. Per Hollywood Reporter, all media attending the VP debate took a COVID 19 test. After, they were given wristbands, as a green-light to go in. Our bets are on those wrist bands being neon.