John King's Tweet Following The Election Has People Cracking Up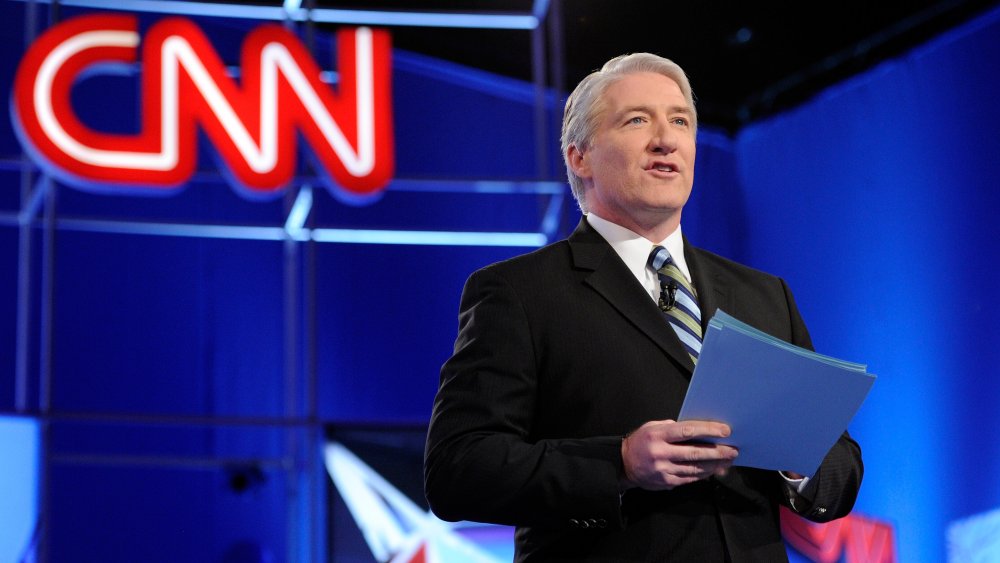 Ethan Miller/Getty Images
Nov. 3, 2020 was either election day or, if you prefer — and much of Twitter did — John King Day. CNN's John King covered the unfolding election politics tirelessly. We mean that in the most literal sense of the word. King was up against 12 to 14 hours shifts while the election was still undecided. But despite long hours, he thrived, and was so good at election reporting that even The Guardian felt like gushing over him. "A new type of celebrity has emerged: the results analyst," it wrote, "And none has been more popular than CNN's John King."
Finally, with the election called, it's time to say adieu to 24/7 King coverage. The Twitterverse is throwing him a mini goodbye party, and King is partaking in the fiesta. Reporter Matthew Smith gave King one of the most buzzed-about online toasts yet."@JohnKingCNN has aged gracefully during election2020," Smith tweeted, posting side-by-side pictures of King from Nov. 2 and Nov. 7. Are you looking at it? Obviously, the so-called "November 2" pic is years old. Even King appreciated the irony.
John King's post-election tweet blew up the internet
"Fact check," wrote King, after seeing Smith's tweet, "feels sort of true." King's fans are all over the exchange. "And could you show this on the magic wall please," wrote one, appreciative King follower. Another posted a similar side-by-side comparison of CNN's Wolf Blitzer. "@JohnKingCNN I think you did better than @wolfblitzer but you both kept us sane! Thank you," they wrote. " I've been living with you since Tuesday. I'm in John King withdrawal! Excellent job!" cheered a third. For what it's worth, King seems to be having some separation anxieties, too. Trump has now lost the election, and CNN's star news anchor is still tweeting pictures of his magic wall.
The international Twitterverse has also taken the time to give King a much-deserved thank you. "From a Canadian, thank you for explaining everything so professionally and helping me understand exactly what's going on," wrote one. " John will you come to Ireland with Biden when he makes his (inevitable) visit?!," asked an Irish journalist, "Irish Twitter salutes you."