Reba's One-Liner At The CMA Awards Is Raising Eyebrows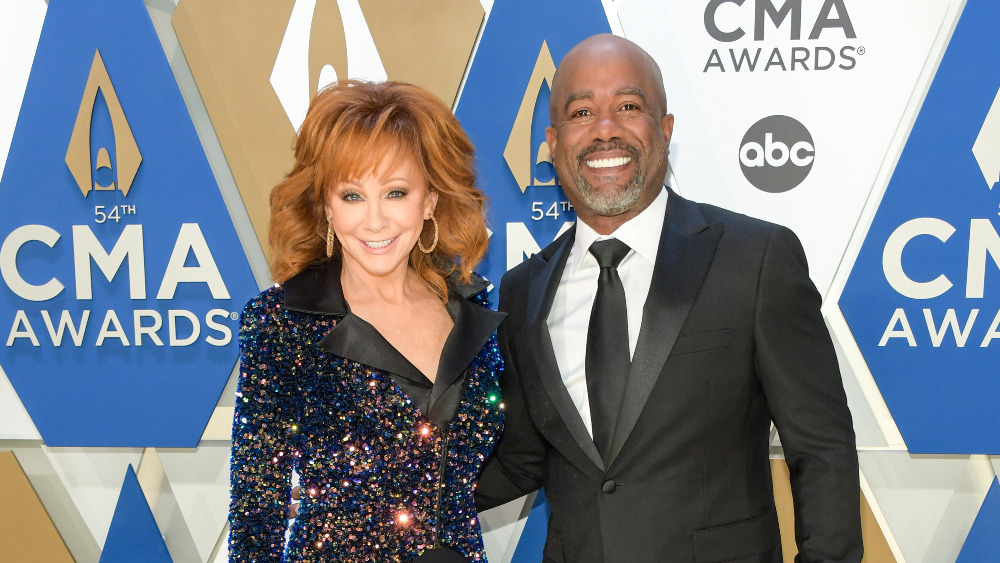 Jason Kempin/Getty Images
Let's just address the elephant in the room: The whole world seems to be in agreement that holding the CMA Awards in the midst of the second wave of a pandemic probably isn't the best idea (via Vulture). Even though everyone at the show keeps trying to convince all of us sitting at home of how safe they're being, there are many blatantly obvious signs that this might not be the case. Well, thanks to cameras, it's no secret that there is not a mask in sight at tonight's award ceremony; co-hosts Reba McEntire and Darius Rucker are very clearly not six feet apart; people are hugging and dancing; there are about 20 tables with four people at each table, which would put about 80 people in this enclosed indoor space (via Vulture). These are some pretty risky behaviors that are most certainly capable of spreading coronavirus. Not a great look. We're starting to think that maybe Lady A had the right idea not showing up tonight.
Reba McEntire coughed and made this head-scratching comment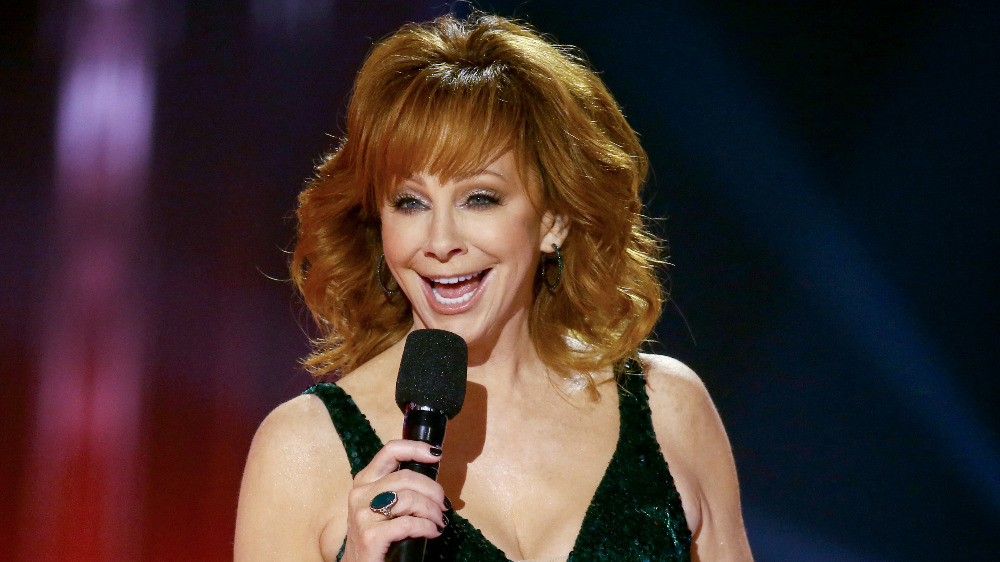 Terry Wyatt/Getty Images
The icing on the cake of this entire Covid-hotspot of an evening? While Reba McEntire was announcing the next performer, she coughed into the microphone. Then, she stopped and looked around the deadly silent room. "Excuse me," she said. "Not a good time to do that, is it?" The crowd laughed half-heartedly. "Sorry," she sheepishly continued. It was as if all the air in the room had disappeared.
While a seemingly small mistake, McEntire's cough really served as a reminder of the frivolity of large gatherings during this global pandemic. We're in the second wave of this pandemic now, and Covid cases are increasing in the US now more than ever before, per CNN. According to Dr. Anthony Fauci, director of the National Institute of Health and lead Covid-19 researcher, group gatherings shouldn't be happening right now — but if they do, they should be small. "We would recommend that there not be large crowds," Fauci said. "If that means not having any people in the audience where the NBA plays, so be it. But as a public health official, anything that has large crowds is something that would give a risk to spread" (via the National Institutes of Health).
We applaud the CMA Awards for making attempts at being safe; tables were spaced out, attendees were discouraged from mingling during breaks, and everyone was tested for coronavirus before the evening (via TV Line). Fair enough. But unfortunately, these precautions simply might not be enough to prevent the spread of the disease.
Loyal fans stuck by Reba McEntire's side despite her gaffe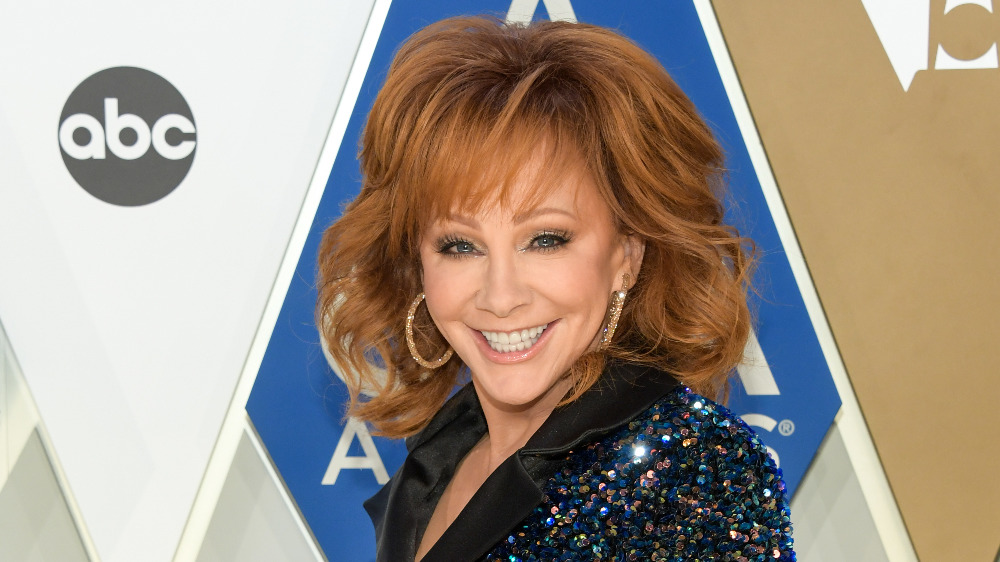 Jason Kempin/Getty Images
Despite the country star's unfortunate coughing mishap, she still managed to gather support from fans on Twitter. "Only @reba could pull off making an unexpected cough during a Covid pandemic awards show funny," one user tweeted (via USA Today). Another fan posted, "Reba is a consummate entertainer. She just made that cough one of her best jokes of the night." And even other musicians chimed in with their thoughts: "Gotta love *cough* @reba," tweeted Nashville duo Matt Chase and Chris Rogers.
It should come as no surprise that social media came to McEntire's defense, as she has been a beloved member of the country music community for nearly 50 years. She released her first album in 1977 and her career just grew and grew from that moment (via The Boot). We can't help but agree with this user's tweet that says, ""Reba coughs ... Listen 2020 you really bout to catch these hands. Rona better not catch the Queen!!" (via Twitter). So at this point, all we can do is hope that everyone who attended the CMA Awards stays healthy.