This Could Be Why The Weeknd Was Snubbed By The Grammys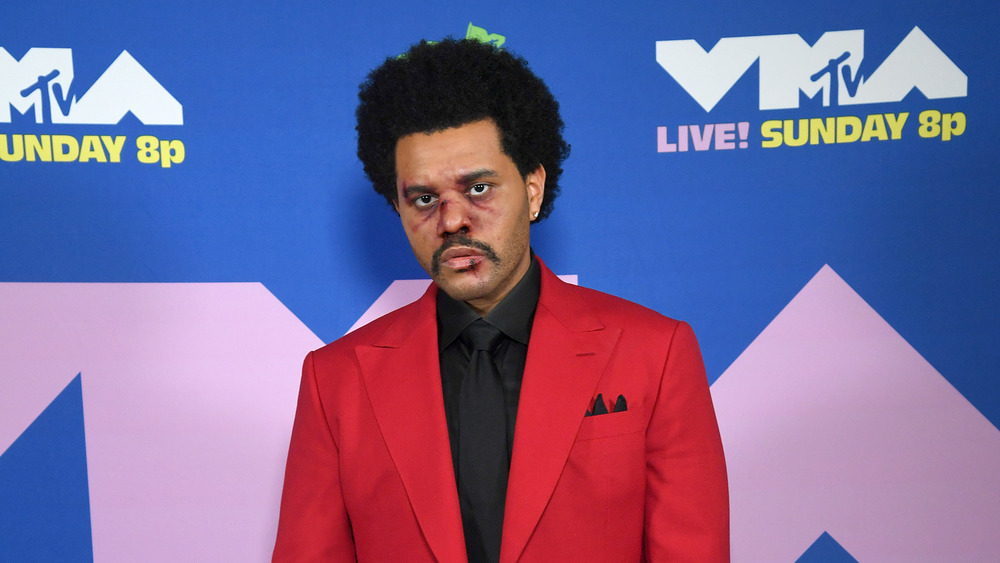 Kevin Mazur/mtv Vmas 2020/Getty Images
Ever since the 63rd Grammy Award nominations were announced on Tuesday, we're all still scratching our heads and wondering why The Weeknd was so horrendously snubbed. While it's always disappointing to not have your favorites recognized, it came as an absolute smack in the face that The Weeknd didn't receive a single nomination for the upcoming 2021 award show. The reason it came as such a surprise was because the three-time Grammy winner has been absolutely sweeping so far this award season; at this year's American Music Awards he came on stage over and over again to accept the awards — viewers couldn't stop seeing his bloodied up face even if they wanted to.
"The Grammys remain corrupt," he tweeted on Tuesday, hours after the nominations for the 2021 ceremony were announced. "You owe me, my fans and the industry transparency..." (via NBC News). 2020 saw an absolute influx of music by The Weeknd — "Blinding Lights" and "Heartless" each led the Billboard Hot 100 chart, and "After Hours" was one of the biggest albums of the year (via Billboard).
While nothing has been confirmed and statements remain rumors, there have been some whispers as to the source of this gigantic snub.
The Weeknd might have gotten snubbed for performing at another massive event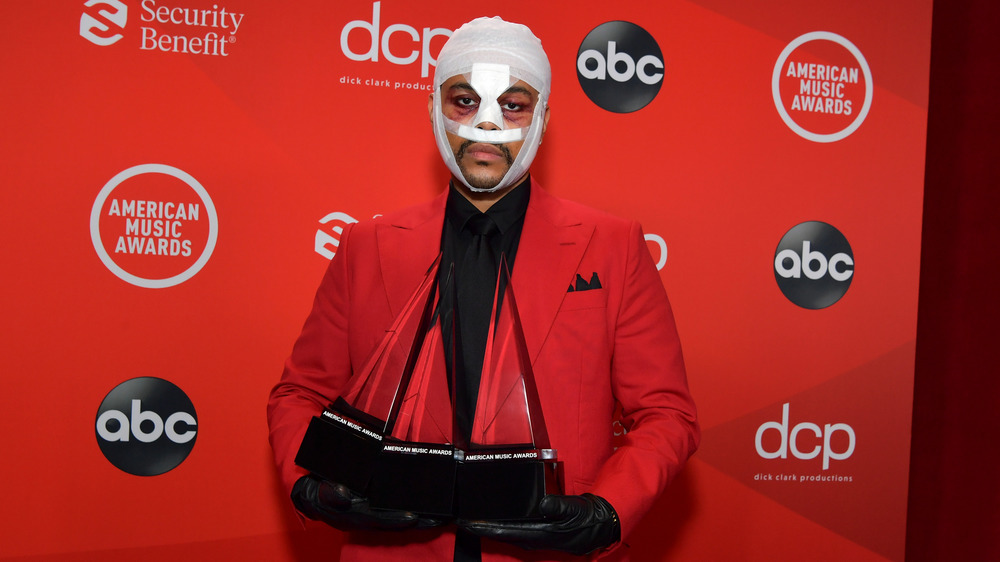 Emma Mcintyre /ama2020/Getty Images
According to TMZ, The Weeknd was allegedly forced to make the decision of performing at the Grammys or the Super Bowl — but he wasn't allowed to do both. Sources say that after contract talks and discussions of details, he and his team found a way to allow him to perform at both. But there are rumors that this ultimatum remained true, and The Weeknd's decision to perform at the Super Bowl LV is actually what cost him his Grammy nominations. It would be incredibly surprising at this point if he decided to follow through with his Grammys performance after such a shocking snub — just today, the singer tweeted, "Collaboratively planning a performance for weeks to not being invited? In my opinion zero nominations = you're not invited!"
Fans and artists alike are outraged by this Grammys controversy. Musical legend Elton John posted his two cents on Instagram upon hearing of the news, saying, "In my humble opinion... Blinding Lights... Song Of The Year... Record Of The Year" with a photo of The Weeknd, accompanied by the hashtag #GrammySnub. 
Other artists such as AKON and Nicki Minaj expressed their anger towards the Grammys (via NBC News). Nicki Minaj commiserated, tweeting, "Never forget the Grammys didn't give me my best new artist award when I had 7 songs simultaneously charting on billboard & bigger first week than any female rapper in the last decade — went on to inspire a generation..."