The Truth About The Bachelorette's Riley Christian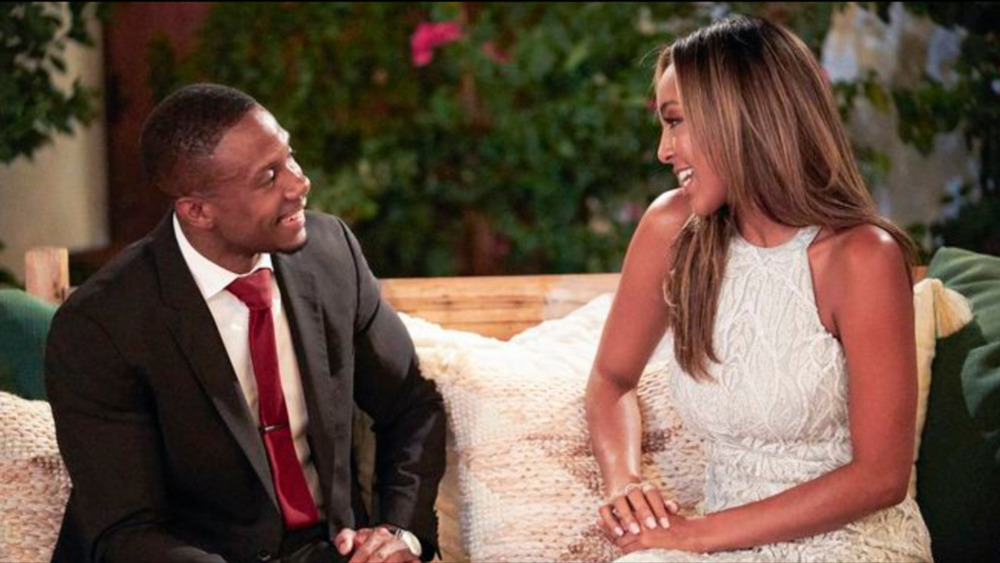 ABC
The Bachelorette's 16th season is already proving to be one of its most dramatic yet, with original star Clare Crawley shockingly dropping out after picking her match almost immediately. Fan favorite Tayshia Adams took up the mantle in her stead and has shown she's anything but second choice. Adams doesn't suffer fools gladly and when it came to the childish bickering between contestants, she always tackled the issue head on — barely even pausing for breath.
Riley Christian, one of Adams' enigmatic suitors, was involved in his own mini-controversy after a lie detector test revealed he was lying about his name. However, Christian's reaction actually brought him closer to Adams, as he opened up to her about the difficulties he'd faced with his parents and how he'd grown up in general. The reluctant reality star plays his cards pretty close to his chest, but there's plenty to glean about Christian regardless.
Riley Christian is hugely successful in his many careers
According to the site of Aaronson Rappaport, where Riley Christian is currently an associate, he attended the University of Findlay in Ohio as an undergrad, graduating with a Bachelor of Arts degree in journalism in 2013. He subsequently attended grad school at Syracuse University College of Law in 2016. Christian worked as a research assistant at Regeneron Pharmaceuticals while completing his studies at Syracuse and later was hired as a no-fault litigation associate at the firm of a plaintiff.
Also while attending grad school, Christian founded sports representation company Reberth. The company's official site notes Christian did so in order to continue "his baseball passion by helping players on their journey to the Majors." Unsurprisingly, The Bachelorette contestant was also a college athlete. Reberth notes he played baseball at the Division I, Division II, and Junior College levels and was even drafted by the Philadelphia Phillies straight out of high school — the first player in almost 15 years to be chosen as such.
The Bachelorette star is ready to settle down for the right woman
The Detroit native's Bachelorette bio lists him as an attorney, with a focus on medical malpractice, but according to his Instagram page, the talented multi-hyphenate is also a real estate agent (as well as, naturally, a sports agent with Reberth). He's currently based in Long Island City, in Queens, NY according to various posts. Information Cradle estimates his net worth to be anything from $3 to $5 million which, even if it's slightly inaccurate, still puts him in an impressive wealth bracket.
Although he's insanely busy, Christian is ready to settle down, with his Bachelorette bio noting he's looking to "shift his priorities" in order to "meet his soul mate and begin the next chapter of his life." He's looking to have kids ASAP, too, and can't wait to be a father with his first family vacation planned to be "a tour of every single MLB stadium in the country." Whether Adams ends up picking him, Christian is a major catch.