Hollywood Rushes To Defend Sasha Obama After Viral TikTok
Sasha Obama is living the high life. When she's at home with her parents in Washington, Sasha has her own two-room suite in their apartment, complete with a living room, where we like to think she practices her dance moves (via Hello). When at college, the 19-year-old puts them into serious action. You probably saw the TikTok video of Sasha Obama rapping Moneybagg Yo's "Said Sum," because it went viral and provoked a mini Twitter heart attack. Are you ready for season 2? Because it's out and making waves.
Earlier this December 2020, another since-deleted TikTok video was copied on to Twitter, to the entire Twitterverse's alternating fascination, approval, and horror. In it, Sasha Obama, with nails as fierce as Dolly Parton's, jams out to Popp Hunna's song "Aderall (Corvette Corvette)." (Can we get in on your playlists, Sasha Obama?) Then, before Twitter could catch its breath, a photo started making the rounds, showing someone who looks a lot like Sasha Obama in a bikini. Before you rush to look the photo up, you should know that  even The Daily Mail admits, the woman in the photo in question may just be a "lookalike."  
Three observations before we go any further: first, someone taught Sasha Obama to accessorize like a pro. Second, she and her group of friends know how to put their free time to good use. Third, can somebody tell people to stop posting TikTok videos of Sasha Obama for a second so that Twitter can stop hyperventilating?
The scandal Sasha Obama's TikTok video unleashed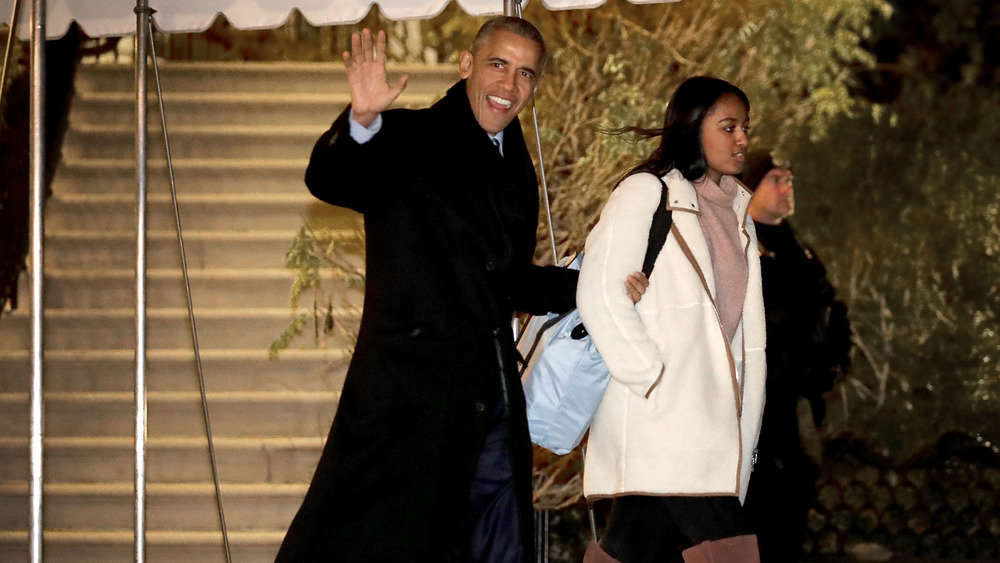 Chip Somodevilla/Getty Images
Here's how it went down. Sasha's acrylic nails garnered so much attention among Twitter gawkers that there is now a Twitter account named in their honor. Other Twitter users whispered about Sasha's "rosehip oil lipgloss brand." Twitter fistfights soon erupted over her fashion choices. Meanwhile, speculation over Barack Obama's possible reaction to the social media uproar escalated. That's when it happened. Sasha Obama began trending under Twitter's "Politics" designation, and the young Obama started making national and international headlines.
Meaww called out many Twitter comments for "sexualizing a young black woman's body" and "tagging a Black man in the background [of Sasha's photo] as a 'predator.'" Newsweek dedicated a an article to the tweeters who criticized how many white friends that Obama's youngest daughter has. (Not everybody was offended. "Sasha Obama doing the lord's work teaching white kids rhythm," tweeted one amused watcher.)
The Sun responded with over 1,000 words about how Sasha has become "a very relatable teen." Yahoo! Entertainment wrote in wonder about how, despite the fact that Sasha Obama has no social media accounts of her own, she "manages to break the internet" every time a photo or footage of hers goes public. The Twitter uproar over Sashas Obama's latest TikTok video got so heated that even Jezebel weighed into the fray, asking readers, heatedly, to leave the young woman alone. Hello Beautiful's deputy editor soon stepped in, condemning "internet prudes" on "their social media soapbox." Then, it was Hollywood's turn. 
Here's what Hollywood says about Sasha Obama's latest TikTok video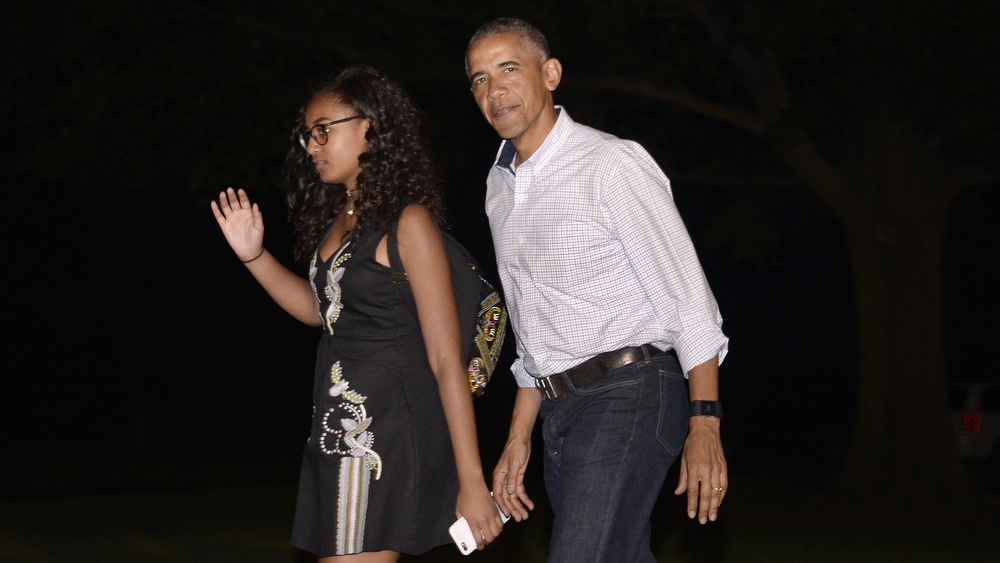 Pool/Getty Images
Vice President-elect Kamala Harris's niece, Meena Harris, shouted angrily at Twitter to "Keep Sasha Obama's name out of your damn mouth," and was promptly retweeted over 2,000 times. Chelsea Clinton seconded Harris's call, writing, firmly: "Sasha Obama is a private citizen who deserves her privacy full stop. Please leave her all the way alone." Meanwhile, as Democratic strategist, Max Burns, rushed to Sasha's defense, so too did the entertainment industry.
Singer-songwriter Aubrey O'Day wrote a heated appeal in favor of Obama. Comedian, actress, and podcaster Akilah Hughes snarked, "I heard some ugly old white people are mad that Sasha Obama is hot and young?" In a second, follow-up tweet Hughes observed, "If they go any lower we have a moral obligation to stomp them into hell."
Finally, no modern-day Twitter showdown would be complete without The Good Place actress, Jameela Jamil, who has made it something of a thing, lately, to come to people's Twitter defense. (Yes, Harry Styles, and your gorgeous history-making Vogue cover, we're looking at you.) Jamil came through big time for Obama, closing the young college student's case for her. "Oh shut up about Sasha Obama," Jamil fumed, "she's young, free and harming nobody. Stop acting like it's the President of The United States doing this. Which even if they did would still hurt nobody. She looks happy and she deserves to grow up expressing herself and having fun." Amen.