The Real Reason Lori Loughlin Spent Time In Isolation While In Prison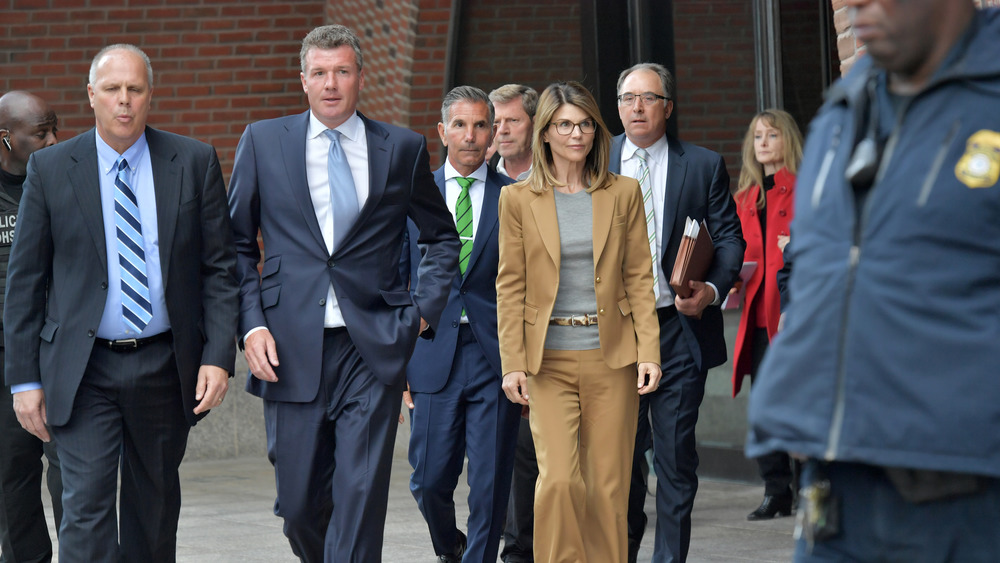 Paul Marotta/Getty Images
Lori Loughlin's end to her two month period in prison has officially come to an end as of December 28. In case you need a reminder, Loughlin was involved in a college-admissions scandal (also known as Operation Varsity Blues) in which she, and various other affluent parents, cheated to help their children get into better colleges. Well unfortunately for them, they most certainly didn't get away with it, and Loughlin, along with several other parents and well-known actors, were sentenced to prison. The internet has been abuzz as a result of the scandal, most recently focusing their attention on Loughlin's daughter, Olivia Jade, who made an appearance on Red Table Talk in order to clear her name and explain her part in all of this.
After being sentenced, Loughlin apologized and admitted that she made an "awful decision," according to the Associated Press.
"I went along with a plan to give my daughters an unfair advantage in the college admissions process and in doing so I ignored my intuition and allowed myself to be swayed from my moral compass," she said (via Newsweek). In addition to the prison term, according to USA Today, Loughlin was fined $150,000, plus two years of supervised release and 100 hours of community service.
According to sources, Loughlin spent her final two weeks in prison in complete isolation. Keep reading to find out what happened that led to this isolation; and here's a hint: it wasn't because of bad behavior.
A prison-wide COVID outbreak lead to Loughlin spending her last two weeks in isolation
According to sources, Loughlin's isolation was not because of a punishment, but for safety reasons. "She spent the last two weeks in isolation before she was released, so it has been especially tough, but she's thankful to put it behind her. There was a COVID outbreak in the prison, so it was a precaution and not a punishment," a source told Us Weekly. Punishment or not, we can't imagine that two weeks of complete solitude and time alone with your thoughts being especially pleasant.
Photos showed an incredibly on-brand exit from prison for Loughlin, a private jet swinging by to pick her up from Van Nuys Airport (via Page Six). Daughters Olivia Jade and Isabella were there for Loughlin's pick up, and their reunion was reportedly very happy. "Lori had a very emotional reunion with her daughters this morning at the family home," a source told US Weekly. "She was relieved to be out of prison." However, the sources added that their reunion was allegedly "bittersweet", due to Loughlin's husband Mossimo Giannulli not being present as a result of the five month prison sentence that he is still serving out.