Kamala's Body Language Toward Joe At The Inauguration Says A Lot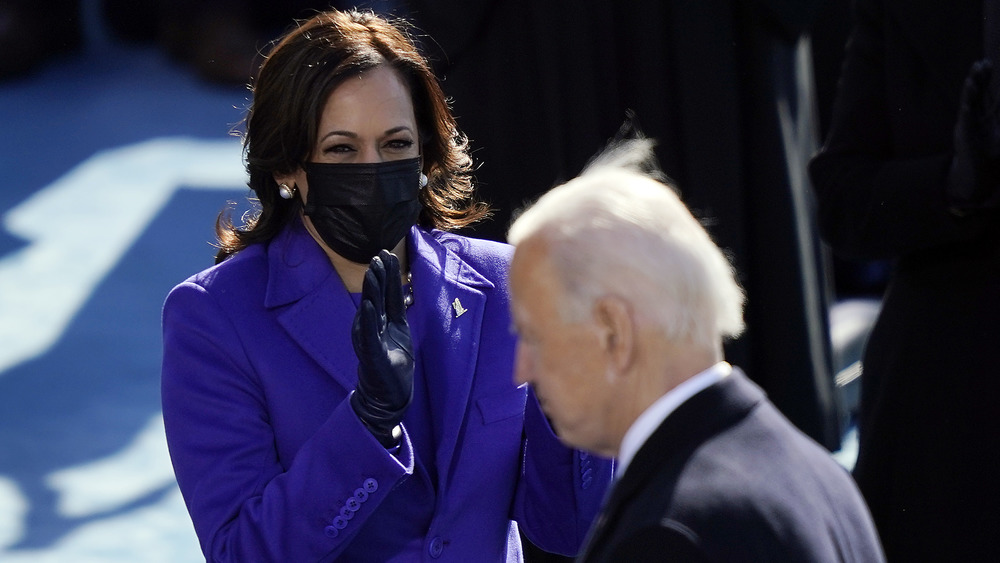 Drew Angerer/Getty Images
Today we witnessed an inauguration like no other, one taking place during a state of emergency, not to mention an ongoing pandemic (as an added bonus, it was held on a date that's also a palindrome). Many of us may have felt a certain amount of trepidation, considering the rioting that took place at the Capitol just two weeks ago, as we watched Joe Biden be sworn in as the 46th president. Perhaps the most historic moment, however, took place when Kamala Harris, a woman of color, became our nation's first female VP and only the second African-American (and very first Asian-American) to hold one of the highest offices in the land. The first POC to hold such a high office, former President Obama, couldn't have been more proud of her achievement.
While Harris was a fierce competitor during the Democratic primaries and there are those who feel she deserves to sit in the Oval Office herself — as one Twitter user put it, "It's actually Kamala's time." Still, Harris herself seems to have put any rivalry with Biden behind her and says she's anxious to work with him to help bring the country together again. But is that actually the case, though? In order to find out how Harris really feels about her new boss, The List went to one of our go-to body language experts, psychologist and political advisor, Dr. Reneé Carr.
Kamala Harris clearly respects her new boss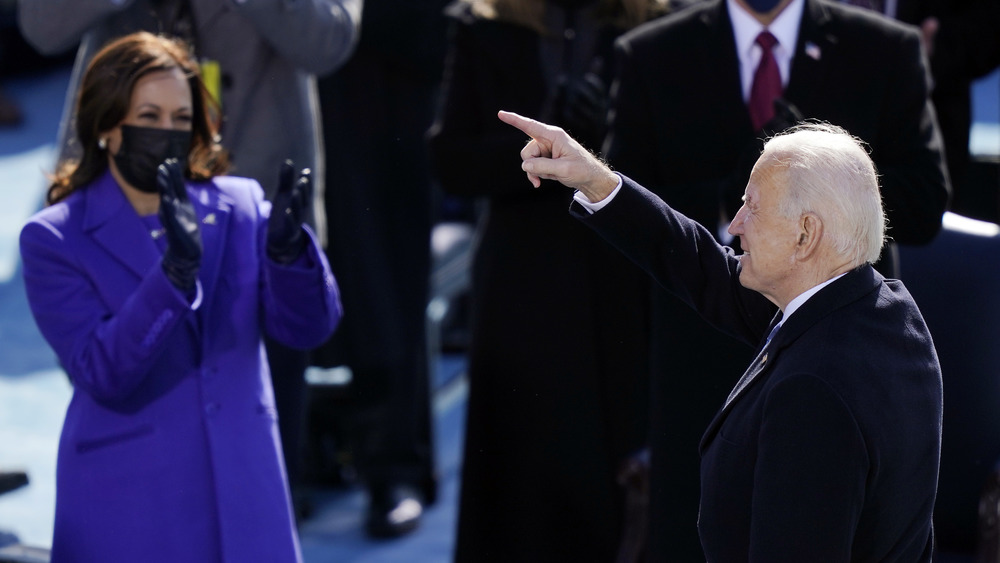 Drew Angerer/Getty Images
Carr describes Harris as being "very driven and achievement-oriented," which are qualities that have served her in good stead as she's fought her way up through the ranks in a political field still dominated by those older, paler, and maler than she. Nonetheless, Carr sees in Harris clear appreciation of Biden. She notes that Harris "clapped with her hands outstretched and toward him," a clear gesture that her applause was meant for the new POTUS rather than being an act performed out of meaningless politeness. Carr also points out that when Biden was giving his inaugural speech, Harris "clasped her hands and held them close to her chest," which is the kind of thing you do when you find someone's words truly moving.
Nor did Harris' show of respect come to an end once the ceremony was over. Carr saw that she waited patiently, standing back to let Biden and his wife Dr. Jill pass by, and made sure not to greet those who were ahead of her. In this way, Carr says, Harris was "avoiding any disrespect of passing her new President." Respect, politeness, civility...None of these are signs of weakness. In fact, Harris' obviously close relationship with Biden bodes well for a future in which she may come to occupy the highest office in the land.