Al Roker Shares Adorable Moment With Joe Biden On Inauguration Day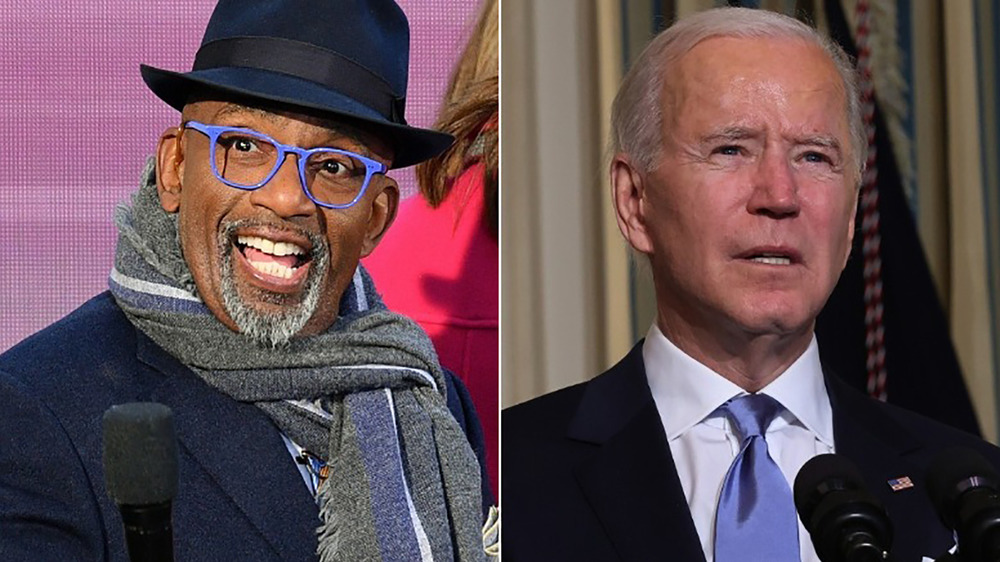 The inauguration of Joe Biden as the 46th president was filled with traditional rituals, such as the procession to the Capitol, the taking of the oaths of office on Bibles of historic significance, the stirring first presidential speech, and the signing of the first documents of the administration. Some familiar parts of the ceremony had modern touches, such as Lady Gaga's wearing of a peace-themed pin while singing the national anthem, the performances of J.Lo and Garth Brooks, and the reading of a poem by a young American poet.
Some portions of the day broke sharply with tradition, most notably now-former president Donald Trump's decision to leave early in the morning (to the tune of "My Way") rather than greeting the new first family and accompanying Biden to the ceremony. Melania Trump also forwent the decades-old ritual of inviting the new first lady to tea and an introduction to the White House staff. 
But one tradition that was carried on was totally unexpected. In fact, it didn't even become a tradition until today. And if you saw it today, you might not even have taken notice of it. But it was totally in character for both men involved, and it was heartwarming as all get-out.
President Biden and Al Roker repeated an inaugural greeting
The Inauguration Day swearing-in ceremony concludes with the president, vice president and their families making their way to the White House. (Normally, there would be a large parade as well, but this year, in light of the pandemic, it was done virtually.) This year, the Bidens and Harris/Emhoffs made a quieter procession, but nonetheless a joyful one, made even more joyful when the new president saw a familiar face. Biden caught sight of NBC's Al Roker, everyone's favorite weather meteorologist and Macy's Thanksgiving Day Parade host, and made his way to the barricade to offer Roker a properly socially distanced fist bump.
J.D. Durkin, a White House correspondent for Cheddar, noted on his Twitter feed that the moment was almost frame-for-frame identical to the greeting the two exchanged during President Obama's second inauguration in 2013. Then-Vice President Biden broke from the procession to dash over to Roker and shake his hand as both men grinned.
Did the new president anticipate that Roker would be there? Did Roker hope that the new commander in chief might acknowledge him again? Whatever the circumstances, it made for a sweet scene that added to the joy of the momentous day.