Here's What The Weeknd's Blinding Lights Really Means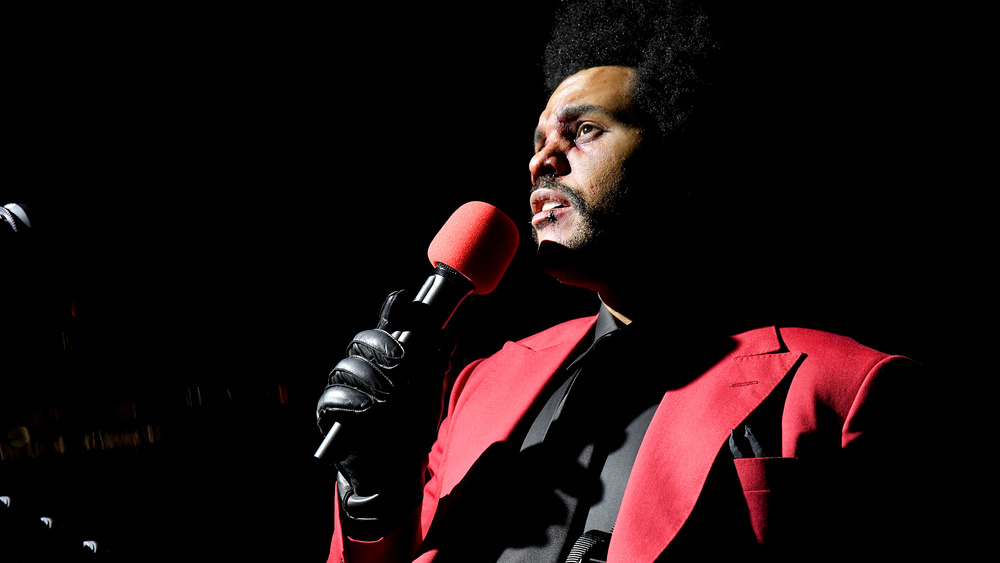 Kevin Mazur/mtv Vmas 2020/Getty Images
It's an unforgettable opening video shot: a close up of The Weeknd, bruised with bloody teeth; he's laughing, crying, screaming into the camera. Then, he gets into a car, and an incredible mix of a love song combined with a crazy car ride occurs, ending with The Weeknd standing alone on an overpass. And if you're as confused as the rest of us are, as to the meaning of this video and song, here's what The Weeknd's "Blinding Lights" really means.
"Blinding Lights" is one of The Weeknd's (real name: Abel Makkonen Tesfaye) biggest hits from his After Hours album. It was Billboard's No. 1 record of the year, as well as the most streamed song on Spotify for 2020 (via Variety). Meanwhile, the official music video for the record-breaking hit, with the undeniable '80s vibe, has garnered over 350 million views on YouTube (and counting). Indeed, the success of "Blinding Lights" may be the main reason The Weeknd was chosen to headline Super Bowl LV's halftime show.
But what does "Blinding Lights" really mean? The song definitely seems to be about love, but it's unclear who it might be about. The Oprah Magazine seems to think it's referring to The Weeknd's on-again, off-again relationship with supermodel Bella Hadid. And with lyrics like this, it makes sense: "I said, ooh, I'm blinded by the lights / No, I can't sleep until I feel your touch / I said, ooh, I'm drowning in the night / Oh, when I'm like this, you're the one I trust."
But here's what Blinding Lights really means... and it's kind of dark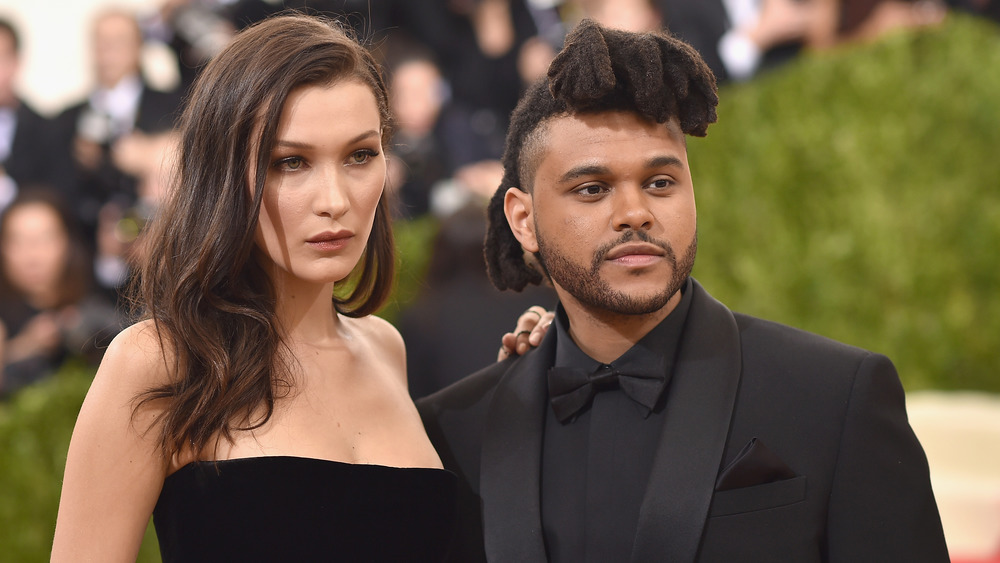 Dimitrios Kambouris/Getty Images
But unlike other artists who sometimes leave their lyrics up to the listener's interpretation, The Weeknd explained in full detail what his hit song actually means. Featured on the September 2020 cover of Esquire, the singer-songwriter told the outlet that his song is actually (ahem) about love, lust ... and drunk driving: "'Blinding Lights' [is about] how you want to see someone at night, and you're intoxicated, and you're driving to this person and you're just blinded by streetlights. But nothing could stop you from trying to go see that person, because you're so lonely."
Now, drunk driving is a big, big deal, (and a criminal offense that can go on your record as a misdemeanor or felony, per DUIDrivingLaws.org). The Weeknd was quick to clarify that it's never a good thing to get behind the wheel if you're intoxicated. In the same Esquire article, he said, "I don't want to ever promote drunk driving, but that's what the dark undertone is."
So there you have it. The Weeknd's "Blinding Lights" is about the blurred streetlights someone might see on their way to seeing someone they love and miss — when they've been drinking, which, again, you should never, ever do. As the U.S. Department of Transportation states: Buzzed driving is drunk driving.