Patrick Mahomes Has A Surprising Reason For Sleeping Away From His Fiancee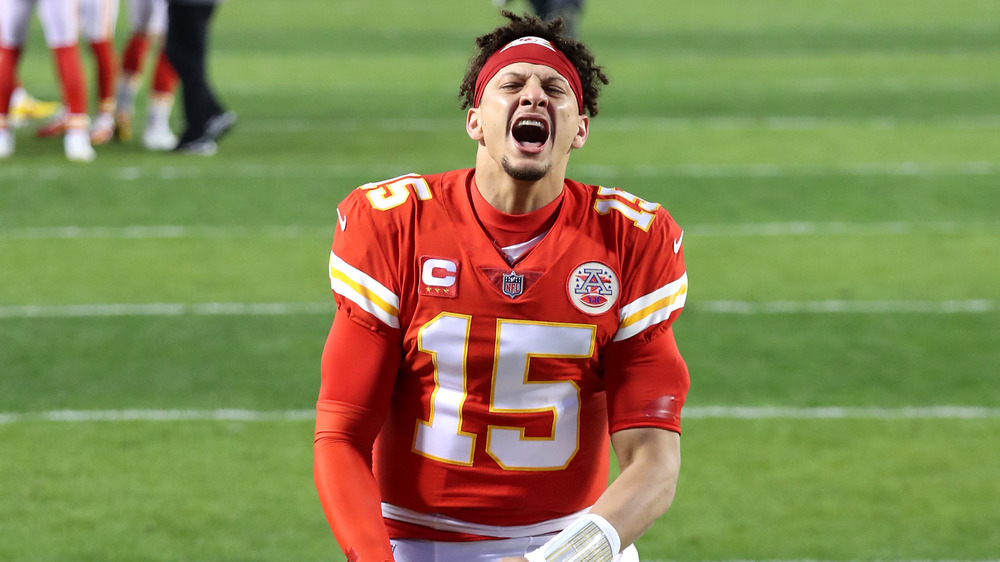 Jamie Squire/Getty Images
The coronavirus pandemic has led to drastic measures being taken in order to keep ourselves and our loved ones safe — and in Patrick Mahomes' case, this couldn't be any more true. The superstar athlete revealed last month that he and his new fiancée, Brittany Matthews, are expecting their first child, just weeks after Mahomes popped the question (via People). Matthews posted a photo to her Instagram of herself and Mahomes holding an ultrasound photo with a caption that read, "Mom & Dad, taking a small detour to the wedding." 
While news of the pregnancy is incredibly joyous, Matthews' pregnancy now makes her more at risk for being severely affected by COVID-19 (via the CDC). As a result, Mahomes revealed that he has been taking extra measures to ensure her safety while he continues to pursue his career with the NFL, saying that he recognizes the risk and that "It's something [he thinks] about every day." He added, "You have to think about that with her being pregnant, kind of in that high-risk category" (via People).
Patrick Mahomes called his lack of social distancing a mental lapse
In the midst of Patrick Mahomes' Chiefs teammates having been diagnosed with COVID-19, fans can't help but question how this will affect Mahomes and his ability to stay in close contact with his fiancée — but like the quarterback he is, Mahomes has a plan in play. "When I went home over the weekend I slept in a different bedroom and stayed away from her as much as possible," he explained, after having learned of Ta'amu's positive test. "I'm doing my part to keep away from her and social distance whenever stuff like this arises" (via People).
But Ta'amu isn't the only NFL player that Mahomes needs to worry about. A recent game between the Chiefs and the New England Patriots was postponed due to cases of coronavirus on both teams, including Patriots quarterback Cam Newton (via the NFL). Later, it was revealed that Patriots cornerback Stephon Gilmore had also received a positive test, but wasn't announced until days after Gilmore and Mahomes had had a conversation within six feet of one another. According to People, Gilmore "had approached Mahomes to share a few words," which Mahomes ultimately deemed a "mental lapse" on his part.
"I was just trying to show respect to a great football player who I hope is getting better very quickly," Mahomes explained. "I'll just try to keep away from that and try not to do it again."