The Stunning Glow-Up Of Patrick Mahomes' Hair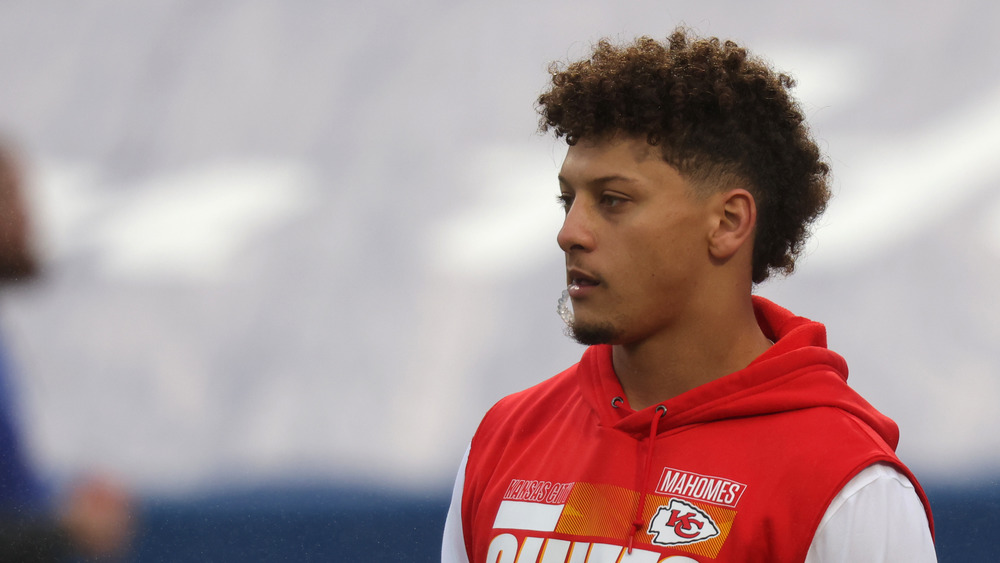 Timothy T Ludwig/Getty Images
Patrick Mahomes is looking to win his second Super Bowl in a row as the quarterback for the Kansas City Chiefs. He's already considered to be one of the greatest QBs of all time, and his career has only just begun (via SB Nation). Not only has his time in the NFL seen a major glow-up since his first season, but Mahomes' iconic hair has transformed over the years as well. 
Mahomes has a signature curly-haired mohawk that, according to The Kansas City Star, has been perfected over the years by his go-to barber, DeJuan Bonds. If you've been watching Mahomes since his Texas Tech days, you've seen firsthand the transformation from "meh-mohawk" to what it is today. Bonds has even said that when Mahomes first sat in his chair, the cut "wasn't in bad shape," but he did have to work with it a bit to get it to "look like the vision that [he] saw" in his head. Now, Mahomes' hairstyle is so beloved that many people (and even dogs) want the look (via Fox 4 News). 
Patrick Mahomes' hairstyle started out as a bet
Patrick Mahomes didn't even mean to create such an iconic look in the first place. The quarterback revealed that in college, he and a friend were trying to see who could grow out their hair the longest (via KMBC News). It was just a bet, but after people started to really love the long locks, Mahomes decided to keep it and it became his "thing." He has even said that he feels like he has to keep his mohawk brand going while in the NFL as well (via Essentially Sports).
The "Mahomes cut" has actually helped to secure the MVP with some sponsorships. Mahomes and Troy Polamalu, who is also known for having gorgeous hair, have appeared together in a few commercials for Head & Shoulders (via Business Wire). And more recently, Mahomes starred in a State Farm commercial that poked fun at everyone wanting his signature style. Whether the Kansas City Chiefs are able to pull of a second Super Bowl championships or not, it's clear that Mahomes is already winning big with his signature hairdo.