The Truth About Lady Gaga's Friendship With Tony Bennett
Kevin Mazur/Getty Images
Lady Gaga and Tony Bennett have been friends for a very long time. Back in 2014, in fact, the enigmatic pop star credited the legendary crooner with saving her life. Speaking to Parade magazine, ahead of the release of their joint album Cheek to Cheek, she admitted, "I was so sad. I couldn't sleep. I felt dead. And then I spent a lot of time with Tony. He wanted nothing but my friendship and my voice ... I tell Tony every day that he saved my life."
The feeling is clearly mutual, with Bennett heralding Gaga's collaboration with Ariana Grande, "Rain On Me," upon the single's release in 2020. Describing it on Twitter it as "a triumph," the jazz icon gushed, "It brings me joy to see two of the most talented entertainers I know create something so beautiful together." Bennett was recently diagnosed with Alzheimer's but he isn't letting it slow him down — particularly when it comes to making music with his BFF.
Lady Gaga and Tony Bennett are releasing another album together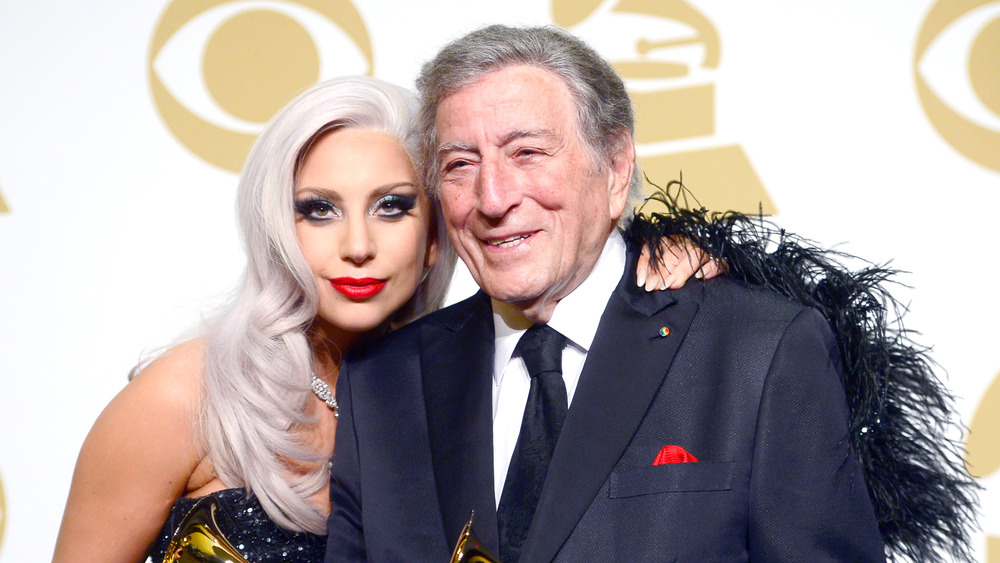 Frazer Harrison/Getty Images
Susan Crow, Bennett's wife, revealed during an interview with AARP that he had been diagnosed in 2016. He's been focusing on music during this difficult time, with Crow confirming a second album with Gaga had been recorded between 2018 and 2020 that is due for release this spring. "[Singing and performing] kept him on his toes and also stimulated his brain in a significant way," Bennett's neurologist, Gayatri Devi, noted. She added, "He is doing so many things, at 94, that many people without dementia cannot do. He really is the symbol of hope for someone with a cognitive disorder." Although Crow, who married the jazz icon in 2007, admitted Bennett has changed, she also acknowledged, "when he sings, he's the old Tony." 
Bennett and Gaga recorded the album together in New York, where they're both from, with documentary footage showcasing how difficult Gaga was finding it dealing with her long-time friend's debilitating mental state. AARP describes "an extraordinarily moving sequence in which Tony (a man she calls 'an incredible mentor, and friend, and father figure') sings a solo passage of a love song. Gaga looks on, from behind her mic, her smile breaking into a quiver, her eyes brimming, before she puts her hands over her face and sobs." Thankfully, in an interview with Gayle King shared on Twitter, Bennett's wife confirmed he still recognizes his favorite collaborator, knowingly noting, "Gaga is hard to forget."