We Finally Know What The Weeknd's Face Bandages Mean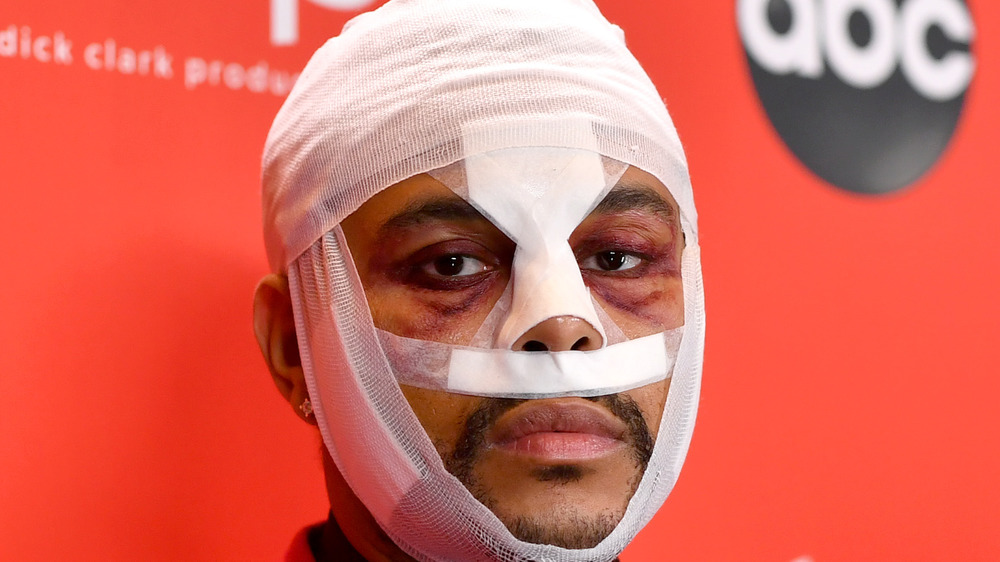 Emma Mcintyre /ama2020/Getty Images
The Weeknd is milking his Super Bowl halftime show appearance (and the 7 million dollars he poured into it) for all it's worth. Remember the almost-too-real-to-be-fake blood and bruises he sported at the VMAs in August 2020 while performing "Blinding Lights?" Have you been having nightmares about his still-bruised, now bandaged face, ever since seeing him perform during the AMAs in November 2020? Did you, for a moment, think that The Weeknd, bandages off, might seriously have had plastic surgery for his January 2021 "Save Your Tears" music video? Every time the Weeknd changes his looks, the internet has a heart attack. But despite our collective cardiac arrest, up until now, the artist has remained curiously silent about the message he's trying to send us.
The Weeknd has us, in other words, eating from the palms of his hands. It's hard to avoid the conclusion that his face, an ever-changing landscape out of a horror movie, has been building into a crescendo for his Super Bowl performance, which he assured Billboard would be "cinematic." As for his face? At least in Pepsi's Super Bowl commercial, it's shockingly back to normal. And now, in what seems like a blatant bid to further build the hype around his upcoming appearance, he's finally broken his silence about the meaning of his bandaged mug.
The Weeknd explains his bruises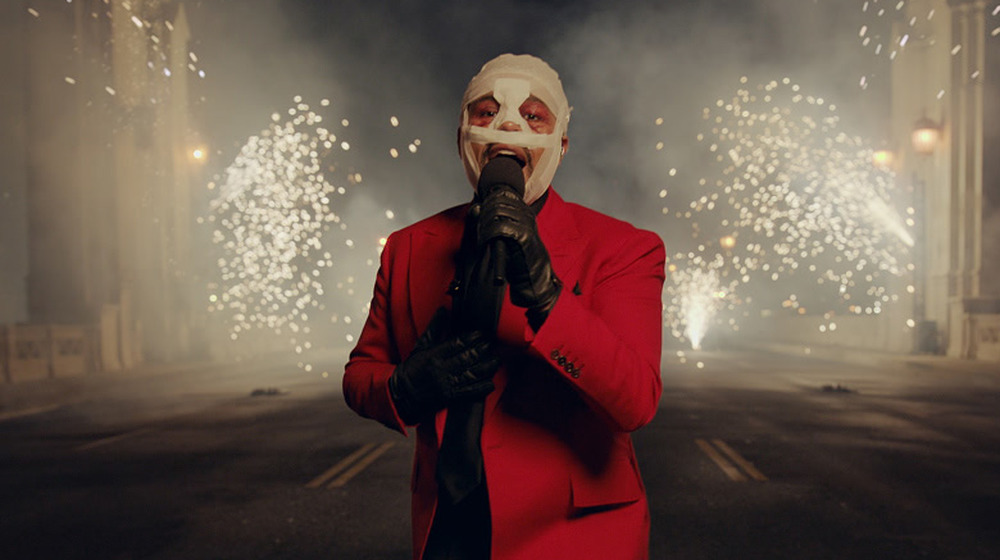 Ama2020/Getty Images
Are you ready to rip the bandages off? "The significance of the entire head bandages is reflecting on the absurd culture of Hollywood celebrity and people manipulating themselves for superficial reasons to please and be validated," The Weeknd finally explained to Variety. Some fans might interpret that as The Weeknd confirming Page Six's theory that his recent facial prosthetics was the artist's way to roast his ex, Bella Hadid.
Maybe. But it's more than that, too. Because, of course, The Weeknd is intentional about connecting one performance to the next, and one track to the next. There's a reason he's always dressed in red. Tesfaye is carefully creating a character for us to latch onto, with a plot-line that we can agonize over, as read through the lyrics of his hit songs, from "Blinding Lights" to "Save Your Tears." The artist explained to Variety, his changing faces are, as we've long suspected, "all a progression ... we watch The Character's storyline hit heightened levels of danger and absurdity as his tale goes on." As for the Super Bowl halftime show? We can only wait with baited breath.