The Weeknd's Super Bowl Backup Dancers Are Raising Eyebrows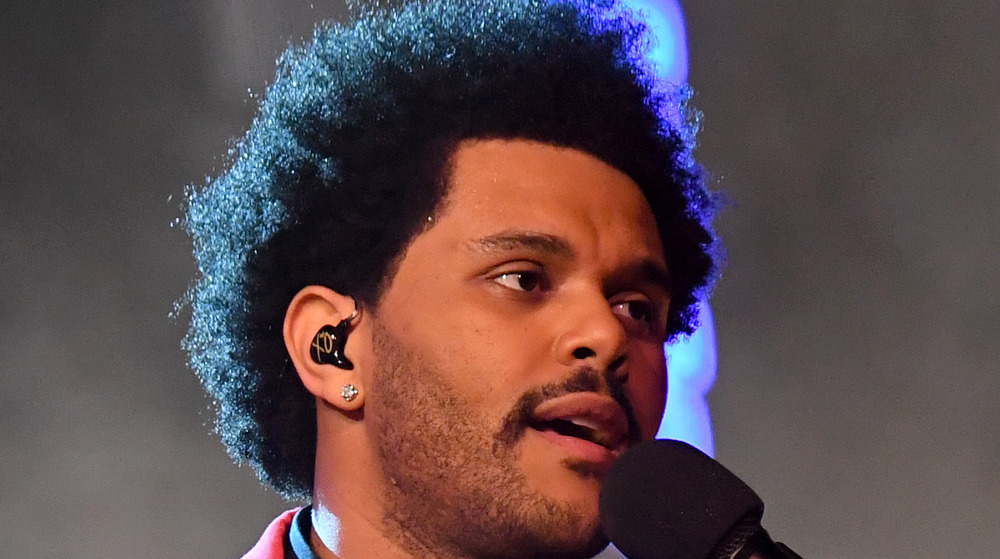 Kevin Mazur/Getty Images
For once, it's not The Weeknd's mug we're freaking out over. His Super Bowl 2021 face was blood-free, bruise-free, bandage-free, plastic-surgery free — in short: almost shockingly normal. Then again, the secret's out. In the lead up to his outrageously expensive halftime show performance, Abel Tesfaye, himself, told us what his bandages really meant. As he finally admitted to Variety, they're a reflection of "the absurd culture of Hollywood celebrity and people manipulating themselves for superficial reasons to please and be validated." Get it? Got it? Good, because The Weeknd's moved on.
It's not that Tesfaye's let go of his obsession with the bizarre, or the uncomfortably jarring. He didn't spend 7 million dollars of his own hard-earned pennies on his Super Bowl halftime performance to give his audience something traditionally spectacular (via Billboard). Different from the VMAS and the AMAs, however, the new performance piece Tesfaye's got everybody whispering about has nothing to do with his face, and everything to do with his Super Bowl backup dancers. As one impressed viewer pointed out, "The Weeknd seems to have hired enough dancers for his show to fill Tampa Bay's Raymond James Stadium." He hired, according to USA Today, 55. And (shocker?), they were all his clones. His dancers copied Tesfaye's iconic Super Bowl look to a tee: dressed in black down to the gloves on their hands, their dark profiles accented by a signature red blazer. Any facial dissimilarities were covered up with mummy-like bandages. They were at once captivating, terrifying, and oddly comical.
Fan theories about The Weeknd's Super Bowl backup dancers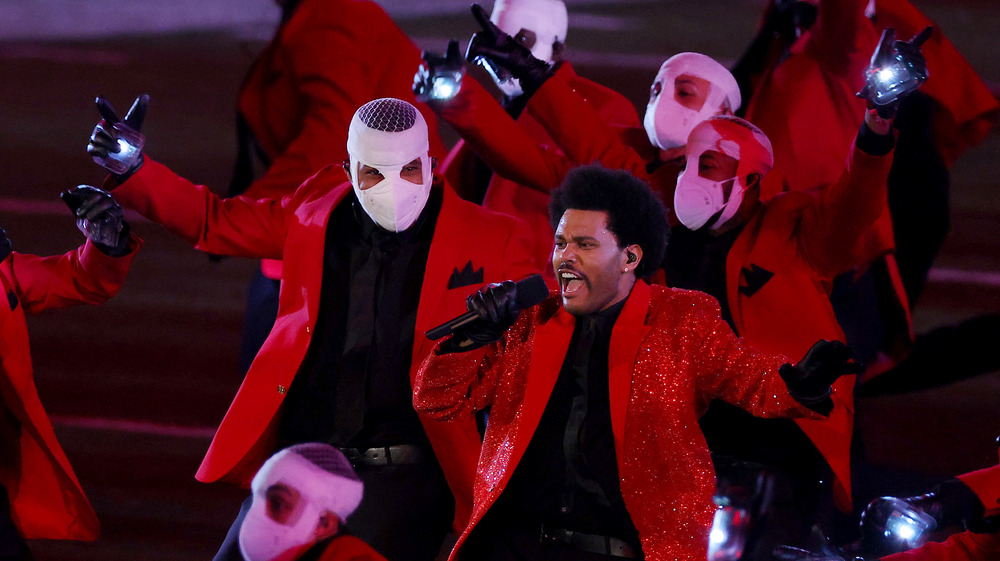 Kevin C. Cox/Getty Images
Prior to his halftime show performance, The Weeknd told Billboard that he was attempting to create "a cinematic experience" for virtual viewers. Tesfaye's backup dancers, alternately freestyle dancing, swarming around him, and marching in perfect, military unison helped him get there. Were The Weeknd's halftime backup dancers a spoof on Staples security guards? joked one Super Bowl halftime show watcher. Were they blatant reminders of social distancing and our collective, face mask-wearing obligation? asked another. Were they, perhaps, evil hyenas, marching Lion King-style, suggested a third?
Maybe, in and of themselves, Tesfaye's dancers were the embodiment of the "Blinding Lights" singer's fascination with movies. One fan noticed that Tesfaye's dancers' bandages looked eerily similar to those worn by the mother in the horror film, Goodnight Mommy. For those of you who aren't as in to terror as, say, The Weeknd is, Goodnight Mommy is about a mother who has face reconstruction surgery and turns into completely different person (via UPRPOXX). Which sounds just about in line with Tesfaye's "people manipulating themselves for superficial reasons to please and be validated" critique, right?
Other fans picked up on another cinematic reference. Was The Weeknd paying tribute to a character (Pluto) in Jordan Peele's movie, US when he created the look for his backup dancers? If you've seen Peele's masterpiece, you'll recall that Pluto wears a red jumpsuit and white face mask, to hide hideous burn scars on his face (via Screen Rant).
Were the Weeknd's bandaged backup dancers a nod to US?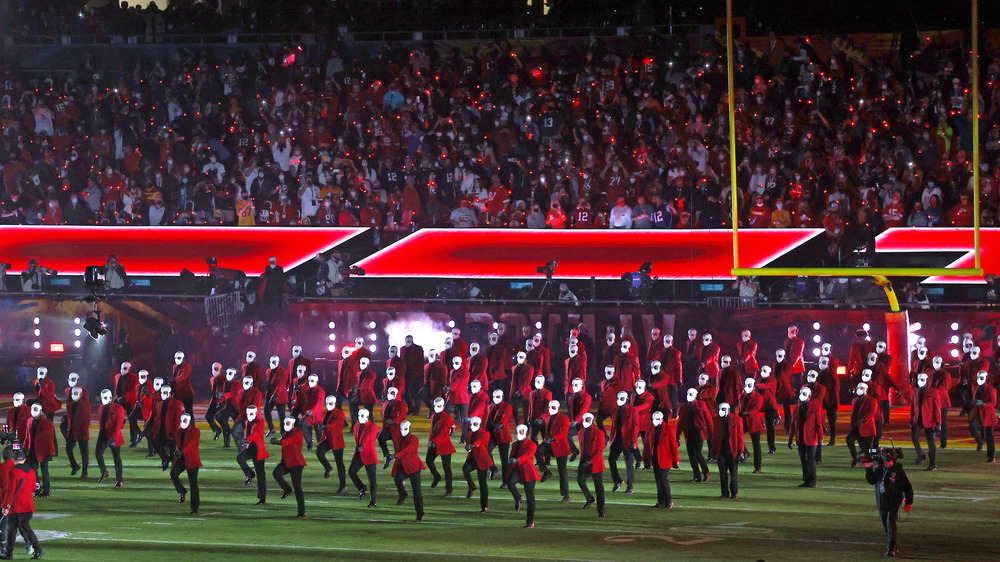 Kevin C. Cox/Getty Images
We know that Abel Tesfaye enjoys Jordan Peele's work as a director. Case in point? He once rented out a movie theater in Toronto to watch Get Out with Selena Gomez, gin and tonics, popcorn, Twix, Sour Patch Kids, Matlesers, Twizzlers, and Diet Cokes (via Vanity Fair). Stands to reason he'd have watched Us, too. Although perhaps not with Gomez, as their relationship fizzled out in 2017. Maybe with Bella Hadid? 
Regardless, if The Weeknd did mean to make carbon copies of US's Pluto (and The Weeknd, as Vice will tell you, is known for borrowing a page or two from his favorite horror movies), then his masked and bandaged commentary runs deeper than a 13-minute Super Bowl halftime performance would let you properly explore. As Peele once explained to NPR, "Whatever your 'us' is, we turn 'them' into the enemy, and maybe 'we' are our own worst enemy." Which, in our estimation, would make The Weeknd's bandaged backup dancers "us" or "them" or "we", or "us" and "them" and "we" all at once. Not to go too far down the rabbit hole, but are they meant to be Tethers? Or are they real people? Or are they both? 
Or, if you prefer a simpler version, to borrow the words of one impressed fan, "emotionally I am one of the Weeknd's backup dancers, just vibing, spinning, looking like an alien, not really sure why I am there 100% but there anyway."