First Lady Jill Biden's Heartwarming Valentine's Day Message To The Country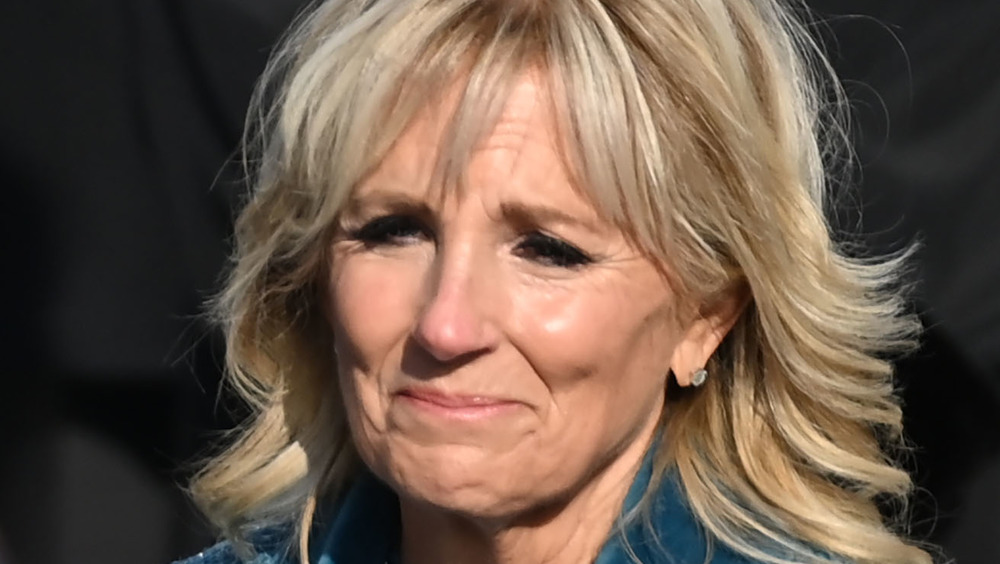 Pool/Getty Images
Dr. Jill Biden has only been the nation's first lady for less than a month, but already she's making her mark on the job — and in the public's hearts. As a teacher, she has vowed to support and improve education in the country. As the stepmother of a veteran, she has been a longtime champion of military families. Now, we're learning that she also has a soft spot for a particular holiday, and she decided to share her sentiments with all of America.
In footage released today by major media outlets including C-SPAN, President and Dr. Biden took reporters on a tour of the White House lawn. Coffee cups in hand and dogs Champ and Major by their sides, they presented a display of huge hearts, all decorated with messages such as "Love," "Compassion," and "Unity." The president explained, "Valentine's Day is a big day. It's Jill's favorite day — for real." 
Asked what inspired her to put up the sweet installation, the first lady replied, "I just wanted some joy. With the pandemic, just everybody's feeling a little down. So, it's just a little joy. A little hope. That's all."
The first lady's heart-filled message
The first lady posted photos of her Valentine's Day gift on her social media accounts, repeating the hearts' messages in her caption: "Healing, Courage, Love, Compassion, Gratitude, Peace, Amor, Strength, Kindness, Family, Unity. Love, Jill." She included a pic of herself painting her signature on one of the hearts.
Dr. Jill Biden apparently believes in big gestures of love. The president recalled that on his first day in office as Barack Obama's vice president, his wife used school poster-board paint to create hearts with "Joe Loves Jill" on every windowpane of his office. Asked how they could send that love to the American people, President Biden replied, "Tell them that there's hope. Stay strong." Dr. Biden concluded, "So we hope this lifted your spirits."
And what does the president plan to do on the day of romance? For now, it's a state secret: "It's not Valentine's Day — I'm not telling!" But judging from Biden's actions today — he offered his untouched coffee to a reporter who was feeling the mid-February chill — it appears his heart is just as big as the ones on the lawn. We have no doubt he has something special in mind for his loving wife.