Inside Rush Limbaugh's Relationship With Trump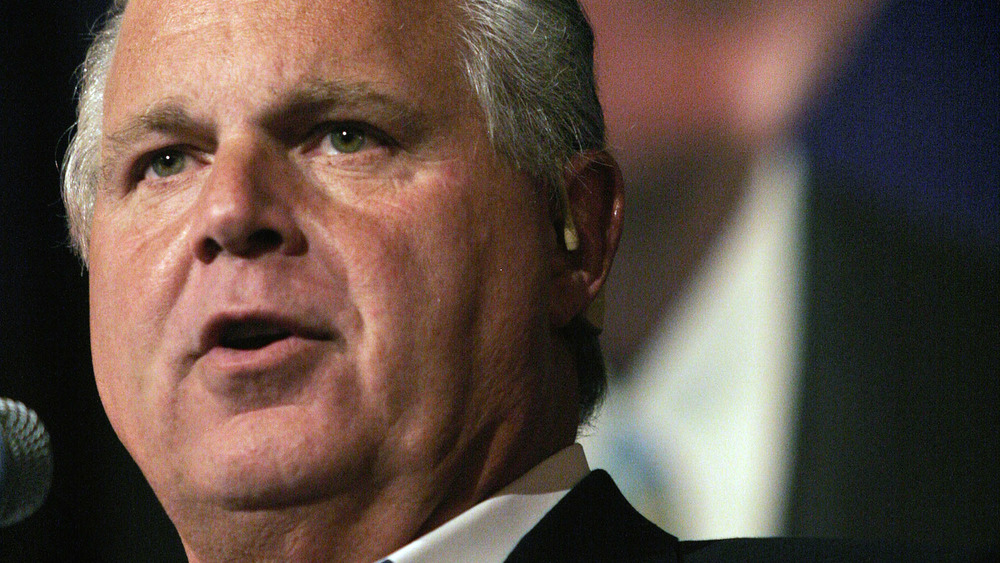 Bill Pugliano/Getty Images
Rush Limbaugh was once so close with former President Donald Trump, he sat down with him for an intimate two-hour conversation in order to know "what it's like in Donald Trump's head." The best friends gabbed over their mutual vendettas, shared political opinions, and liberal disdain, amongst many things. About an hour and a half into the show, Limbaugh stopped the discussion in order to praise the former president for his competence and ability to speak without "not know[ing] what to say." (via The Independent).
Trump often used his power in order to pay homage to Limbaugh and gave the radio personality support after he revealed he had lung cancer. On the day of this announcement, Trump awarded Limbaugh with the Presidential Medal of Freedom at the State of the Union address. "He is the greatest fighter and winner that you will ever meet," Trump said of Limbaugh (via Politico).
Limbaugh built a career off of controversy and conspiracies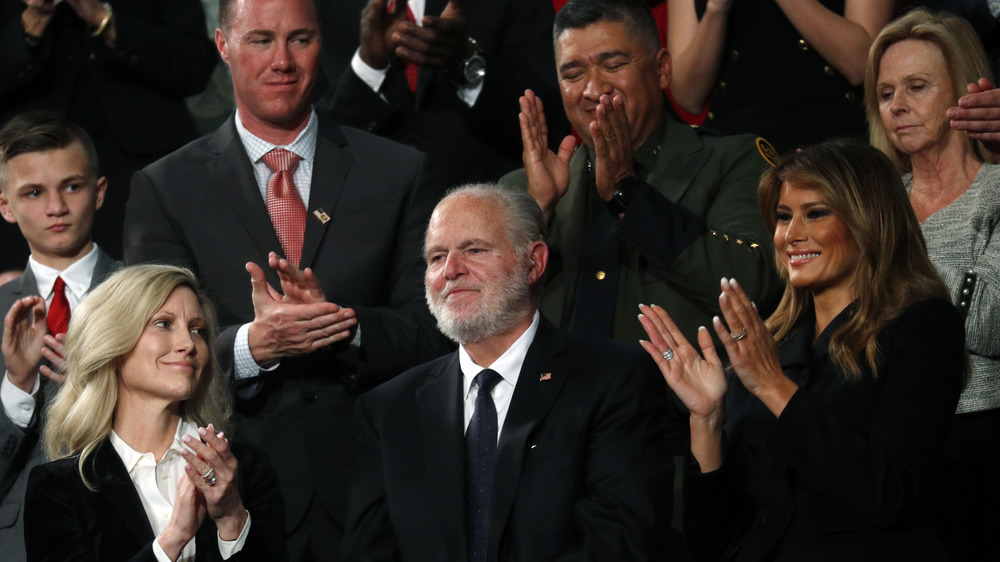 Pool/Getty Images
Throughout his nearly 30-year-long career in the political public eye, Rush Limbaugh asserted himself as a self-assured controversial figure. His aggressive, "tell it like it is" attitude was what many conservatives celebrated him for, which is similarly why so many people flocked to Donald Trump.
Limbaugh accumulated a great deal of controversy in his career; perhaps some of the most well-known ones include his 2008 comparison of President Barack Obama to a cartoon monkey; his 2012 public shaming toward a woman in support of contraception; his 2015 comments that suggested homosexuality was ruining religion; and many more problematic statements (via Forbes). While many people supported Limbaugh's beliefs and believed him to be a positive force within the conservative community, others deemed him a "a hate-mongering bigot who said a lot of awful things" (via ABC News).
But these controversies actually made Limbaugh and Trump's similarities even more clear. The men had incredibly similar upbringings, after all, which led to a myriad of similar political ideologies: They were both raised by supremely successful fathers, were gifted immense riches, supported "aggressive military action," and were both proud members of the nation's one percent, amongst many other similarities (via NBC News).
Limbaugh walked so Trump could run
Rush Limbaugh was a large supporter of Trump throughout his presidency, and was even a particularly loud voice in supporting allegations of voter fraud during the 2020 election. But this support wasn't always consistent.
Limbaugh's skepticism began in 2015 when Donald Trump entered the presidential race. In September of 2016, upon Trump's win of the 2016 election and subsequent swearing-in as president, Limbaugh actually spoke out against Trump. In an episode of his talk show titled, "We're Beyond Ideology, Folks," Limbaugh was asked to share his thoughts on Trump's win and what it meant for the Republican Party. "What do you mean, Rush? Are you admitting Trump's not a conservative?" he asks himself, quickly retorting, "Damn right I am! Folks, when did I ever say that he was? Look, I don't know how to tell you this. Conservatism lost, in the primary, if that's how you want to look at it [...] I wish conservatism was on the ballot" (via rushlimbaugh.com).
But in a matter of time, Limbaugh quickly pivoted to supporting Trump during his presidency, despite his initial comments in opposition toward him. And indeed, it's for these reasons that many believe that Limbaugh's years of spouting out conspiracy theories and hate speech paved the way for Trump's inevitable success in politics.