Jeff Daniels Golden Globes Outfit Is Turning Heads For The Best Reason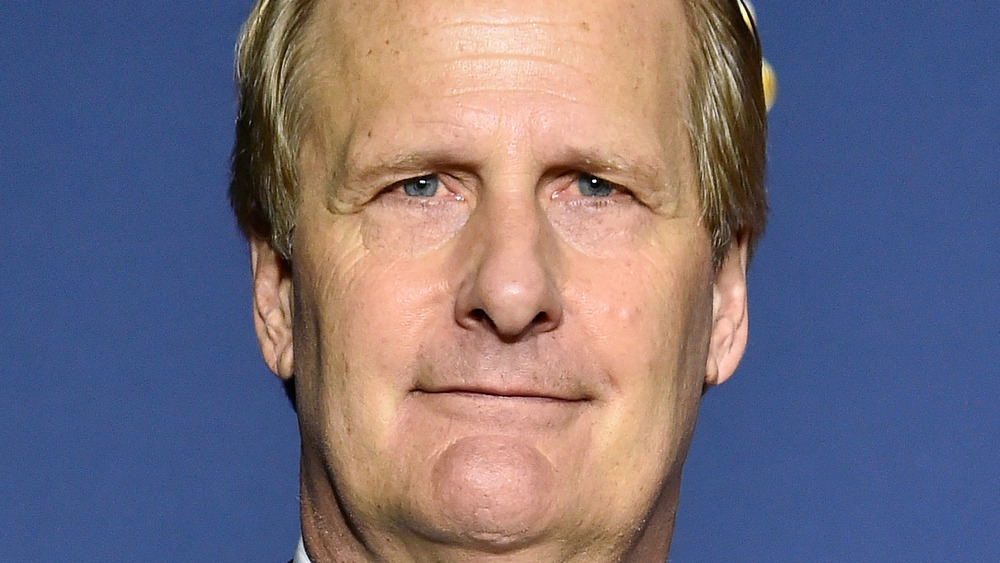 Frazer Harrison/Getty Images
He may not have won the award for Best Actor in a Television Motion Picture, but Jeff Daniels did win the unofficial award for most relatable actor at the 2021 Golden Globe Awards on Sunday. Due to the ongoing coronavirus pandemic, instead of having one big ceremony in Hollywood, the award show went virtual this year with most nominees attending via Zoom from their homes around the world (via ET Online). That means the audience at home got a rare look into some celebrities' homes. 
While a few nominees really outdid themselves with their at-home setups by wearing designer gowns and posing in their Hollywood mansions, others opted for a more casual look (via Page Six). That includes Jeff Daniels. The Comey Rule actor appeared among his fellow nominees Bryan Cranston, Hugh Grant, Ethan Hawke, and Mark Ruffalo during the ceremony, and even though Ruffalo won the award, Daniels won over Twitter. 
Twitter couldn't get over Jeff Daniels home setup at the Globes
Instead of a fancy living room surrounded by amazing art or in a library with tons of books behind him, Daniels at-home setup was just a simple bedroom, and the actor wore a casual flannel shirt. As Jenny Han, author of the To All The Boys I've Loved Before book series, wrote on Twitter, it appeared that "Jeff Daniels literally just got up from dinner and fired up the zoom and is gonna go back to eat now." Another Twitter user said that it looked like he was just "in a spare bedroom in Chelsea," while other celebrities had "super fancy virtual setup[s]."
It definitely was one of those "stars — they're just like us" moments, because after a year of Zoom meetings and virtual hangs with your friends, you also stopped caring as much about your appearance. It also felt like what you would expect to see if you were just chatting with your dad on Zoom. Basically, as one astute user noted, Jeff Daniels was everyone's lovable "Dad in his man cave" and Twitter was here for it.