Meghan Markle's Oprah Interview Outfit Has More Meaning Than You Realize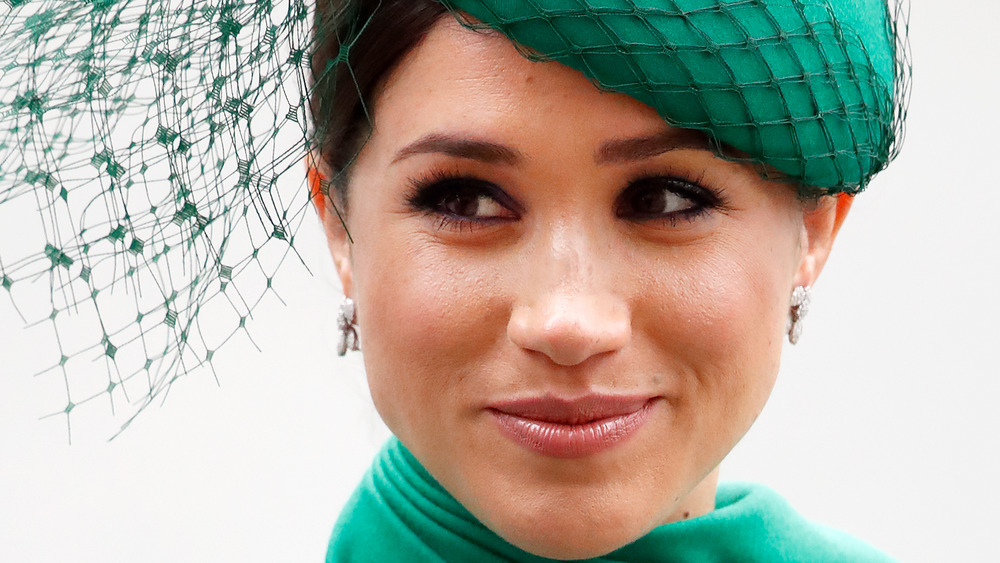 Max Mumby/indigo/Getty Images
Meghan Markle's Oprah Winfrey interview outfit has been making headlines ever since a preview of the upcoming event was posted online. Meghan, who recently announced that she is pregnant with her second child, chose to wear a black Armani wrap dress for her first televised interview since leaving the UK. 
This was no $30 piece, like the Velvet Torch dress she wore when James Corden and Prince Harry face-timed her (via Glamour). And while the $3,500 Oscar de la Renta dress that she wore during her first public appearance since announcing her second pregnancy impressed E!, Meghan's Oprah outfit takes the cake. According to Page Six, Meghan's frock goes for $4,700, and features a "belted waist and foliage embroidery." As Today noted, she "wore her hair in a sleek updo" and accessorized the look with some special pieces of jewelry. Page Six reported that she sported a Cartier Love bracelet as well as a bracelet that reportedly is "a Cartier heirloom once owned by Princess Diana." The nod to Lady Di is a very sweet touch that hasn't gone unnoticed, of course. Meghan's spokesperson told Today that the duchess wore the bracelet "to have (Harry's) mother there with them during the interview." People will tell you that the bracelet is actually a two-pronged love story. Stones from that very Cartier heirloom went into Meghan's wedding ring.  
Moreover, there was some really strong symbolism present in Meghan's outfit that goes far beyond a pricey dress that helps conceal her growing baby bump.
Meghan Markle may be sending a message with her Oprah Winfrey interview dress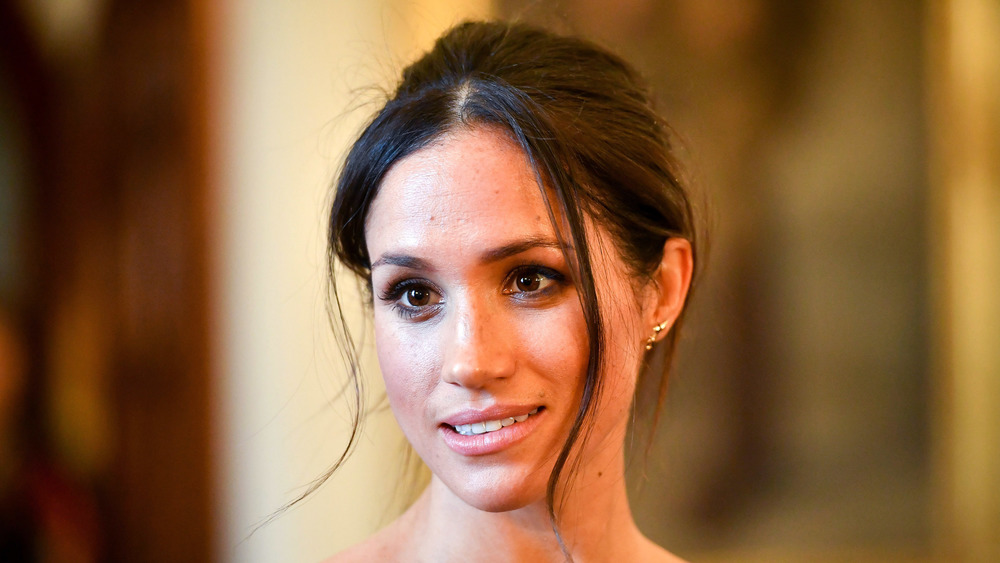 Wpa Pool/Getty Images
The Duchess of Sussex is no stranger to finding symbolism in nature. Her wedding bouquet contained peonies, white garden roses, and white foxgloves, flowers that symbolized honor, healing, and confidence, among other things (via Glam). Wag reports that the floral displays at St. George's Chapel, where Meghan and Harry were married, were "locally sourced," in order to reflect the couple's commitment to sustainability.
It's hard to avoid the feeling that Markle, who's a big believer in "hav[ing] a power piece in [her] wardrobe," didn't pull out hers for her upcoming Oprah interview (via Hello). That aforementioned "foliage embroidery" featured on the dress Meghan Markle wore on Oprah With Meghan and Harry may symbolize much more than you realize. As Town & Country points out, the flower on the gown's right side is a lotus, which "is associated with rebirth and spiritual enlightenment."
The flower has deep roots within various Eastern religions, including Buddhism. "The Lotus flower is regarded ... as a symbol of purity, enlightenment, self-regeneration and rebirth," notes a guide from Binghamton University. "Its characteristics are a perfect analogy for the human condition: even when its roots are in the dirtiest waters, the Lotus produces the most beautiful flower." Given all of the significant recent changes that have happened in Meghan and Harry's life, it feels fitting that she chose to wear a garment that featured a lotus to signify her personal rebirth. She and Harry will be discussing this in-depth with Oprah Winfrey.
Meghan knows that we'll all be focused on her Oprah interview outfit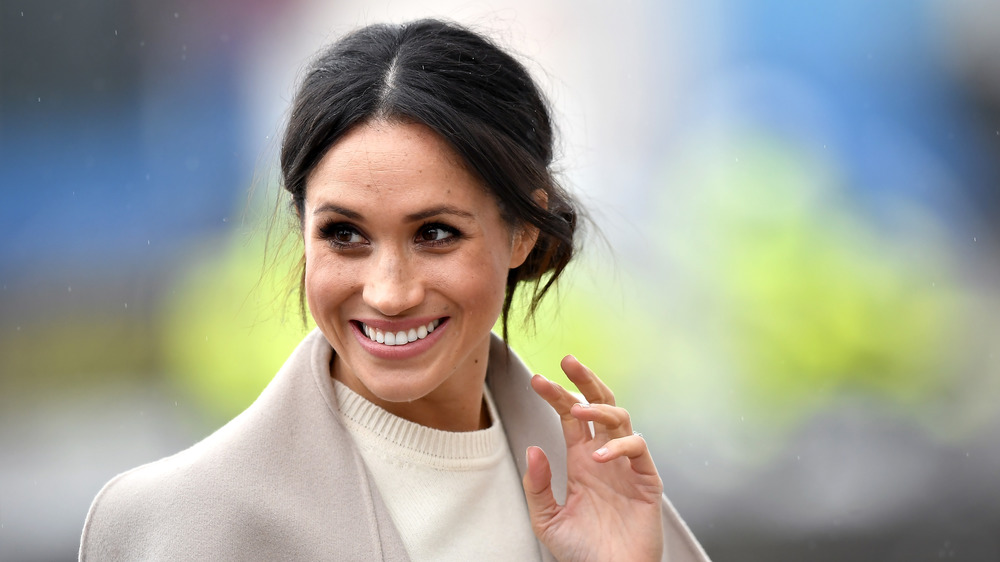 Charles Mcquillan/Getty Images
Lest you think we've all gone a bit overboard  analyzing Meghan's Oprah interview outfit, be reassured: not so. "Any time a royal re-wears something, there's usually a reason," royal blogger Christine Ross told Town and Country in 2019. "They want to redirect the conversation, and it shifts that conversation from fashion to substance."
This time, Meghan is wearing something remarkably new. So perhaps, we're doing exactly what she expects us to: notice it. Because Meghan's wardrobe choices are likely to be as painstakingly thought-out as her friend, Michelle Obama's were when she was First Lady. Obama wrote in her memoir that she began soon realized "my clothes mattered more to people than anything I had to say" (via Elle). 
No one in the world has felt the truth of that more than Meghan Markle. Why can't Meghan wear flip flops on the sand? asked Cosmopolitan UK, after spotting Meghan and Harry on a beach in Melbourne. Have you heard she once wore the same dress as one of Prince Harry's ex, Jenna Coleman? Elle has. Fashionista once dedicated an entire column to the Duchess of Sussex's fashion choices, aptly named "Meghan Markle Wore A Thing." 
If you can be absolutely, 100 percent sure that Meghan knows we'll all be dissecting her Oprah interview outfit, you can be almost equally sure that she's betting on it. 
Meghan and Harry's interview with Winfrey will air on Sunday, March 7, 2021, at 8 p.m. EST on CBS.