Harry Styles' Grammys Acceptance Speech Was Bleeped. Here's Why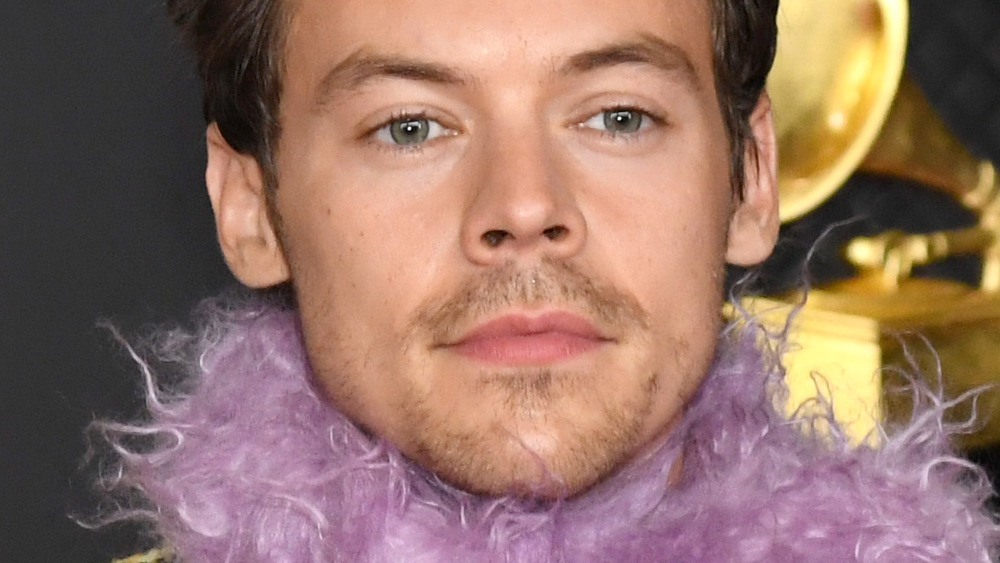 Kevin Mazur/Getty Images
Yes, Harry Styles wore a lavender-colored boa to the 2021 Grammy Awards. Did you really think he was planning on wearing anything else? And, what, if not a boa, could the "Sign of the Times" singer have wrapped around Lizzo's neck for an impromptu photo shoot at the ceremony (via E!)? Duh, Harry Styles serenaded us to "Watermelon Sugar," stopped half of Twitter's hearts in their tracks, and maybe Billie Eilish's, too (via Cosmopolitan).
Obviously, before the ceremony, even "I Will Survive" queen Gloria Gaynor wished him luck. And of course, Styles' ex-GF Taylor Swift clapped for him when he accepted his first Grammy Award for the Best Pop Solo Performance. We mean really, sincerely clapped (via Twitter). No word yet on how his probably-current-GF, Olivia Wilde, might have celebrated. 
But did you catch Harry Styles' acceptance speech? If so, you know that CBS bleeped it. And if you're dying to know what Styles really said, we've uncovered the uncensored version for you.
Harry Style's un-bleeped acceptance speech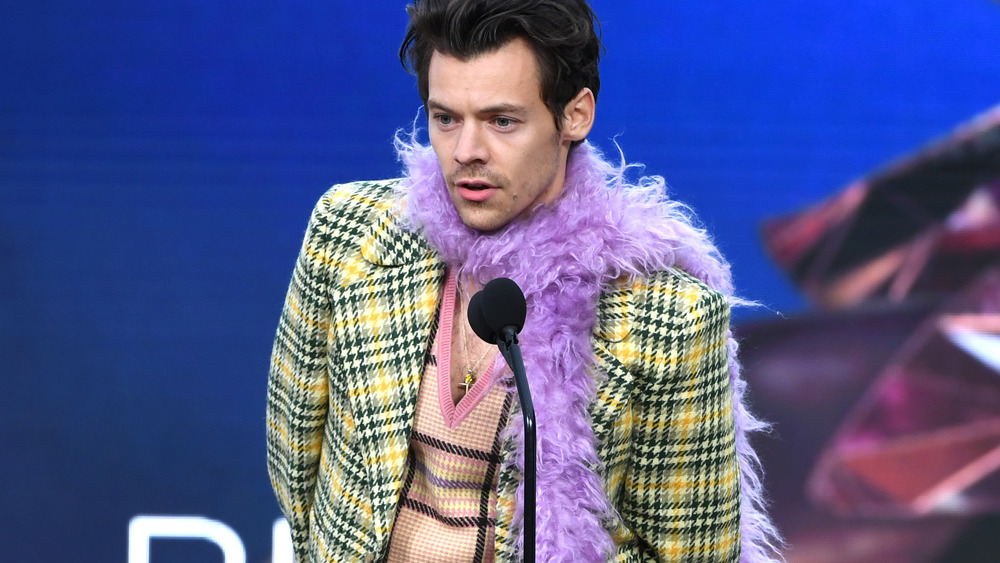 Kevin Winter/Getty Images
Harry Styles' uncensored Grammy acceptance speech comes to you thanks to a Twitter user who doesn't mind a little bit of swearing. "I feel very grateful to be here," Styles began his Grammy celebration. "Thank you, all these songs are f***ing massive, so thank you so much," he continued (catch the bleep?), "I feel very honored to be among all of you so thank you so much, thank you." 
While it may surprise you, Styles' 2021 Grammy appearance isn't the first time that he's used the f-word. Evening Standard reports that while filming the World War II drama, Dunkirk, Styles accidentally "dropped two 'F-bombs.'" The mistake did not go unnoticed, and in the U.K., Dunkirk received a 12A rating instead of a PG rating because of it. In the United States, Dunkirk is rated PG-13 (via Rotten Tomatoes).
In any case, it seems that his on-stage swearing is contagious. Harry Styles' boa-buddy, Lizzo, also let one rip. "B***h I'm back," the artist said. Unlike Harry, she apologized. "Oh God, I'm so sorry" (via the New York Daily News).