Proven Fashion Tricks That Make You Look Taller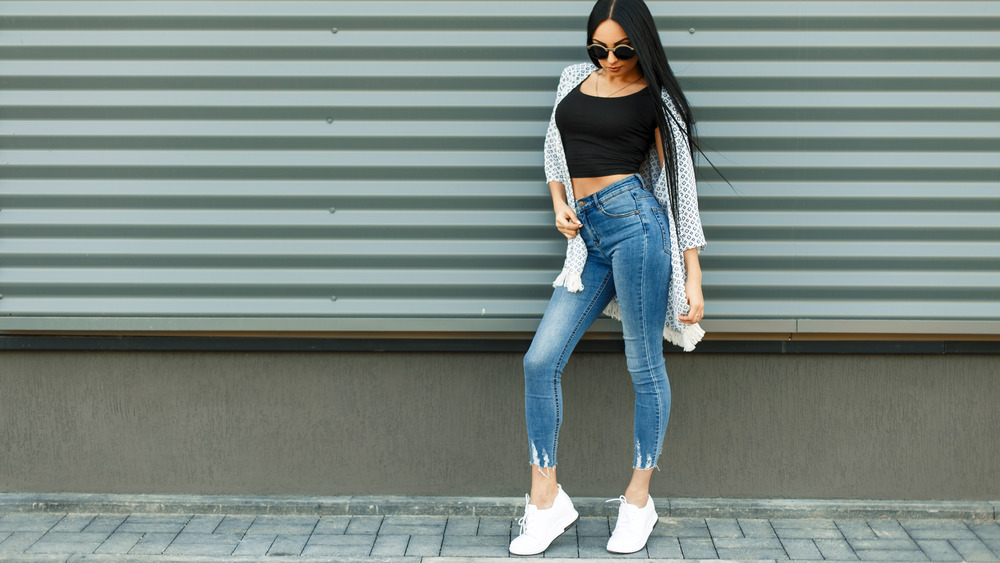 Shutterstock
As a short person with an affinity for expressing myself through fashion, I have sometimes struggled to overcome the challenges presented by my small stature. Wide-leg pants? Forget about it. There are just some trends, like maxi dresses and capris, that I have avoided over the years because they don't fare well on my small frame. However, no matter the vertical challenges you may face, there are a few tried and true fashion tricks that can make you look instantly taller (no stilettos necessary).
Before diving into trends that work well for a shorter frame, it's first important to point out what styles only work to make you look smaller. According to fashion stylist Audree Kate López, shorter people should avoid wearing capris, horizontal stripes, busy prints, and chunky accessories, per StyleCaster. Essentially, anything that has the potential to overwhelm a small frame is a fashion faux pas. Mini skirts and dresses can also accentuate shorter legs. "The goal is to create long lines on your body and not chop it up with a lot of skin throughout the look," López explained to the outlet.
As much as it might pain you to banish that printed mini dress to the back of your closet, there are still plenty of stylish ensembles that work well for the vertically challenged.
Stick to the styles that elongate your frame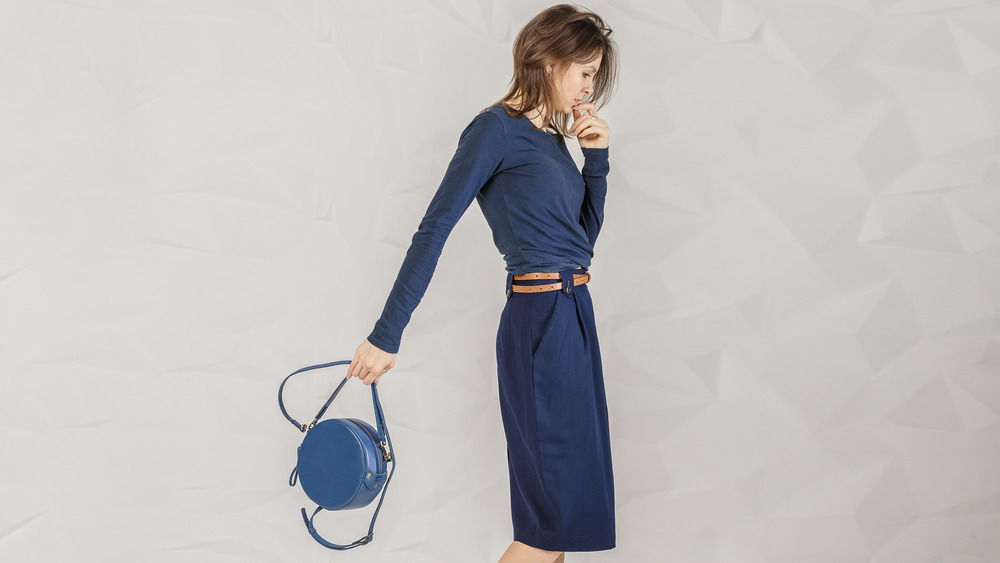 Shutterstock
For starters, especially if you're petite, getting your clothing tailored to fit your body perfectly will work wonders to make you taller. Aside from getting your clothes tailored (which can become an expensive habit), dressing in one color from head to toe or opting for high-waisted bottoms and cropped tops can lengthen the entire body (per Harper's Bazaar). Additionally, López told StyleCaster that consistently turning to vertical stripes, monochromatic styles, micro prints, and V-necks can give the illusion of runway model length. Don't have the money to update your wardrobe? López says that doing something as simple as tucking in your shirt can alter your entire appearance.
When it comes to footwear, there are many stylish strategies that can work in your favor. According to Instyle, wearing white shoes or boots can create one seamless line as opposed to darker shoes that chop up your frame into unflattering sections. If you simply cannot live without your black boots, though, there is still hope for you. "If I am wearing dark or black shoes, I'll run through a quick checklist before heading out the door," Samantha Sutton wrote for InStyle. "They must include a heel or platform, and sometimes, I'll add a sock to help create that aforementioned seamless line."
As far as accessories go, the smaller the better. For the sake of appearing taller, ditch the oversized duffel bag that you call a purse and opt instead for a small bag (via Harper's Bazaar).