Here's Why Tiger Woods Really Crashed His Car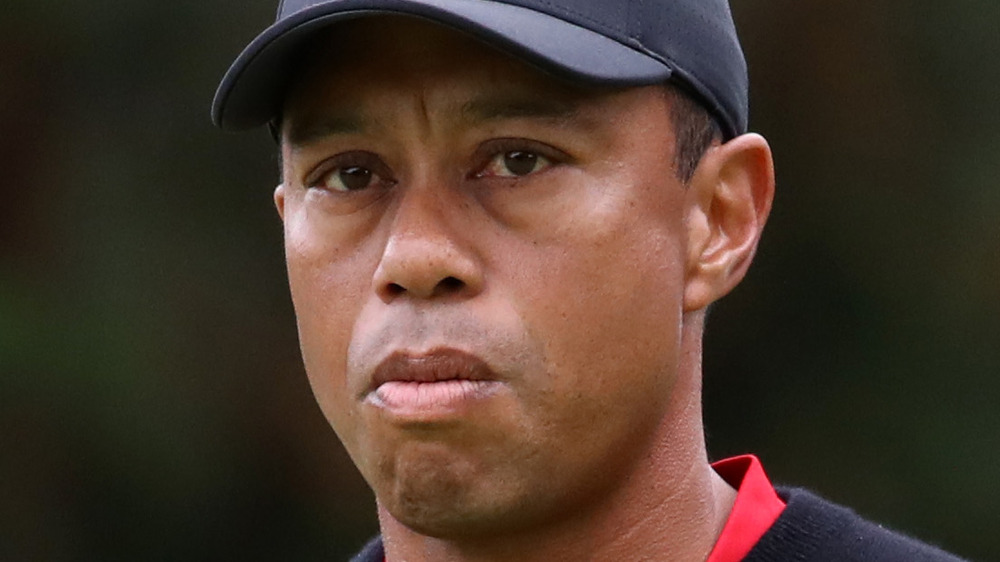 Chung Sung-jun/Getty Images
As of March 16, 2021, Tiger Woods is back at home and "working on getting stronger every day," according to a statement the golf legend released on Twitter. Now, more than a month after he crashed on Hawthorne Boulevard near Rancho Palos Verdes, California, the L.A. County Sheriff Department has offered further hints as to what caused Woods' horrific accident.
Previously, an expert who examined the footage told USA Today that, in the moments before the crash, it was likely Woods was "either unconscious, suffering from a medical episode or fell asleep and didn't wake up." The absence of skid marks, for example, indicates that Woods didn't try to brake his Genesis GV80 SUV before the accident. And while Sheriff Alex Villanueva ruled out the idea that the golf star was under the influence while driving, authorities never drew blood to confirm this, according to TMZ.
Authorities didn't have enough evidence to examine Woods' phone records, either. But, as of March 1, 2021, The New York Times reports that the Sheriff's Department did acquire the car's black box data with the help of a warrant. "We have all the contents of the black box. We've got everything completed, signed, sealed, and delivered," authorities reported via Facebook live stream. "However, we can't release it without the permission of the people involved in the collision." Woods has finally permitted authorities to release more details.
The latest information on Tiger Woods' crash raises more questions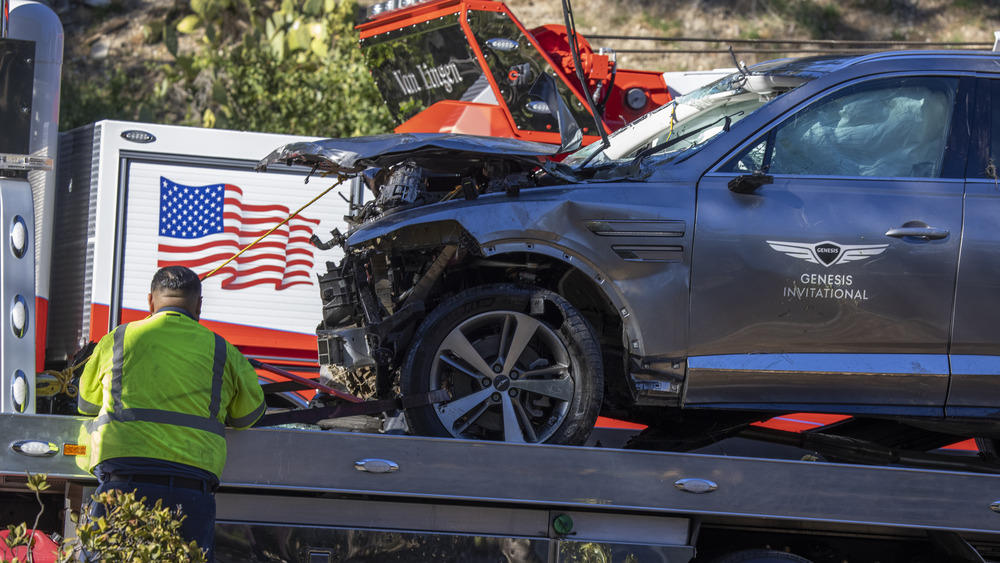 David Mcnew/Getty Images
The speed limit on the stretch of road where Tiger Woods crashed his car is 45 miles an hour. During Wednesday's press conference, Sheriff Villanueva confirmed that excess speed and Woods' inability to navigate the roads' curves were the causes of the accident. According to data from the SUV's black box, Woods' car was traveling between 84 and 87 miles an hour at the first area of impact. By the time his vehicle struck a tree, the golf legend was going 75 miles per hour.
As expected, no evidence was found to suggest Tiger Woods tried to brake his SUV. Instead, in a confusing turn of events, Tiger Woods' vehicle accelerated throughout the entire crash. Authorities speculated that Woods may have accidentally pressed his vehicle's accelerator instead of his brakes. The black box also recorded attempts at steering, although, as Captain James Powers pointed out, "it's unsure if it's [Woods] trying to correct the situation or the impact ... caused it."
Tiger Woods will not be charged in relation to the crash, nor will he be issued citations. Issuing a citation, as per Sheriff Villanueva, would have required an independent witness or a police officer to have observed the incident. Sheriff Villanueva further affirmed that "without signs of impairment" authorities could not ask for a warrant to test Woods' blood for drugs or alcohol. "Past history doesn't get you the elements you need to establish probable cause. I'll leave it at that," Villanueva told the press.