Psychic Medium Makes A Bold Claim About Prince William At Prince Philip's Funeral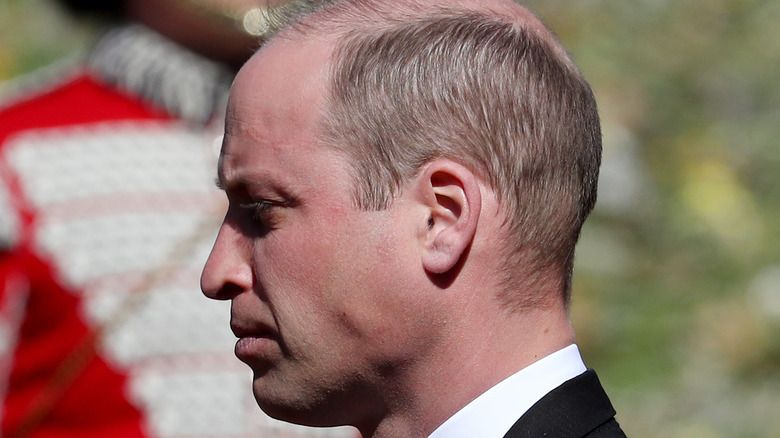 Wpa Pool/Getty Images
The BBC outlined that Prince William would be joined by Kate Middleton as part of the small funeral party for Prince Philip on April 17. The Duke of Cambridge stood alongside his cousin Peter Phillips and Prince Harry while walking in the funeral procession and was visibly upset. And here's the bold claim that a psychic medium made about Prince William at Prince Philip's funeral.
The Daily Mirror reported that throughout the ceremony in St George's Chapel in Windsor Castle, Prince William was visibly upset. However, according to celebrity aura reader, psychic medium, and spirit guide Megan Michaela Firester, who goes by "Mystic Michaela," there's more than meets the eye. The psychic medium shared those insights with The List.
"William has a green and blue aura. Today he is wearing inauthentic red. I do get that he is naturally someone who will put the logic of his role in this life ahead of anything his heart would rather do," explains Mystic Michaela, "His green aura commands this and supports it. He has consigned himself to his role as future monarch and how to do this the way it's always been done."
The BBC observed that Prince William and Kate Middleton sat close together during the ceremony. He made his sadness known after the passing of his grandfather in a statement reported by the BBC. "I feel lucky to have not just had his example to guide me, but his enduring presence well into my own adult life – both through good times and the hardest days," he said.
His aura denoted something about Prince Harry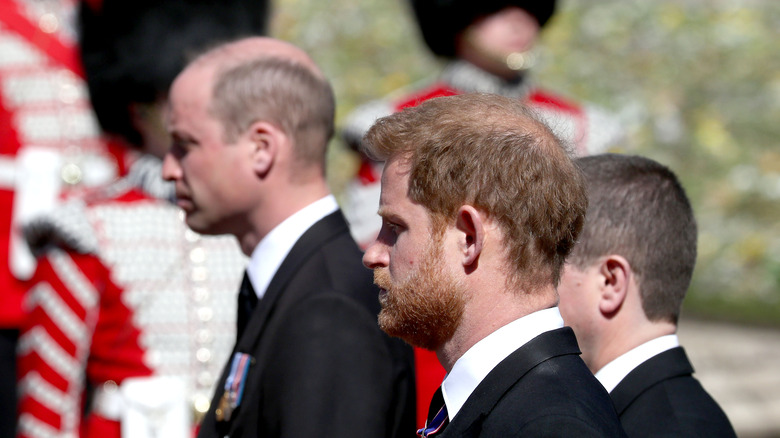 Wpa Pool/Getty Images
The Guardian highlighted that while many people tuned in to pay their respects to Prince Philip, the funeral was also the first time that Prince Harry and Prince William would be in the same place publicly. Harper's Bazaar noted that they sat opposite each other and left side-by-side after the ceremony.
Sky reported that there's been limited contact between the brothers since Prince Harry and Meghan Markle's Oprah interview aired in March. "He [Prince William] is wearing red, which when worn as an aura color that is not your own, denotes anger. I get that he is hurt by this whole situation with his brother, but is also feeling angry," says Mystic Michaela.
She revealed that she felt that Prince Harry may be having a reaction to being close to his brother again too. "I got a feeling he was experiencing trepidation to even be near to them physically during the walk because of the emotional response he was getting from William. He feels very frazzled and anxious," she says, "He doesn't have his teammate, Meghan, to be by his side and help him filter this energy."