Body Language Expert Explains A Revealing Moment Between Harry And William At The Funeral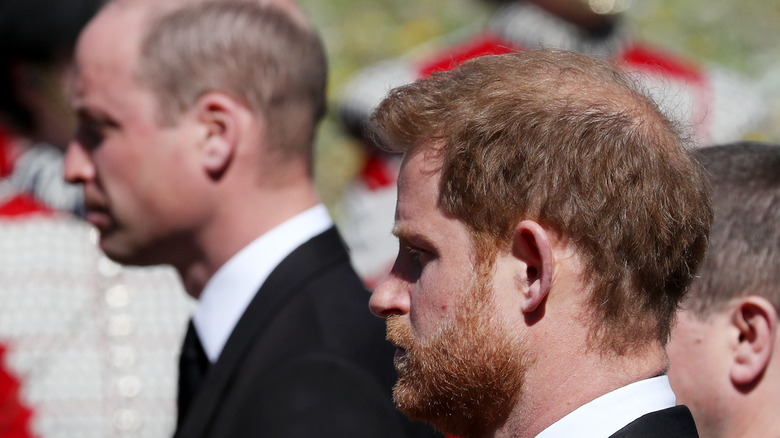 Wpa Pool/Getty Images
Kate Middleton might have less on her plate than the media speculated in the lead up to Prince Philip's funeral. While their grandfather's ceremony marked the first time that the brothers had seen each other since Harry moved across the pond, the royal brothers may not be as out-of-step as previously posited. That's at least according to what body language expert, Blanca Cobb, told The List when we sat down to talk exclusively with her about the Duke of Edinburgh's final goodbye. 
Harry wasn't staying with William before the April 17, funeral ceremony. Instead, he crashed with his cousin, Princess Eugenie (via Marie Claire). We do know, however, that the brothers have been in touch since Harry and Meghan's interview with Oprah. Earlier this month, The Sun reported that Harry and William had jointly approved final plans for a statue of their mother, Princess Diana. And despite widely-circulated reports that the royal brothers' once close relationship is in "tatters" (via Wales Online), their behavior at Prince Philip's funeral suggests a very different story.  
What a body language expert noticed about William and Harry's strides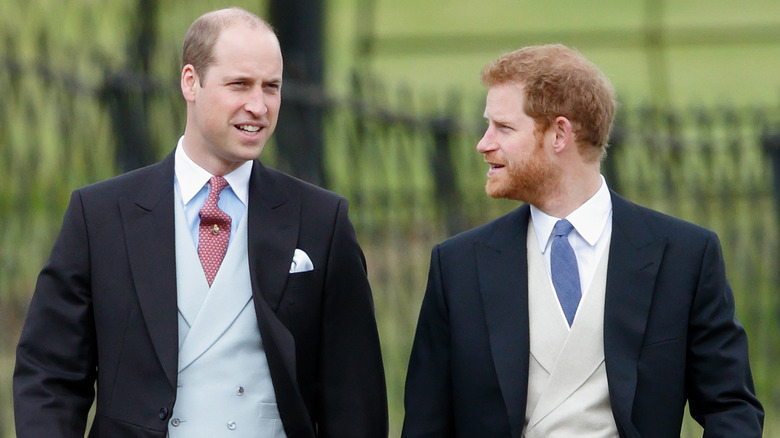 Max Mumby/indigo/Getty Images
"The most revealing moment was after the funeral between the Royal brothers, Harry and William," Blanca Cobb exclusively told The List. "Although the Royal brothers' relationship might be a bit strained right now, they're still emotionally connected." 
Cobb knows this because she watched the two brothers walking together after the funeral. For part of their walk, "their strides were in sync, both leading with the same foot," Cobb explained. That's more significant than it may seem. As per Cobb, "When you're connected with someone, then it's natural that your body language aligns. It's a subconscious connection." So while Harry and William may not find the time or the place to make peace this time around, Cobb doesn't rule reconciliation out for the future. Their in-sync walks, she told The List, "suggests that all hope isn't lost that the brothers can repair their strained relationship. The question is: will they?" 
Maybe, just maybe, the brothers have already started to make amends. As Page Six notes, William, Harry, and Kate Middleton were caught on camera "talking amiably," while leaving St. George's Chapel.