Why Dan + Shay's Performance At The ACM Awards Is Getting Backlash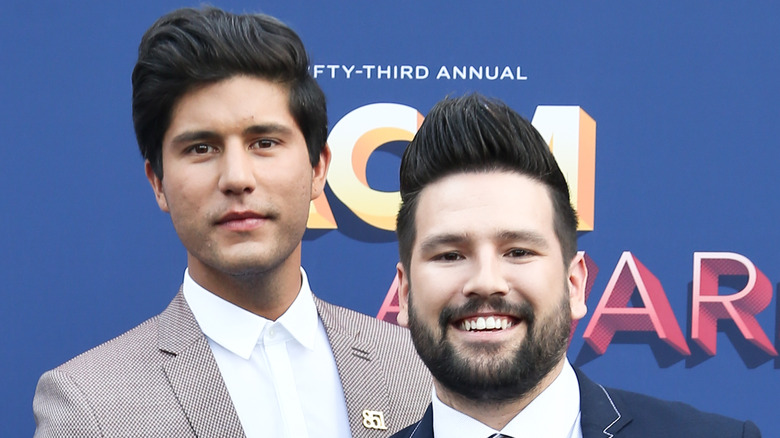 Shutterstock
ACM 2021 Duo of the Year winners, Dan + Shay live-performed "Glad You Exist" from Nashville's iconic Bluebird Cafe. Or, did they? Dan + Shay might be the hottest new duo in country music, they might even have a Grammy (or three), but their 2021 ACM Awards performance is nonetheless attracting serious Twitter backlash. 
The country artists had an almost impossibly difficult act to follow. Carry Underwood and CeCe Winans' gospel medley performance at Grand Ole Opry House won a standing ovation from Twitter, causing fans to proclaim, "We can close the show now" (via Twitter). But if it's true that no one can compete with Underwood when she sings "Amazing Grace,"  Dan + Shay weren't flying blind when they chose to perform "Glad You Exist," either. The song was a verifiable hit, reaching second place on Billboard's Global 200 in late February 2021. It could have, would have, should have gotten at least a wink and a nod from Twitter. It didn't.
Twitter wonders whether or not Dan + Shay cheated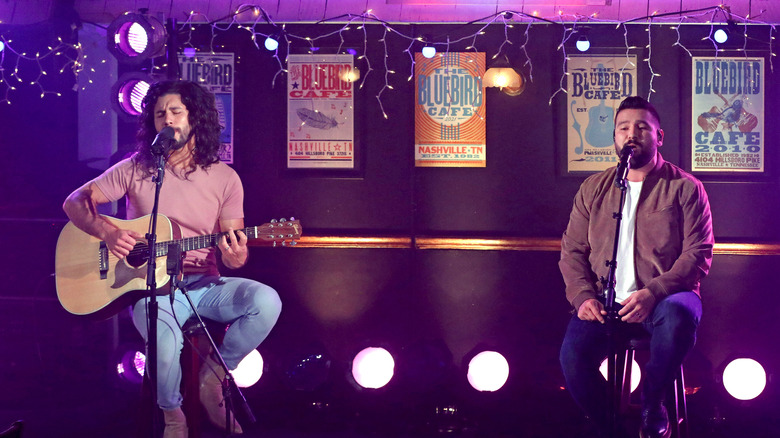 Terry Wyatt/acma2021/Getty Images
If you were watching the 2021 ACM Awards, you no doubt noticed it, too. During their performance, the audio didn't match up with what Dan + Shay's lips seemed to say. Could you get over it? Twitter couldn't. "Dan and shay was like me doing karaoke after three beers," tweeted one, amused watcher. "Well we know Dan And Shay's performance was prerecorded," suggested another via tweet. "Either the stream on my tv is off or This is REALLY bad lip-syncing by Dan and Shay. Yikes!" exclaimed a third (via Twitter). "Dan and Shay need to learn their lip-syncing skills better because that performance was way off," accused a fourth (via Twitter).
Thanks to the performance, now we know this: Dan + Shay are not immune to social media outrage. Quick to read the room, the country duo has since jumped to their own defense. "Apparently there was an audio/video sync issue on the television broadcast. we're bummed about it, but it happens, especially when performances are happening in multiple locations," they tweeted. "Kudos to the @ACMawards for pulling off a great show."