The Best Updos For Your Face Shape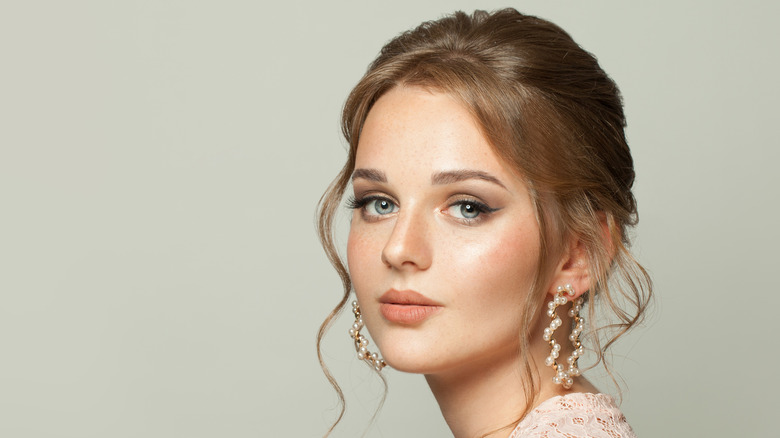 Shutterstock
Got an important event coming up? The perfect updo – whether you have straight, wavy, or curly hair — will turn heads and wow your family and friends. But which style is going to look best for your face shape? While there aren't set rules on how you should wear your hair, some hairstyles will bring out your best facial traits more than others. Plus, knowing your face shape will help you accentuate the right features with your makeup.
Determining your face shape might feel like a tricky business at first. According to Today, there are six main face types: rectangle, oval, square, heart, diamond, and round. To help you figure out your shape, you should first identify which part of your face is widest: your forehead, cheeks, or jaw. Then, look at the shape of your jaw. Is it round, square, or pointy? Finally, determine whether your face is short or long.
A rectangular face, for example, is equally wide in the forehead, cheeks, and jaw, per Allure. The jawline is square, and the face length is long. A round face, on the other hand, is widest in the cheeks, with a rounded jawline and a short face length. To figure out the shape of your face, it's best to consult a picture chart, via Byrdie.
How to match trendy updos to your face shape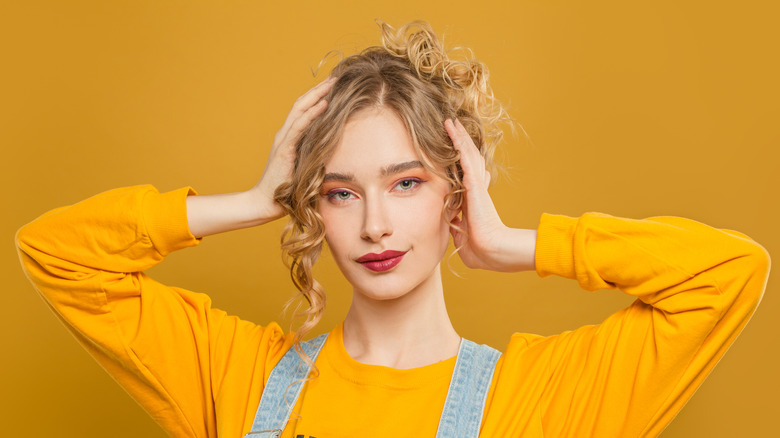 Shutterstock
In order to complement the shape of your face with a hairdo, you need to think about opposites. A square face, for instance, pairs well with a soft, romantic updo with a few face-framing tresses, per All Things Hair. The softness of the style should take the edge off of the angular features. A heart-shaped face would also work well with framing bangs, which draw attention down to the eyes, via Live About.
A clean, tight updo, such as a high bun, would complement an oblong face well. The sleek style brings attention to the width of the face, which helps balance out the longer shape. Round faces are perfect for thick-cut bangs or some sort of fringe, which create angles to balance out soft features, as noted by Total Beauty. Oval faces seem to pair well with most updo styles, according to Styles 101.
But if you are still struggling to determine the best updo for your face shape, take a breath and let it go. There are no rules. Wear your hair however you like, and your confidence will follow.