The Sweet Gesture Meghan Markle Did For The Queen Before Prince Philip's Funeral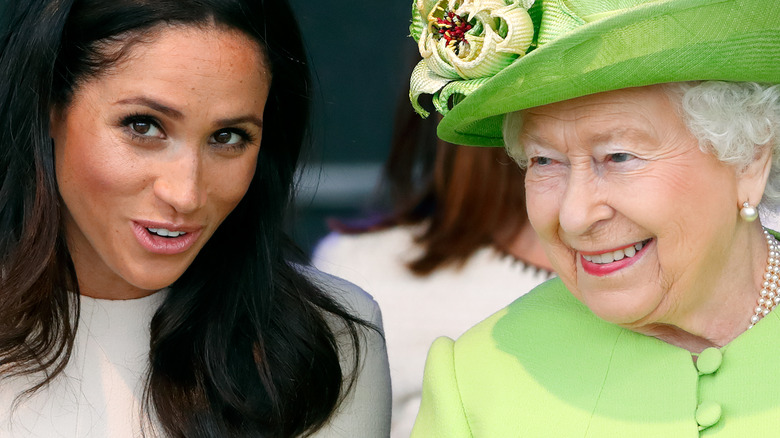 Max Mumby/indigo/Getty Images
Although millions are still mourning the recent death of Britain's Prince Philip, the sad event is prompting what seems to be some fence-mending among the fractured royal family. Prince Harry flew in from California for the first time since he and Meghan Markle withdrew from their official royal duties (via Insider). While there, he offered condolences to his grandmother, Queen Elizabeth, left a widow after 73 years of a happy marriage. He also met privately with his brother, Prince William, a move that many have interpreted as being a peace gesture. The two have reportedly been on the outs following the Oprah interview in which Harry and Meghan accused the palace of not having their backs while the Duchess of Sussex was being harshly attacked by local media, often with racist undertones.
Although Meghan herself was unable to attend the ceremony for health reasons — she's in the late stages of pregnancy with the couple's second child, a girl — she still managed to reach out to her in-laws over the miles in her own way. For the April 18 funeral service, she sent a floral wreath with posies carefully chosen for their significance to the Duke of Edinburgh's heritage and his devotion to his wife (per Harper's Bazaar). She included a handwritten note from herself and Harry that, while kept private, most surely reflected their affection for the senior monarch.
Thanks to 21st-century technology, Meghan was also able to connect with her grandmother-in-law in a very personal way.
Little Archie got some screen time with his great-gran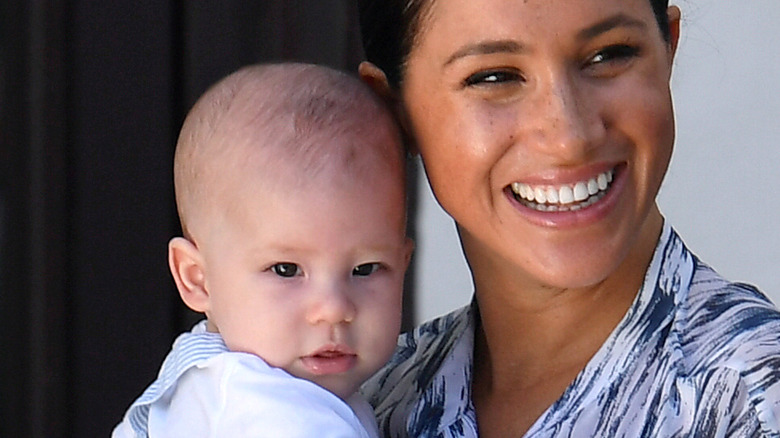 Pool/Getty Images
A source confirmed to People that at some point before the funeral, Meghan Markle contacted her husband, who was spending his visit at Frogmore Cottage. The source also added that "Meghan and Archie also spoke with the queen earlier this week." 
It can be assumed that the duchess used Zoom or another video app to connect with her loved ones, as she and Harry have done in the past. As any parent knows, video chats are a godsend for communicating with family and friends at a distance, especially when you have young children. Archie will celebrate his second birthday in May — too young to carry on a phone conversation with his great-granny, but old enough to play and wave for the camera. Seeing her little great-grandson must have been a welcome diversion for the queen as she prepared for one of the most difficult days of her life. And even the most hardcore anti-Megxit factions have to acknowledge that Meghan and Harry are doing their best to keep Her Majesty involved in the life of their children. 
The People source also confirmed that Meghan contacted her husband daily during his short time in London. "He didn't want to leave Meghan and Archie alone," said the insider. "Meghan has insisted to him every day, though, that they are fine. She hasn't wanted him to worry." Despite those assurances, Prince Harry promptly left his royal family early in the week to fly back to his expectant wife and son.