This Is Chrissy Teigen's Favorite Nail Polish Color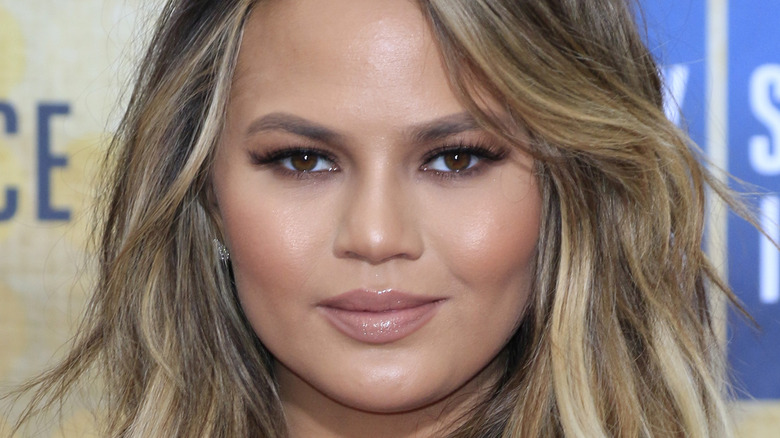 Shutterstock
Forever the queen of Twitter, Chrissy Teigen used the platform over the years to opine about her favorite products, give fans a peek into her life with her husband John Legend, discuss things she doesn't like – sometimes including politics, – and she even shares her unique recipes. 
She's also well-known for making people laugh a lot with her witty remarks, like the joke she made about Lori Loughlin's college admissions drama (via Buzzfeed). According to her bio on the popular social media network, she's the penultimate "de-motivational speaker."
After losing her third child with Legend tragically last year, Teigen became the target of what she called relentless bullying online, and she deactivated her account for a few weeks, according to Variety. She's since returned to Twitter, noting that it felt "terrible" to silence herself, so she chose to take the good of online connections, along with the bad. That means Teigen is back and sharing plenty of funny takes, great recipes, and excellent products with the world. At one point, the model revealed her favorite shade of nail polish, and it's a color that will serve you well as the summer heats up.
Here's how to get Chrissy's DIY manicure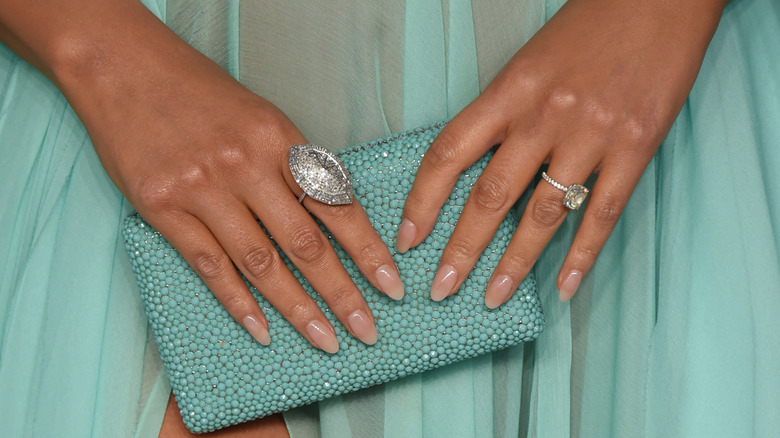 John Shearer/Getty Images
Chrissy Teigen relies on Samoan Sand by OPI to keep her manicure looking great. According to MTS, the nail color is shiny and versatile. Chrissy tweeted, "OPI Samoan sand. the only nude polish that need exist" (via Essence). 
Summer brides favor the warm beige-pink nail polish, and it may be a great neutral color for you to try as the weather gets warmer. There's good news, too, because this OPI nail polish comes in several varieties, including the brand's classic lacquer, infinite shine, and gel. 
If polish isn't your thing, Teigen shared a great set of nude press-on nails with her Instagram fans recently, according to The Zoe Report. Celebrity nail artist Pattie Yankee created the set especially for Teigen, but she also shared some tips for getting a similar DIY look. Yankee's secret key was using extra nail glue to get long-lasting results from press-on nails like the ones Static Nails offers. 
She suggested Tailor Bond or Fast Bond by Dashing Diva. To apply, Yankee said, "Clean the nails with remover, then lightly buff each nail with a 240 grit buffer or file to remove shine. Wipe off dust with a dry pad and apply each [faux] nail up to your cuticle area and press onto your [natural] nail." While Teigen wore a shade of Yankee's called Hope in an Instagram story, you could get a similar look using her OPI favorite, Samoan Sand.