The Easiest Updos For People With Straight Hair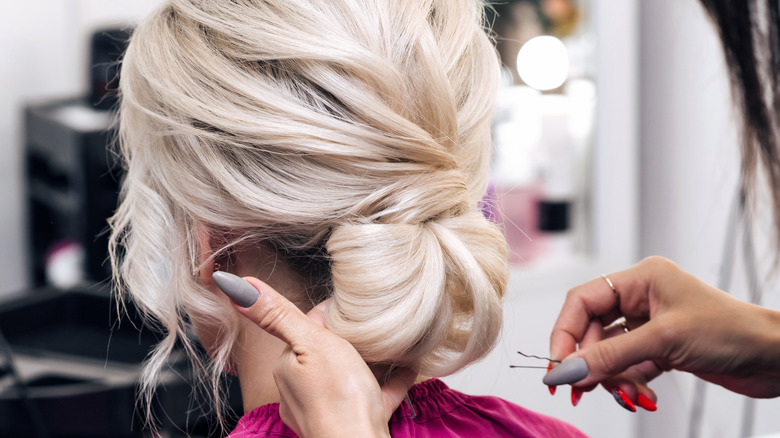 Shutterstock
For those of you who have straight hair, it can be hard to not feel a little curly hair envy now and again (we're gawking your way, Shakira). Vibrant curly hair often has more volume, and can hold an updo way better than our silky straight locks can. But now is not the time to stress or feel flush with straight up jealousy. There are plenty of updo's that are both achievable and flattering for the ladies sporting stick straight tresses.
The first easy updo for straight hair is the always chic chignon. This vintage hairstyle can be done in many ways and encourages the extra "frost" of headbands, bobby pins, and clips. Leonardo Manetti, master stylist at Rob Peetoom Salon, Williamsburg, suggests, "Picture making a doughnut around the base of the pony," (via Real Simple). Once you have twisted and tucked your hair and loose strands into the base of the ponytail, then secure the finished look with bobby pins. And if a few of your strands manage to slip out over the day, then it is no big deal. A chignon encourages a bit of unfinished polish.
Let the products do their job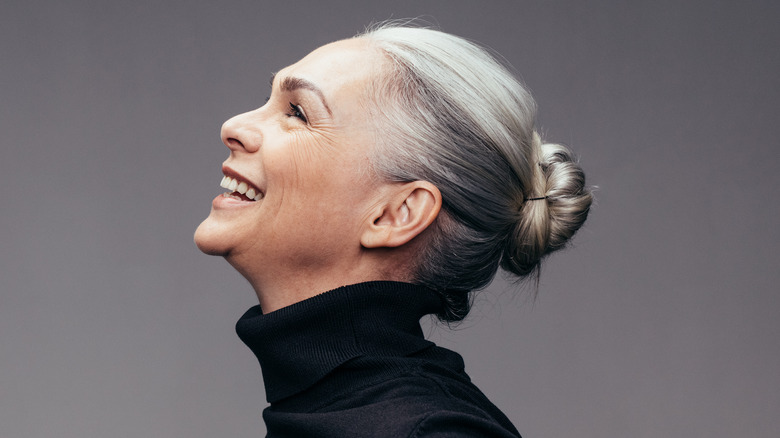 Shutterstock
Another easily attainable updo is the sleek bun. Your hair's straight texture is no negative with this style because hairspray and gel are heavily encouraged to do the holding. Start by spraying a little hairspray into your brush to tame the flyaways and brush your hair back into a low ponytail at the nap of your neck. Smooth the tail of your ponytail with gel or styling cream and divide it into two equal halves. Tie each bottom half with a small rubber band and roll the tied piece of the ponytail all the way up to the base and tuck it in with a bobby pin. Repeat by doing the same thing on the other half of the tied ponytail and voila (via Byrdie). Your straight strands are now tucked into an ultra sleek bun.
If you're looking for a little more sass and little less sleek, then we've got the perfect option for you.
Updo isn't a synonym for fancy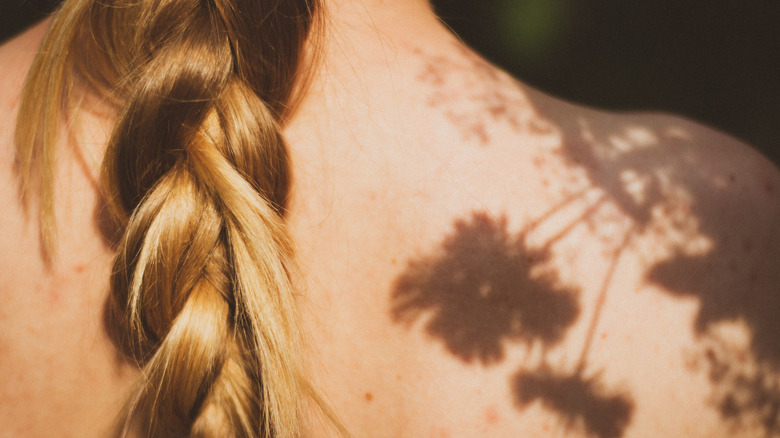 Shutterstock
Enter the loose braid. Nobody said an updo should be saved for extra special occasions. The loose braid allows you to practice your learned-on-the-playground skill of braiding, and gets your straight locks out of your face. Start by separating your hair into three equal parts and bring them over each other to loosely make a braid all the way down to your ends. If you're biking with a helmet or know you're going to be sweating at one point in the day, then this is the perfect updo for you. It's not about perfection. You can allow your braid to swing freely, and use a straightener to put some bend around any of your face framing strands (via Marie Claire). Any pieces that fall out of the braid can be pinned back in with a bobby pin. Or you can just use the 10.5 seconds it takes to make a fresh loose braid.
Hair envy is a real thing. And no matter how much we try to convince you that your hair is fabulous, you're going to be lusting for the exact opposite of what your mane has to offer at times. But when it comes to updos, we recommend to not go against the natural state of your hair, and find the styles that are best suited for your locks.