Here's Why You Should Think Twice About Long Hair If You Have This Face Shape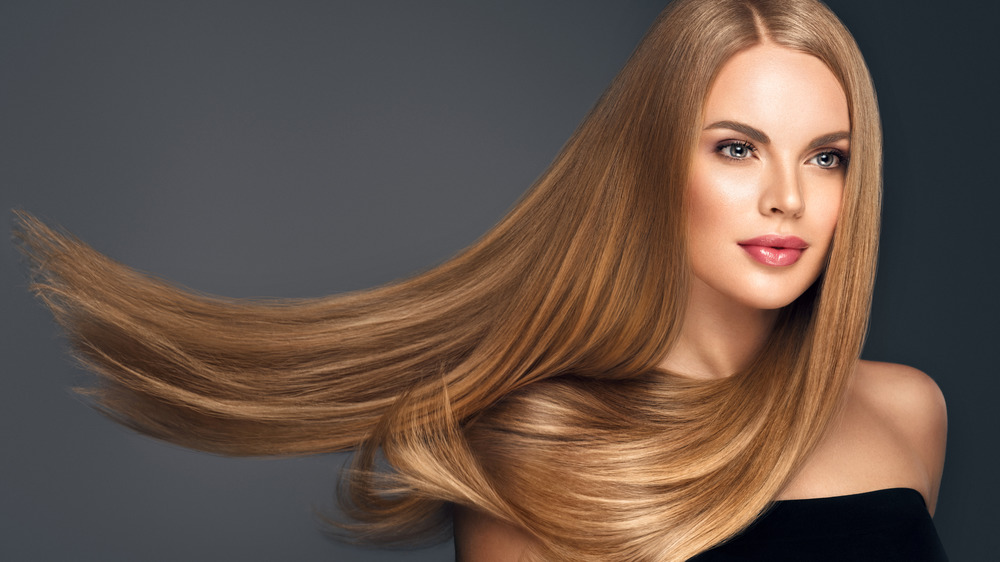 Shutterstock
If you don't want to let go of your super-long hair, you're not alone. Growing out hair to your waist takes time and effort, and who doesn't love all the hairstyle possibilities? From braided buns to glamorous waves to stick-straight Gwyneth Paltrow-style blowouts, long hair is a go-to for many of us. That being said, it's not right for every face shape, particularly one specific kind according to experts.
It's no secret that many of us love the idea of flowing long hair, but how flattering it is vastly depends on your face shape. As Who What Wear points out, "the shape of our heads can dramatically influence the way certain cuts will flatter and fall." With six shapes to use as guides, most of us can be categorized into oval, long, square, round, diamond, and heart-shaped, with very different haircuts to suit each one (via Byrdie). 
It's important to note that there are of course other things to consider when it comes to choosing if long hair is for you. As Your Haircare System owner Alan Benfield Bush told The List, you should "always share your likes, desires, and lifestyle needs with your hair designer to get a haircut designed expressly for you." But face shape reigns supreme when it comes to figuring out what will be most flattering, and what will balance your features (via The Trend Spotter). And when it comes to long hair, which doesn't leave much room for face-framing layers, it's more about your face shape than any other cut.
So who should avoid long hair?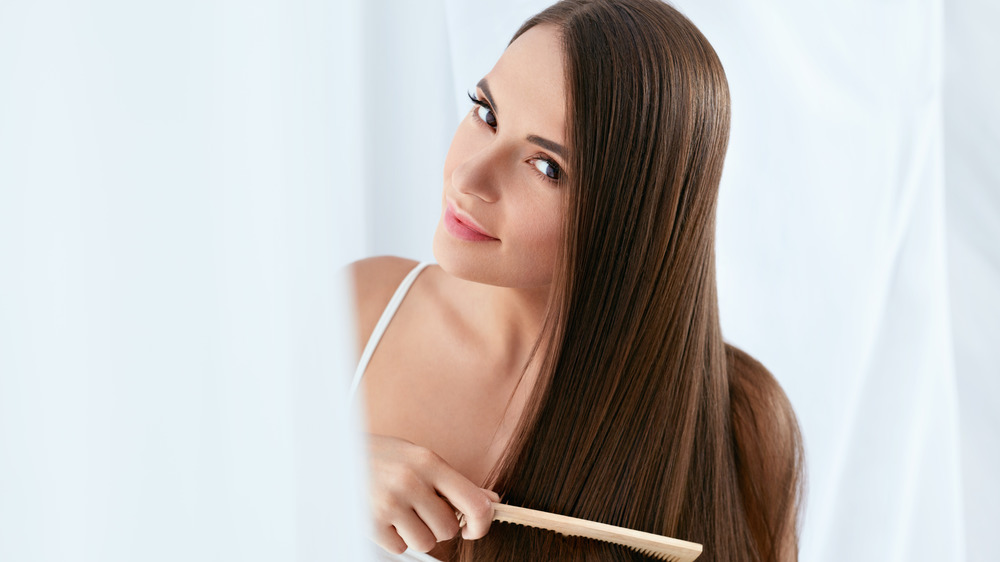 Shutterstock
According to Byrdie, the longer your hair is, the longer it will make your face look. For that reason, long-shaped faces should avoid this hairstyle. Not sure if you have a long face or not? According to Luxy Hair, the best way to describe a long face shape is that it's similar to an oval, but longer, with "the length of the face noticeably longer than the width." Think Sarah Jessica Parker, Liv Tyler, or Kelly Rowland.
Hairstylist Marco Pelusi told Total Beauty that "long, straight hair with straight-across bangs [is] a terrible choice for this [long] face shape." Even more, long, shapeless hair can be aging, which is something to watch out for, too. Pelusi also said that long hair "further elongates the face" since "there is no movement to distract from the face's length." Therefore, you might find yourself looking a bit too "one-note" with this style.
So what hairstyle should you choose? Pelusi says to go for "a soft, shorter cut to offset a long face," while hairstylist Angileri told Byrdie that "a shoulder-length haircut is the most flattering — somewhere between the chin and shoulders. You want to create width, which you can easily do with waves." Stylist Sarah Potempa also told the outlet that side-swept bangs shorten the face, so they're a great option, too.
Overall, long faces look incredible with extra body and movement, so long hair can still work as long as you make good use of layers and lots of waves!